---
"I am particularly in tune to Cryptocurrency, so Leofinance may be a perfect place for me to establish a presence and network with cryptocurrency enthusiasts from around the world." - @CryptoWendyo (16/01/2021)
---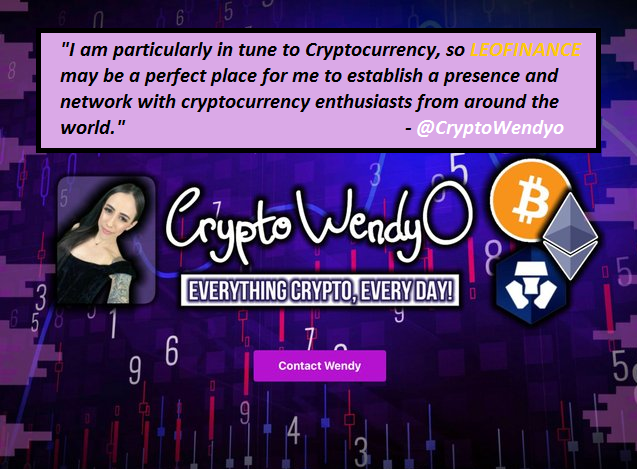 source
The above may turn out to be oine of the most popular quotes in the cryptocurrency when LEO finally reaches it's thriving price of say 3-digit dollars in a few years ahead and proves out to be the new Bitcoin. Did you even notice that the Official LEO colour is as golden as Bitcoin's? Coming from a deep believer in Bitcoin and a cryptocurrency influence like @CryptoWendyo, it's worth a trend piece in top blogging platforms like Coindesk, CoinTelegraph and Ors.
LEOFINANCE is an emerging name in the crypto. A blockchain-based social media community for Crypto and Finance content creators. The LEO tokenized blogging platform allows users and creators to engage and share content on the blockchain while earning LEO token rewards.
In trying to prove its relevance in the crypto sphere and a name where everyone who believe sin crypto should identify with, the LeoFinance community is continuously growing its base of user as well as dapps and projects which leverages the LEO token to give internet users a seamless and rewarding experience. Below is a chart showing the number of users onboarded from October 17 from its lite account creation module via Twitter and Metamask.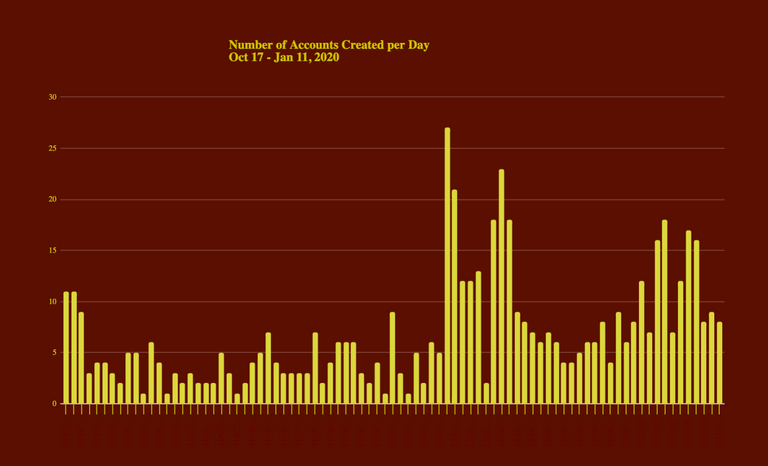 source
While reading through Wendy's introduction post, which I suggest you also read, it excited me so much that already many people across the world are giving up with their regular work and career to pick up a self-paid job in the crypocurrency powered internet world.
Prior to my involvement with cryptocurrency, I worked in healthcare at the largest infectious disease company in the world. My role consisted of working with newly diagnosed and existing patients to coordinate their care. This involved coordinating the care of over three hundred patients per monthly between all healthcare providers.
Did you read the emphasized part of the above quoted paragraph? She actually did quit that "big" job to embrace technology in the media space and glad she's found the "real socialmedia" built on Hive blockchain where all her entries can never be deleted nor censored. Thanks to @shortsegments for lending a voice about LeoFinance to her.
By today, Wendy is proud to identify her work life and career as that glued to cryptocurrency as a trader, business woman and educator. With a whooping audience of 22,000 and over 341,289 views, Wendy's repute as a cryptocurrency influence cannot be argued.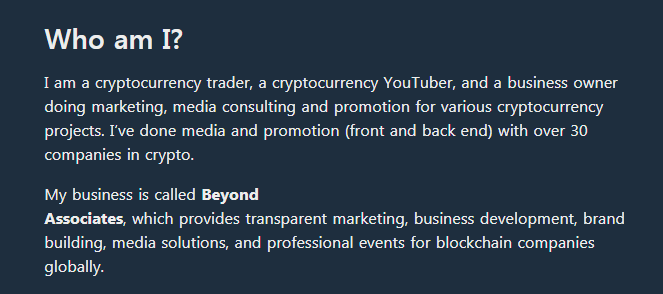 As at the time of writing this post, a google search for the word "CryptoWendyo" records about 92,700 results.. That would certainly be a popular name. All would be related to cryptocurrency as she has really lives out to be a true believer of Bitcoin and cryptocurrencies generally. Her latest addition to her cryptocurrency portfolio is the LEO token built on Hive blockchain.

I notices in the google search result that there were no "blogs" bearing her name on the first page, however with leoFinance, her crypto tutorials in text and video forms would be able to reach a larger audience and hopefully would be trending on "crypto" search top pages.
very intriguing and of primary concern to this post is her huge financial value pulled by her three posts in the last 48 hours. Earning $188 worth of LEO and $22 worth of HIVE cannot be less interesting for a text based social media. Moreover, the posts still have about 5 to 6 days in the reward window and there is the possibility of an increase. Meanwhile, this amounts are captured during the bearish moves of LEO and HIVE.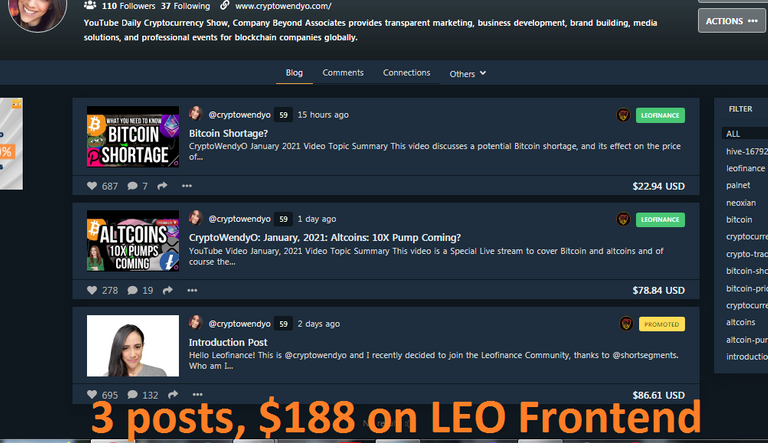 Wendy's earnings on LeoFinance.io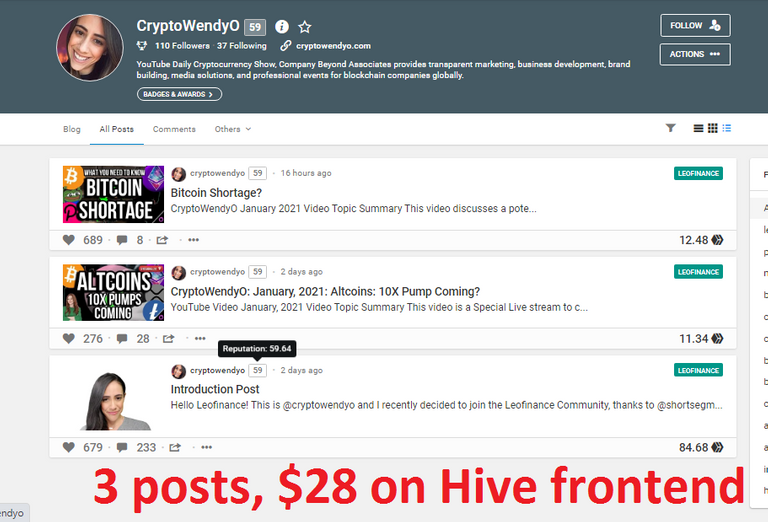 Wendy's earnings on peakd.com
The above classifications of earnings shows the multiple earning options available on the Hive blockchain which allows a user to earn more than one crypto in one content at the same time. Wendy's posts would have earned HIVE, LEO, PAL, NEOXAG and many other tokens which are all valueful as well as backed by awesome developments.
I am bookmarking her page and posts so as to inspire the women in my circle who are stucked from growth in their regular work and they are threatened to stay amid their pains while there is a bog space in a decentralized blockchain like Hive and in the entire cryptocurrency sphere with multiple earning options.
I trust that her entrants and huge welcome by the Hive community would inspire otther crypto influencers to Join LeoFinance. These are indicators that the value of HIVE and LEO are in their best lows and a good entry point for those whop seek a blossoming financial future.
We are still anticipating a roll-out of more awesome products from the leoFinance's development kitchen for the salivating internet users who desire free speech and value for their data. They include but not limited to:
Lightning DB
Whitepaper
Sidechain Testnet
Project ___
Airdrop #1 (project ___)
Airdrop #2 (governance token)
The above would be an addition of already existing multiple investment opportunities that are available in the LeoFinance community for both passive and active investors.
You can as well contact CryptoWendyo on any of her Socialmedia handles to learn about how awesome her experience on the LeoFinance community has been.

LeoFinance is a blockchain-based social media platform for Crypto & Finance content creators. Our tokenized app allows users and creators to engage and share content on the blockchain while earning cryptocurrency rewards.
Support LeoInfra's Onboarding Efforts by Delegating HP to @leo.voter (Currently at 2.4M HP). We Use this to Claim Accounts and Delegate RCs to Newly Onboarded Users
Posted Using LeoFinance Beta