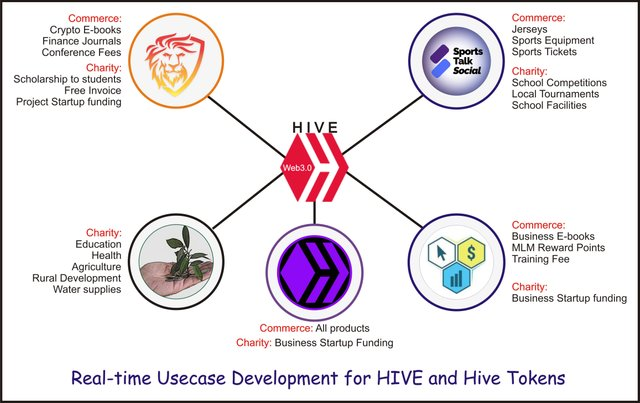 One of the most successful investors in the world, Warren Buffet is credited with the saying "NEVER DEPEND ON SINGLE INCOME, MAKE INVESTMENT TO CREATE A SECOND SOURCE". This shows the need for having more than one source of income. In the Hive blockchain, it is interesting to note that there are several opportunities for diversification of investments. Content creation, curation, trading, DeFi, gaming, leasing, and many more are the options available on the Hive blockchain.
Socialize with your Contents and Earn
The very beautiful thing about the Hive blockchain is that social blogging has been redefined. Creating contents on Hive provides us with the opportunity to socialize, meet new friends and link up with new projects and applications.
It is more beautiful that while we socialize on Hive, we earn from our contents. Each of us creating contents on Hive, we become stakeholders in the platform, and becoming co-owners.
Invest a part of your Earnings in Hive Tokens
My journey on Hive journey was typically to be a content creator. I was 100% ignorant of the investment opportunities available on Hive and it never occurred to me that I would become an investor any time soon.
Since, Steeem Hive was worth about $5 then, it was a near impossible to ever dream of hold as much as 10,000 Hive Power in 5 years however, things changed along the line when Hive-engine tokens emerged.
SPORTS was my first token of interest because it was very cheap and was supporting a wide content category like sports with huge patronage around the world. While the ride with SPORTS continued, I saw t=my stake begin to grow and curation ensued.
LEO was seen as another token with huge potential as a leading token in the Hive blockchain, which it still remains and that was joined to the curation portfolio. Alas, CTP, CHARY, LIST, NEOXAG, LOTUS, PAL are now part of the portfolio and the list continues.
All the tokens are very cheap and affordable and do have a prospect for the near future. Communities are the future of Hive and that's where HIVE would grow from. It is crucial to start investing today while the tokens are quite very cheap and can be purchased.
Posted Using LeoFinance