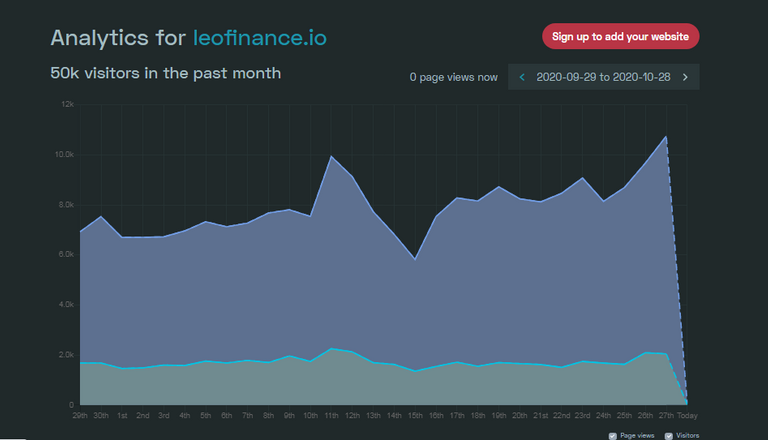 Simpleanalytics records 11k page views in favour of https://leofinance.io/ for yesterday, October 28, 2020. This must be a product of improved engagement in the Leofinance community. Thanks to @Taskmaster4450le for championing the course to encourgae engagement among leofinance users. He's been on this many months ago which led to the creation of the account @leomarkettalk. Here is how it all started...
In an effort to stimulate engagement while also providing education to those in need, this account will post a Daily Market Talk post. It is generic in nature yet provides a place where all can go to interact throughout the day.- source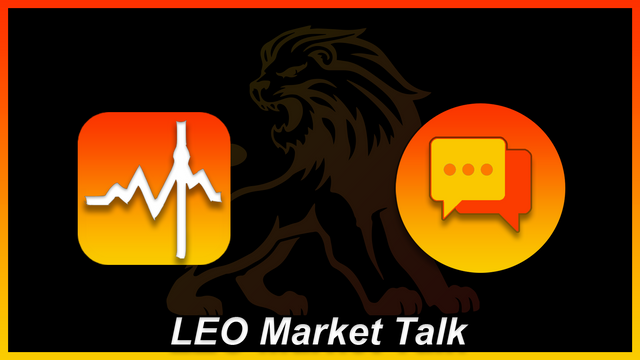 So much value had been shared in the comments section of the daily updates on the Leomarkettalk account. Engagement on that end phased out when the new leofinance interface was launched. At some point, I thought that the new build of leofinance would incorporate a chat feature to serve the purpose of Leomarkettalk while allowing for a longer time on the leo website instead of discord room.
Glad that the engagement initiative never died and finally resurfaces, this time, with the hope for sustainability. Here is one of the last submissions on Leofinance comments engagement which would birth something big in the future. I've been personally challenged to scale-up my engagement game in the Leofinance community. 10 to 15 comments per is a target I try to hit and maintain.
As I write this post, the site metrics of leofinance.io according to Alexa has it that an average time spent on the website is 11 minutes, 52 seconds. That is a 199% increase form what was obtained in the last 90 days. With the comments engagement game sustained, I hope to see this stat grow tangibly. Important to not that rewards may actually be tied to encourage those who would boost community engagement on Leofinance.
There are presently over 150 daily users of Leofinance interface according to Hivedapps.com. If these number of users put forward 10 comments each daily, then that could be a huge 1,500 posting impressions from the community and it means a lot when it comes to SEO.
Already, the flat rewards curve applicable on Leofinance has improved rewards on comments. Engagement is a true test of a community and I think it deserves the ongoing effort. While we hope to onboard the masses with the MetaMask linkage to Hive, it is also very important that we keep the coming users with awesome engagement and rewards.
The marketing of Hive as a blockchain would be better done at the community level and proposals for such should be community specific. This would pull an effect when it is massively participated by the entire community.
Knowledge in Conversations
Many times, I've had a better insight on a post through the comments section. Since we have different perspective on a concept, accumulation of summarized thoughts provided by commenters could be a great way of gleaning knowledge. We have to help to close the knowledge loop by giving feedbacks on posts read and curated.
The content coverage of LeoFinance is already all-inclusive for everyone in the crypto space, let's help to grow the numbers with improved engagement.
Posted Using LeoFinance Beta