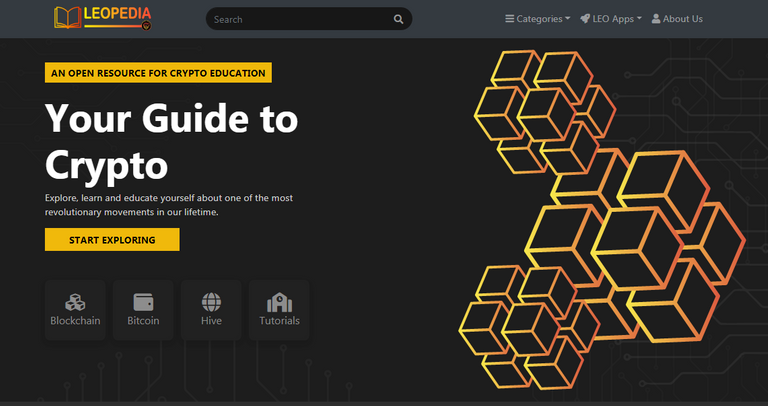 https://leopedia.io/explore/
Recently, I staged a writing contest that was aimed at creating awareness for the LEOPEDIA, unfortunately, only a few users joined. My queries revealed that most of the contents that they would love to read is actually not featured on Leopedia. On a closer look, I discovered that LEOPEDIA has been underutilized so far.
From May 22, 2020 when leopedia.io was announced till date, we have not got as enough visits to the information website as should be. The stats of page views and visitors can vividly show the low numbers. To my understanding, the goal statement quoted below should be expanded to cover the lots of other blockchain outside of Bitcoin, ETH and Hive.
The idea for LeoPedia is to inform non-crypto and crypto users-alike about the blockchain and cryptocurrency space by providing an open-format educational resource that explains everything from the history of Bitcoin to the nuances of Ethereum DeFi apps or even the Hive ecosystem. - source, Emphasis mine
A peek into the explore pager reveals only four content categories with just a handful of contents - Blockchain, Economics, Security an Tutorials. I have previewed almost all the contents so far hosted and personally discovered that it covers very much about bitcoin and other chains are literally not featured, even Hive.
Following its name, LeoPedia is meant to be an encyclopedia of knowledge and research outcomes on blockchain and cryptocurrencies. Presently, there are over a hundred blockchains and over 2,000 cryptocurrencies. All these blockchains and cryptocurrencies should be covered in leopedia. Indeed, I have much to emphasize on this theme in the coming days.
We all know the technicalities that are involved with cryptocurrencies and blockchain usage. This has been a major hindrance to adoption over the years. Education is the tool that is most needed to solve this challenge. Leopedia has all it takes to serve that purpose.
In my understanding, Leopedia should be a compendium of all related information about blockchains and cryptocurrencies. I would say a Crytopedia or a Blockchain Book. Below are some specifics:
"FAQs of several blockchains;
"FAQs" of exchanges;
"Whitepapers" of Cryptocurrencies;
"How-tos" of blockchain tools;
Basic information about Hive well segmented (not clustered)
A Glossary of Blockchain terms;
Basic information on Hive-engine and Hive tokens
As of now, only approved #leofinance #leopedia posts are featured, however, other links from other websites could be captured with a summarized write-up which would help rank leopedia.io in search engines when related keywords about blockchains and cryptocurrencies are used.
"Hive-engine & Hive Tokens" Category need on LEOPEDIA - Let's Pitch the tokens to the World
I beg to request that a category be created for Hive-engine, Hive tribes and Hive tokens. This would help the leaders of these tribes to easily direct a new users to reading ads much updated information about their tokens as possible. These tags should become the fifth and sixth in the leopedia explore page.
Moreover, the footer of the explorer page could also include links to communities or markets of Hive tokens that are popular and making significant strides on the Hive blockchain. This would help to harness the collaboration of other Hive communities to the build of the Leofinance community which is actually a community of communities on Hive.

The benefits of covering as much Blockchain, Exchanges, Cryptos and Blockchain tools
The benefits to be unwrapped from this guesture are so ernomous. Here are a few:
This would improve the SEO ranking of leopedia.io in search engines for blockchain and cryptocurrency keywords.
More visits would be directed to leopedia.io which in turn would boost the ad revenue from the website.
Helping to expose the Hive-engine tokens to the world of visitors to leopedia.io.
I would want to hear the responses of other Hivers who think this would be an awesome initiative. Tribe leaders should find this very fascinating. However, I have some more suggestions following the response to this.
Let's consciously build Hive through the Hive communities. The more new investors and content creators are attracted, the better. Education would be one of the easiest way to have earn this attention.
Posted Using LeoFinance Beta