Goal-setting is as crucial as the future in itself as it helps one to focus in the direction of the future envisioned. Years ago, all I understood about goals was having the picture of the future at heart. However, growing up, knowledge added and the understanding of breaking down a major into bits of short-term attainable objectives became clearer. I never really understood how to set and achieve financial goals until I started investing on Hive blockchain 18 months ago. This happened because the traditional means of earning like I had few years ago barely allows you to constantly proportionate investment sums with so much uncertainties in the economy and products market.


source
Four years, my Creativity Hub required a little above $20 to have the tech space running monthly, but now, I need over $110 to run the same space. Power, Fuel, transportation, stationary costs have drastically increased over the years, yet, the income does not grow in that same rate. It therefore turns out that one would have to run into deficit if all the gadgets must have to be maintained over time.
Thanks to Hive blockchain that helped to consistently save for the future with the 50%/50% Liquid/stake reward split and for the past Three years, the consistent investment mentality stick and I grew with it over time. At first, it wasn't an easy shift until the value value of my Hive Power grew over time and I began to give out tangible upvotes to other users.
With Hive-engine tokens coming to the scene, things shaped up the better and much more value could be visible from stakes as well as value dished out to other content creators. From SPORTS to LEO and today the number of tokens in the curation list has awesomely grown, carrying as much value beyond what could have been thought. Being able to daily give out $25 to diverse authors is unique and shows the worth of our investment on Hive.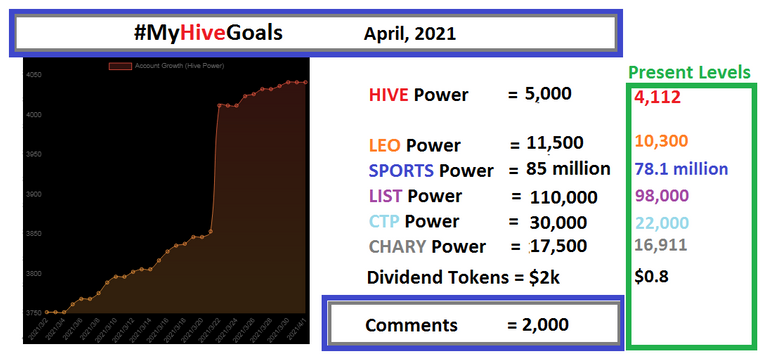 Looking forward to giving out much more value to content creators, the reason I keep growing the Hive token stakes over the months. #MyHiveGoals has become the new way to grow quickly the second layer investments on Hive. Thanks to @Jongolson for fielding this. Over the last Four months of joining this campaign, my stakes have so grown geometrically in volume and USD worth.
Today, I've made decent additions to the stakes - SPORTS (750,000), LEO ($10), LIST (800), and CHARY (718) and they can only grow further.
The grand aim is to hold a $1 million worth of stakes in the next few months. That could possibly happen in 2021-2022 spread or even earlier as we anticipate more demand for HIVE and Hive tokens with the growing crypto adoption. Exciting to have one of my friends decide to join us here @cedstruct and he's pushing in $1000 to HIVE: LEO, SPORTS and CTP in the first lap. It took him Three years to finally accept to join Hive as Hive cannot really be ignored any longer. He wished he'd bought in 6 months ago, but it's still not late to join the league now.
The future is becoming clearer and we'll be glad we've been a part of the beginnings.
Posted Using LeoFinance Beta