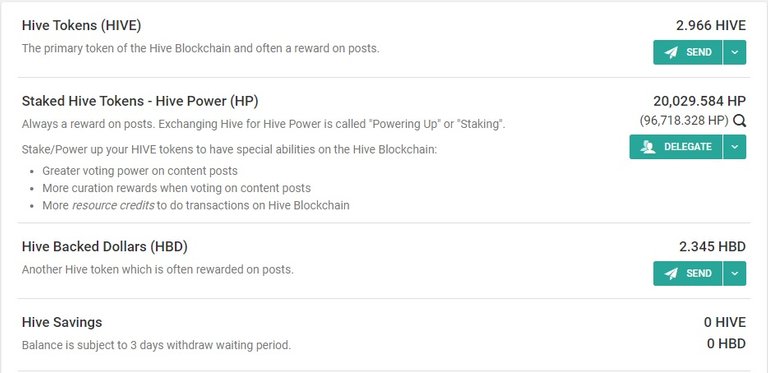 I still remember the time back on Steemit when I first hit my goal of 500 steem power. I finally had that stupid bar to customize my vote strength. Super exciting. A sense of achievement. I would probably kill back then to have 20k power. After all, steem was at least 1 usd a piece back then. And I was a silly pleb.
My next goal was 1000 sp, then 5k and then I remember saying to myself that if I ever reach 10k power I was golden. Here I am, twice as that.
And it feels...meh. Not because the price of HIVE is dirt. Mostly because I feel this place has no vision and no bussiness mindset. I look at LEO and what it has achieved in about a year with a much smaller community.. And just one person essentially (@khaleelkazi) behind the wheels.
And then we have HIVE. Even something as simple & stupid as monetizing this place with ads (and burning hive or whatever to establish a price floor and some hodling motivation/mentality) but for whatever reason @blocktrades doesn't want it as he has stated. Probably the peakd guys as well, judging from the luck of...well...ads. After all, this is a social media blockchain first. And social media sites make money from...yep, ads.
Hopefully the rise of tribes and HMTs will save this chain from oblivion. After all, @leofinance and @cryptobrewmaster seem to be doing well and already have onboarded more projects/businesses than Steemit sinc did in three years. I guess the same applies to splinterlands but I know jack shit about them.
Who knows.. At this point I dont care much. I will keep selling my liquid rewards for other crypto, hodl my earned HP and pray for the best. What I won't be definitely doing is buy hive and power up. Maybe I will miss the opportunity of a lifetime at these prices. Yet, I know I will have no regrets. Even buying BLURT feels like a more sensible option at this moment. At least they have some fomo going with all the upcoming listings.
What do you think? Is there a light at the end of the tunnel?
Posted Using LeoFinance Beta