According to a tweet by Kucoin's official twitter handle on September 26, there has been a security breach on the second largest cryptocurrency exchange (in terms of trading volume) - KuCoin which resulted in an illegal transfer of some volumes of BTC, ERC-20 and other tokens from the exchange to another.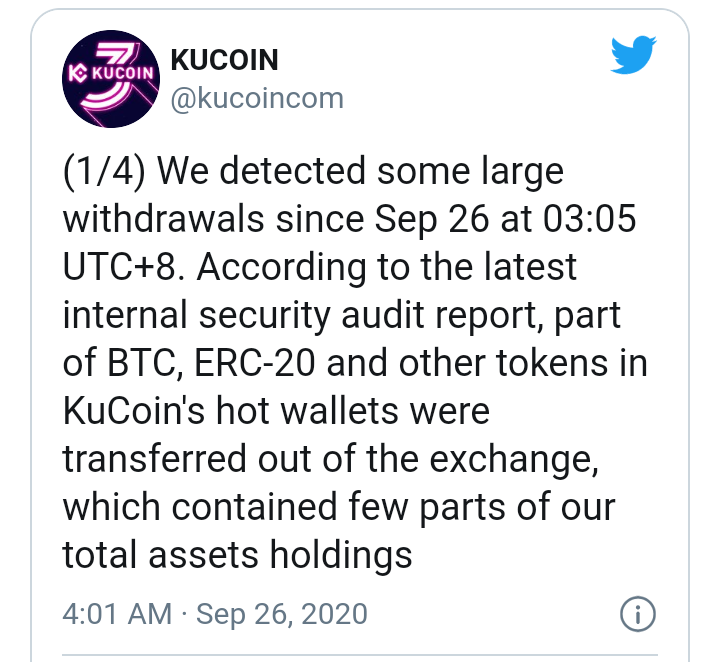 This situation has caused the security of the KuCoin exchange, its competence as well as the safety of traders' digital assests to be questioned by the exchange users. This I also believe could cause the exchange to lose some users if the issue is not being managed properly and users convinced that measures have been put in place to ensure that such incident doesn't occur anymore. Meanwhile, KuCoin pleads with its users for time to rectify and fix the situation.
Also from the news, over $150 million worth of funds were being stolen by the hackers while the exchange promises to repay affected users. Meanwhile, KuCoin exchange have refused to call this incidence a hack although there are signs that it could be one. Instead, they choose to term it a security breach. Reasons best known to them
Whereas a thorough security audit is ongoing on the KuCoin exchange and in order to handle the present security situation squarely, KuCoin also announced that assests' withdrawals and deposits will not be available for the timebeing until announced otherwise.
This should be a wake up call to other cryptocurrencies exchanges to solidify and increase their security levels to avoid illegal invasion. It is also a lesson to crypto assets holders to split the storage of their assests. If possible, cold wallets should be used as it is more safe compared to hot wallets. I believe it is unsafe to store all your assets in just one wallet. However, we hope to hear from KuCoin soonest.
Posted Using LeoFinance Beta