IOTA near 1/4 of an ATH price point I witnessed
The price of IOTA is sitting at a nice point for now, like a lot of the altcoins right now. They are finally starting to look up and even though I wish I had bought a whole bunch more back at the 40 cent mark, it is better to get some before hitting an ATH if altcoins keep on track to performing better right? So I will buy some more on Sunday and look to hold because even at $5.20 it will be 4x what I paid, so that would be a nice profit. I believe it is a good investment for myself and feel many other coins could also hit an ATH and be worth buying into.

Back in 2017 when I saw IOTA for about 35 cents, I wanted to buy about $50 worth, but they weren't on the exchange I was on and I foolishly didn't sign up for one it was on. Then it proceeded to hit over $5 and I was sad to have missed out on making a big chunk of money, but of course I had only been getting into crypto for a few months and yet to be on multiple exchanges.
This is where it hit the high point, same as the rest of the crypto world around the end of 2017 before everything plunged back down to earth for the following year. So my $50 AUD could've got me around $564 USD if I had just signed up and bought!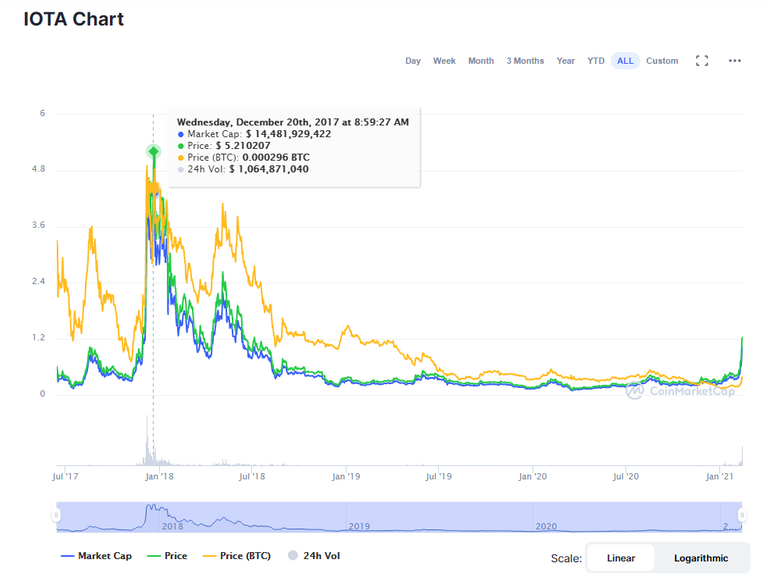 This has been one project that has looked to continue with some good work among the digital world and connecting communities around the world, creating more for how people connect everyday and ensuring we aren't stuck with fees and can enhance information sharing and value brought by all involved.
This isn't financial advice. Do your own research when deciding on investment opportunities to see what fits best into your money available and what you believe is your best choice.
Posted Using LeoFinance Beta