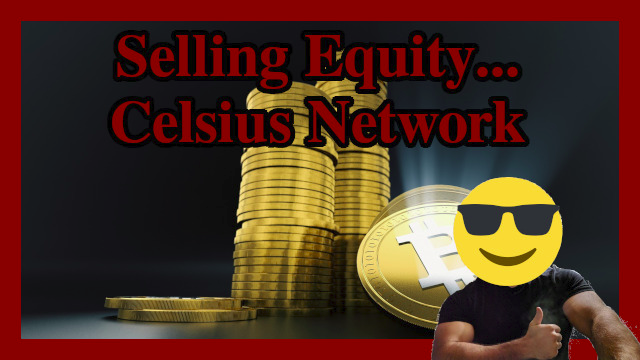 Equity...
You build it! You own it! But sometimes you need to give a portion away... One of the greatest questions in any entrepreneur's mind... when to sell equity to get funds! When to lose a portion of the company that you've been sweating and losing sleep over...
It's a hard question, we only need to see one episode of "Shark Tank" to know how difficult it is for entrepreneurs to sell equity in their creations... but sometimes it's needed! Sometimes companies need to do it... just like Celsius is doing!
Celsius, a company that allows crypto investors to earn interest on their cryptos, and also borrow money with their cryptos as collateral, is currently selling equity in their company through bnktothefuture a platform specifically made for crypto enthusiasts, which means anyone can buy equity in it, no VCs will be in charge. At first, I was kinda scared. If they sell too much, someone else would have power over the company, and they could make decisions that maybe wouldn't be beneficial for the community! But Alex Mashinsky said he wouldn't lose control over the company! Which is amazing! And now, with their equity sale almost done, CelsiusNetwork has millions of dollars to spend on further expanding their business.
They have already raised 15 Million dollars without VCs!
15 Million dollars that they can use to get more partnerships, to expand to other countries, to get more depositors, to get more listings and advertisement, to give more banking services and interest to more population around the world! Bank the Unbanked!
Getting equity in good crypto companies is a great opportunity for great returns! Just look at what happened with block.one equity. The investors were able to sell their shares for a 6500% return just a few months later!
With all this money in the bank, I wonder what Alex Mashinsky and the rest of the Celsius team is going to do with it... There are talks about a Celsius card, so maybe we are going to see that soon. The number of cryptos allowed on the app should also increase, which it has in the past week with the addition of BSV and ETC (don't like either, but others might). More teams and team members would also be a great addition, Celsius supports many assets, but there are still soo many things that Celsius can do to bank the unbanked and to provide more financial services to the normal person, a further team expansion could develop all those solutions much faster...
This, in my opinion, is the only reason someone should sell equity in a company, to further expand it... and maybe, who knows, someday buy it all back with the expansion profits!
There are still 2Million dollars of Celsius equity being sold on BnkToTheFuture! Maybe try grabbing this opportunity! (Only to accredited investors or to non US people)!

Images Free Source - 1, 2,3,4,5,6, 7, 8, 9, 10, 11, 12, 13, 14, 15, 16, 17, 18, 19, 20, 21, 22, 23, 24, 25, 26, 27 - Tradingview snapshots too.

Question of the day: Have you ever bought equity in a crypto company before? If no, do you think you might in the future?


Convert your Bitcoin to EUR/USD : Coinbase
Buy all kinds of Cryptocurrency: Binance
Join Steemmonsters, one of the top dapps on blockchain: Stemmonsters


Posted Using LeoFinance