With all that is taking place, some are overlooking one of the most promising aspects to Leo, actually Hive in general, and that is the addition of Smart Contracts. While it is still in the development stage, we potentially could see some amazing things.
Many are now speculating at what the price of LEO can be in a year's time. Will it be $1? $5? $37?
For those who feel it is at the lower end of the spectrum, we need to consider what is really taking place. It is exciting to think about the progress Leofinance made. However, we must remember that long-from content creation, aka blogging, is only of interest to a small portion of the Internet user base. Most are not hardcore content creators.
At the same time, we have the microblogging feature being dangled before our eyes. This is a nice addition; certainly it hits a wider market. There are more people interested in short-form content, aka sh*tposting, than true bloggers. Once again, this is exciting but will be rather limited for a while since it will be web based, not mobile.
Nevertheless, both of those are enough to get the juices flowing.
Yet, they both pale in comparison to what Smart Contracts will do. With them, we enter a completely new realm, one where money is plentiful.
Lost in all the hoopla over Bitcoin's run is the fact that the money locked in Smart Contracts is exploding. Just before Christmas we were under $14 trillion. Today, much higher according to Defipulse.com.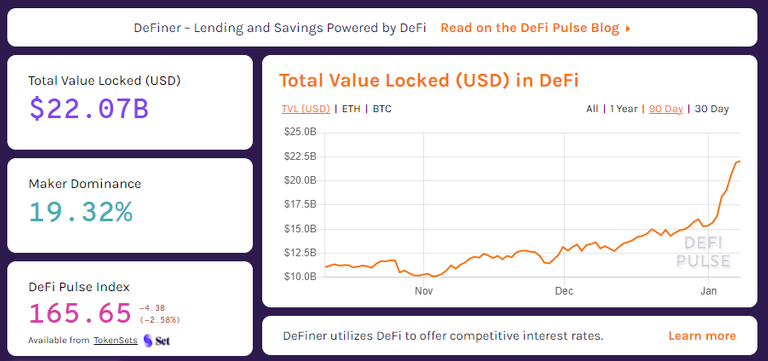 Then we see the different applications associated with the DeFi applications.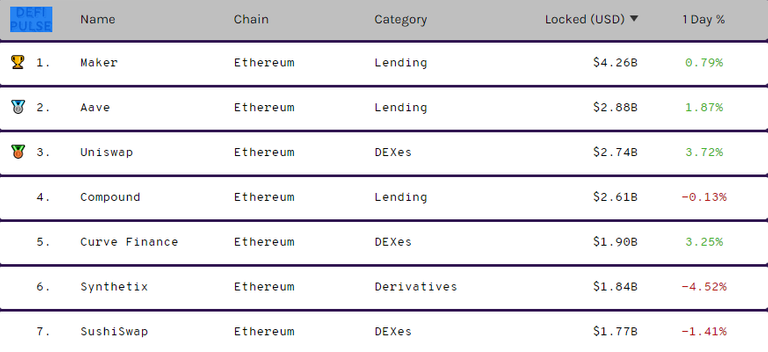 Here is where things get really interesting. The tokens for each of these applications ranks in marketcap, according to Coingecko, as follows:
SYN #25
DAI #28
AAVE #29
UNI #30
MKR #40
Comp #48
SUSHI #58
The total market cap for these: $7.5 billion.
What if LEO, and through that Hive, was able to tap into this money? How would that change the perspective of things?
As you can see, we are dealing with a more powerful market compared to blogging/social media. While they have a great future for Leofinance, LeoFi offers an incredible potential.
For example, ponder the idea of having a Bitcoin pool similar to what exists on Ethereum with wBTC. However, instead of it being paired with ETH, it is LEO that it is paired with.
What does that do for the platform? Consider doing that for any token, existing or being developed. Instead of ETH being the pair, LeoFi could make LEO the pair for any pooling.
We get a glimpse of the potential simply looking at the wLEO Liquidity Pool. This is one small project (especially for Ethereum) that most of the crypto world has no idea about. Yet look at the value locked up.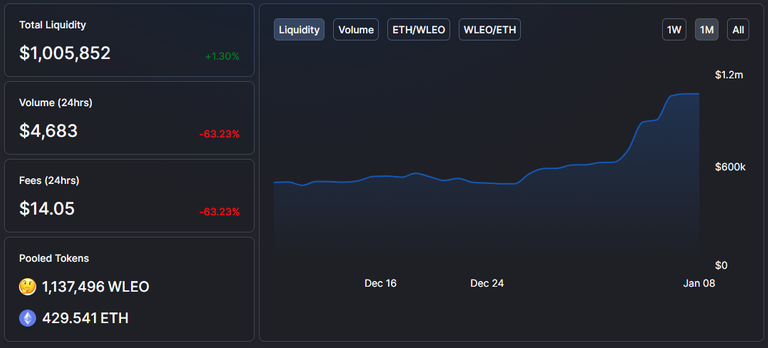 Now do that 100 times with different projects. That is $100 million locked up, still a nothing compared to Ethereum but big money.
So why would someone opt to use LeoFi over Ethereum? Why the fees of course, or should I say, the lack of fees. DeFi is big but it is expensive on Ethereum. Fortunately, that is being addressed and will be fixed in about two years. Does anyone else see a window of opportunity?
How about a lending platform, does that make any sense? Can it be done here also? With Smart Contracts, if it is on Ethereum, it can be duplicated on here. Thus, we could see a multitude of different projects arising, all creating their own token of some sort.
Talk about entering the Big Leagues?
This is what Smart Contracts do for Hive. You read that correctly. Remember what is underneath it all.
Now tell me if you think $1 LEO by the end of the year seems likely.
Excited yet?
BY THE WAY, THIS IS SPECULATION ON MY PART. NONE OF THIS IS FROM THE LEO DEVELOPMENT TEAM OR FROM ANY KNOWLEDGE OTHER THAN WHAT IS IN THE ROAD MAP AS WELL AS GENERAL KNOWLEDGE ABOUT WHAT IS TAKING PLACE WITH SMART CONTRACT PROJECTS. I HAVE NO IDEA WHAT LeoFi WILL LOOK LIKE OR HOW THE SMART CONTRACT CAPABILITY WILL BE ACQUIRED.
---
If you found this article informative, please give an upvote and rehive.

gif by @doze

logo by @st8z
Posted Using LeoFinance Beta