The time has finally arrived for another upgrade to Leofinance.
While this is not in the shiny, sexy category like the highly awaited microblogging feature that we expect to be added to Leofinance in the near future, this is a very important moment in the transformation of Leofinance.
We all love what is taking place here. However, Leofinance, for all its success, runs like my grandmother drives (and she has been dead for 24 years). It is slow as you know what.
This is the price we pay for being a Web 3.0 service. The technology is in its infancy. Part of being an early adopter means that one deals with some weaknesses to start.
After all, when it comes to technology, the first versions are expensive, slow, and with few features. This improves over time as more updates are rolled out. Things start to improve until they appeal to a larger audience.
It is a path that Leofinance took the past year. Now it is time to put grandma to rest and hop in the express lane.
!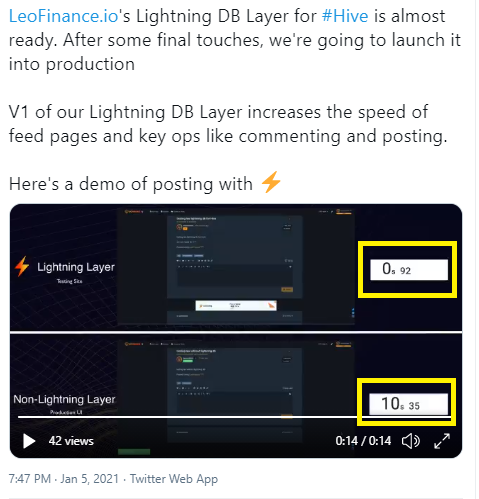 We all know this is the type of stuff that bores the average non-technical person. However, look at that rate of comparison. A post that presently takes more than 10 seconds to complete is done in under 1 second with the Lightning Layer. This is a massive increase in performance.
Of course, the commenting army is well aware of how irritating this can be. There is nothing worse than placing a comment then trying to respond to someone else only to have the entire screen move as the first comment is completed.
This will no longer be a problem.
However, this is only the beginning. This is all part of a larger concept designed to assist in the ongoing bridge between Web 2.0 and 3.0.
The new motto is Web 3.0 with the speed of Web 2.0.
One of the drawbacks to the blockchain world is that connecting to it slows things down a great deal. We have 3 second transaction time, which in this world is fairly impressive. In the server world, however, that is like a tortoise. People simply do not want to wait for things to load.
While this is being applied to Leofinance to start, think of all the other aspect of the ecosystem that it will eventually be applied to.
Consider, for a moment, Leodex. Traders want to operate as quickly as they can. The time it takes for a transaction to go through is vital. Even it is still transacting in the background, they do not want their screens tied up for even a nanosecond longer than it has to be.
Also, let us picture some of the other ideas surrounding LeoInfra. What is there are applications that allow people to "apply for stuff". When one hits submit, instant approval, or denial, is expected. Once again, people go bonkers about having to wait for any amount of time.

This tweet sums up the vision. It is interesting that Twitter was named in there considering we are eagerly awaiting the microblogging feature. Does anyone think that Twitter would have the activity it does if it took 10 seconds for a tweet to go through?
Infrastructure is typically boring, nerdy, and disinteresting. However, it is vitally important to the performance of a project. In this situation, it is good that the Leo team is addressing what is taking place with the platform. Slow load times is a quick way to kill a site.
In the next few days, it looks like we are all in for an upgrade.
Exciting times.
If you want to see the full video in real time:
---
If you found this article informative, please give an upvote and rehive.

gif by @doze

logo by @st8z
Posted Using LeoFinance Beta