The world of broadcast television has been in a world of hurt for more than a decade now. Cord cutting is a real thing that is ongoing at this moment. Each time a new streaming option pops up, that eliminates the need for broadcast television.
A half decade ago, cable news channels were suffering. Their ratings were down which means a loss of money. Advertisers do not pay big bucks for lackluster ratings. This was the predicament they found themselves in.
Fast forward a couple years and the cable new outlets were handed a lifeline: Donald Trump.
To their rating, he was "Mr. Electricity".
Trump was able to generate attention with all he did. Couple this with the dislike of him by the media and it made for the perfect union. Trump bashing because a rating winner. All the cable news channels were able to "channel" this into massive profits.
The problem for them is that Trump is gone. He was replaced by a guy who has the personality of a sheet of paper. Obama had likability and, compared to Biden, Bush 2 was almost interesting.
We also see the Democrats in control of the Congress. This means there is nobody to tar and feather. Trump was an ideal target. Who are they going to attack now? Mitch McConnell? As if anyone cares about him.
News outlets are very expensive to operate. The people sitting in those chairs make some good money. There is also a lot of them. Thus, their shows need to turn some big dollars to be viable.
Unfortunately, since the election, the ratings are dismal.
Here is what it looks like according to Nielson:
In the industry I think the word they use is "ouch".
The numbers were the same for all primetime slots.
All charts are from an article in Variety.
8 PM: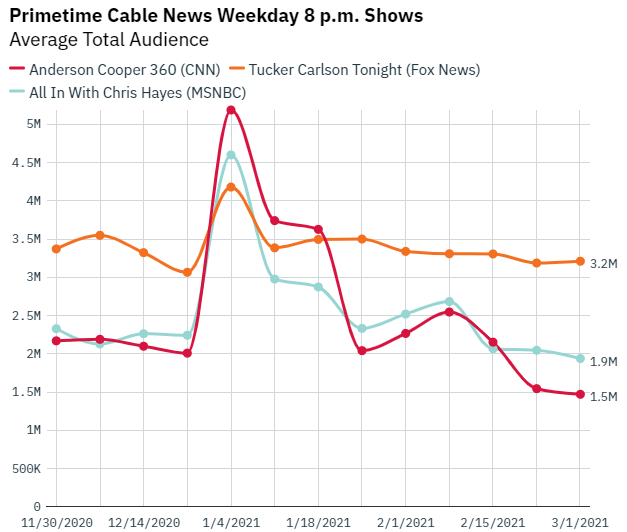 9 PM: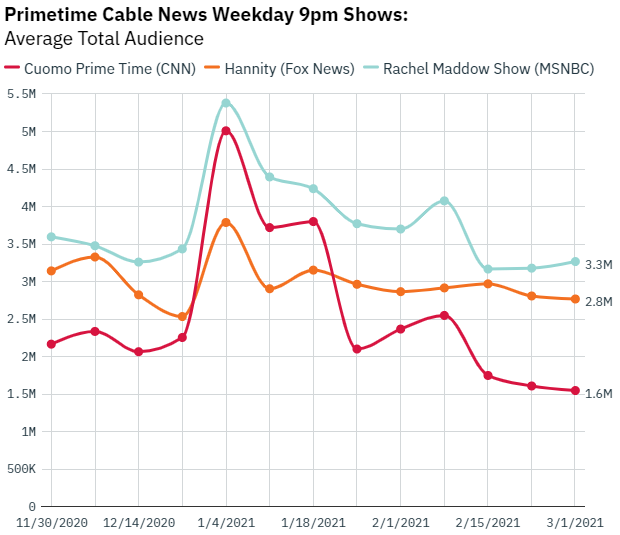 10 PM: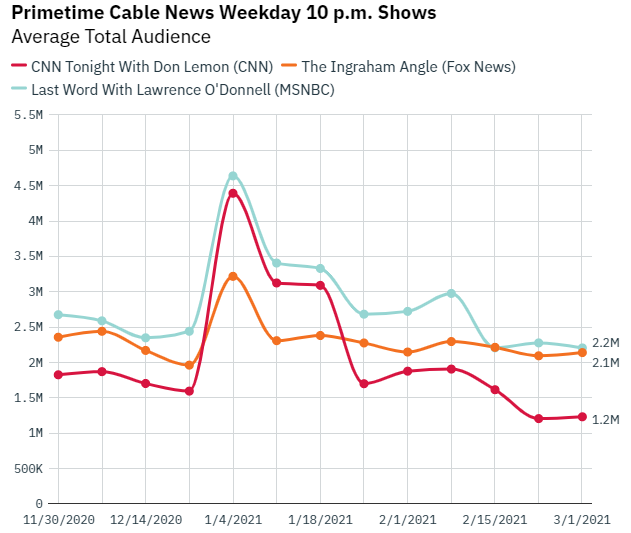 Trump says he will run again. The problem for the media companies that own these channels is that election is not until 2024. Thus, we will not see much of him until 2023. If it is a situation where the Republicans put up noting more than empty garbage cans against him in the primaries, then it really is going to be 2024 before they can hope to cash in any ratings gain.
A major challenge that few discuss when it comes to a situation like this is that 2 years just adds to the death total. In other words, the cable news audience is getting older by the day. The Millennials are not the ones who tune in. With each passing year, broadcast television in general and cable news specifically are seeing their customers passing away.
This is the same situation which ate into the rating of the Network Evening News programs. With the widespread use of cable, suddenly the Boomers tuned into that. Now, the Boomers are getting up there in years. The idea of carrying cable to tune into CNN or FoxNews is not on the agenda of younger people.
Here is the most recent stats on the Baby Boomers: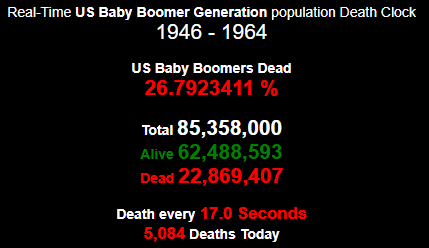 We also can add in the previous age group, called the Silent Generation.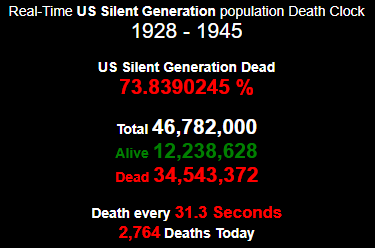 Source
According to these two graphics, there are roughly 7,800 people in these two age groups each day. These are the demographics who will watch a lot of broadcast television and, thus, cable news.
Certainly, that isn't to say that other age brackets do not tune in. However, we know the older generations are likely to be less technical, thus opting for the traditional methods of media.
The younger generations, who live on their phones and tablets, turn to the internet for all they need. If they do want something off a news channel broadcast, they are more likely to find the clip on YouTube than go through the entire show.
This is especially true if there is nothing exciting happening. Outside the hardcore political junkies, without an attention-getter like Trump, what are these companies going to do? There might be an occasional situation that pops up which will bring in viewers on a temporary basis. However, long term conversion is not apt to happen.
Every good story needs a hero and a villain. Depending upon the perspective that one held, Trump served both those roles. Now the lightning rod is out of the picture.
What do they turn to?
It looks like the companies that own these new channels are going to be suffering on this end of things. Advertising will get tougher to sell as the reality sets in that people are just not tuning in.
By the time 2024 rolls around, there will be near 8 million less people in these demographic groups that the cable news channels depend upon. It looks like these age groups account for 80%-90% of their audience.
This is bound to take a toll on the earnings for these companies. It looks like they better hope and pray that Trump makes a return in a few years. If not, with the broomsticks we see in politics these days, the cable news channels might be entering their death roll.
What are your thoughts on the matter? Let us know in the comment section.
---
If you found this article informative, please give an upvote and rehive.

gif by @doze

logo by @st8z
Posted Using LeoFinance Beta