Fun With Numbers: Leo Ecosystem At $250 Million
How would you like to be part of a quarter billion dollar entity?
Those who are involved in Leo might be well on their way. In this article I am going to break down some different comps to see where things could stand.
Obviously many of us are excited about #ProjectBlank. It is something that we feel will truly revolutionize the blockchain application world. The unique way of interacting with the Hive blockchain removes some of the barriers that we saw with other apps of this nature. At the same time, the easy sign up using a Twitter account will mean a seamless transition over.
Twitter is the natural starting point for this comparison. Naturally, we are going to have to take some liberties with how we are looking at things. Since we do not know the numbers in advance, it is requiring a bit of guesswork.
But what the hell, that is why it is fun with numbers.

The starting point is monthly active users. From the charts that I could find, the furthest back is the beginning of 2010 when Twitter had a userbase of 30 million. As we can see, here is what things looked like.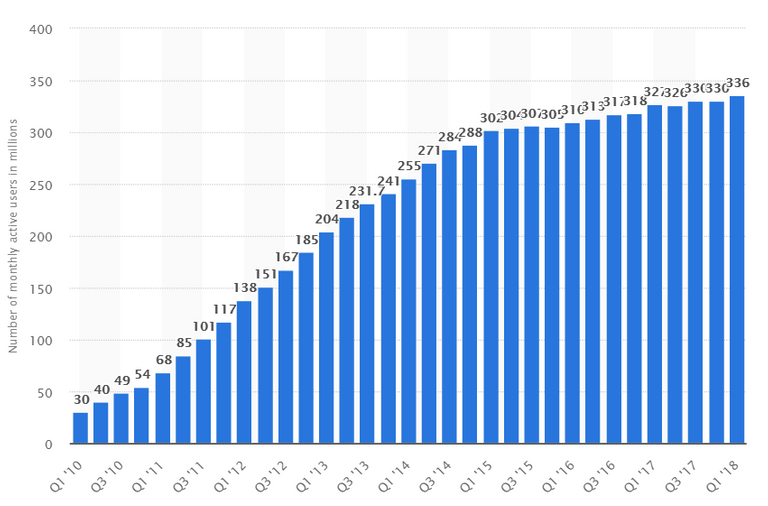 Source
Now we need to try and figure out some metric to value the users. Since Twitter was not public at that time, we cannot go by stock price. Fortunately, we can look to the private funding to give us an idea.
Here is what there private funding rounds looked like.

Source
Comparing the two charts, the closest we can come is using the December 2010 Series F and the end of Q4 users. This means we have a valuation of $3.64 billion with 54 million users.
Dividing that out, we get $67 per user.

Of course, Leo is more than just the microblogging application (which isn't even released yet). Thus, we need to take a lot at the core of the platform, the blogging site.
The Leofinance token is now worth around $3 million. It is traded on the open market so we have a true valuation for that.
Over the past month, according to simpleanlytics, we see that Leofinance has 91,000 visitors. There were also 517K pageviews during that same time period.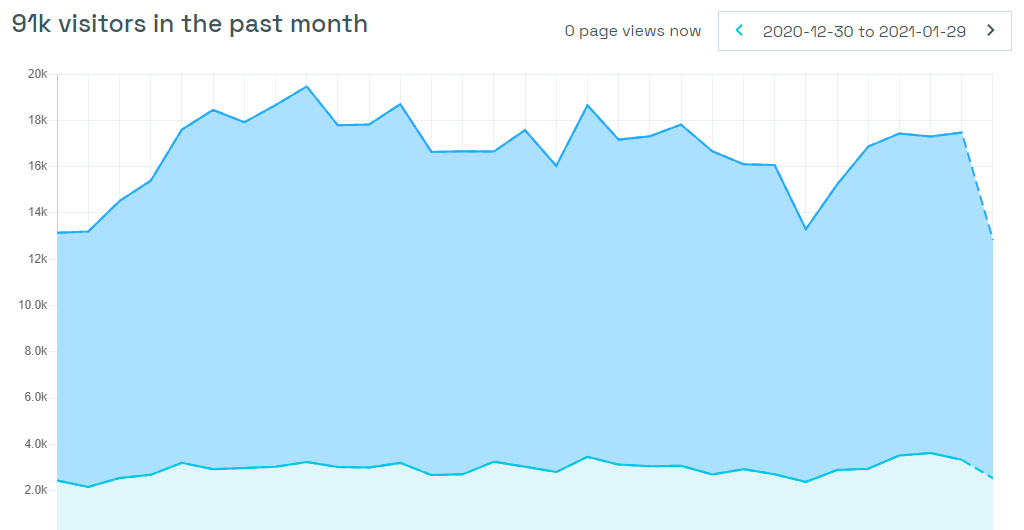 Leofinance was born out of the idea of being a Web 3.0 version of SeekingAlpha. So how does it compare to that site?
We see that SA is a lot bigger in terms of the traffic.

Source
According to Worthofweb, the value of Seeking Alpha is $253,000,000.

Source
Here is how the per user is valued on each system:
Seeking Alpha $16.86
Leofinance.io $32.96
As we can see, the value on Leo is worth about double what it is on Seeking Alpha.

Certainly these numbers are estimates and nobody knows what a site like Seeking Alpha would truly go for. However, it does give us a barometer as to what to base things from.
Here is where I will take a some liberty. I will call the difference in per user value from Seeking Alpha to Leofinance the premium of Web 3.0 as compared to Web 2.0. We see a market based system with Web 3.0 where the users are actually paid and having assets that can appreciate. This will have to be worth something as compared to a site that pays a small percentage of the proceeds out to the authors.
Could we do the same thing with Twitter's numbers? For the sake of this discussion, why the heck not. Thus we can use the figure of about $130 per user for Web 3.0 Twitter versus the 2.0 version.
By the way, Twitter's market cap is now $40 billion with 336 million users, or $119 per user so we are in the ball park.
Also, Twitter users average 11 pageviews bringing the total to over 2 billion per day. This is a big difference with Seeking Alpha which averages less than 3. That is the difference between long and short form content.

So how many users will it take for Leo to be worth $250 million.
The answer is about 1.5 million.
We see this in the math: 1.5 million at $130 is $195 million with that same number at $33 is is near $50 million.
Thus, if Leo gets 1.5 million users, based upon these numbers, it will be a $250 million entity.
So how realistic is all of this?
To start, the per user numbers might be inflated. That is entirely possible. However, we know the Leofinance number is based upon the market pricing so that is not arbitrary.
At the same time, I just took two of the projects (tokens basically), long and short form. We know there will also be a governance token. As a comparison, Uniswap, which is nothing more than that, is now worth $4.4 billion. Certainly it is absurd to expect that type of number yet keep in mind that Leo will also have its own DEX running on its own sidechain.
Another question is how realistic is 1.5 million people. We can see that is about 1/10th of what Seeking Alpha gets on a monthly basis. However, it is a miniscule number when looking at Twitter.
Here is something I wonder: how many people had heard of WallStreetBets before the other day? I would say not too many.
However, here is what their Reddit community is: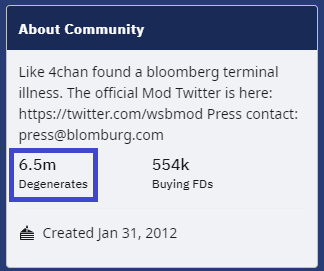 They have 6.5 million registered users, although most are likely not active. Nevertheless, we aer dealing with a number that is 1/4th that of what WallStreetBets has.
Thus, when you add it all up, Leo has a chance to be a $250 million ecosystem. Between Leofinance and #projectblank, the Dex, governance token, miners and perhaps the granddaddy of them all, LeoFi, we can see how things can explode rather quickly.
Another comparison, Parler, before they were shut down, had, according to Wikipedia, 15 million users. Again, we are dealing with a much smaller number as well as a wider audience for the microblogging application.
What are your thoughts? How realistic are these numbers?
As always this is not financial advice plus this is not a claim that the LEO token will have a market cap of $250 million. There are going to be a number of tokens that will feed into this number.
---
If you found this article informative, please give an upvote and rehive.

gif by @doze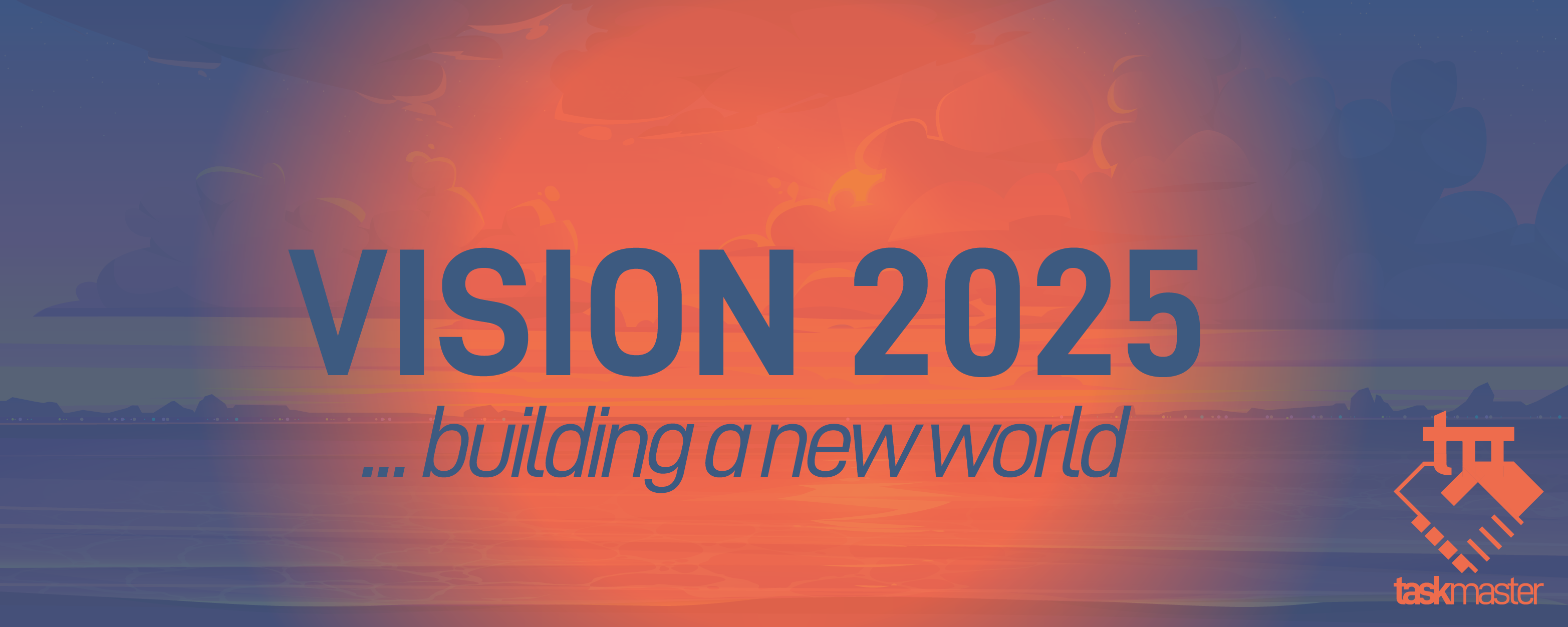 logo by @st8z
Posted Using LeoFinance Beta
---
---