Is this any surprise?
Things are growing enormously in the crypto field. We are seeing the price of many tokens run, especially Bitcoin and Ethereum. These two are amassing big trading volume.
We are also seeing more attention paid to the centralization-decentralization discussion. The moves of the social media companies brought this to the forefront.
For this reason, few will be surprised that the DEX volume in the month of January is set to shatter the previous all time record.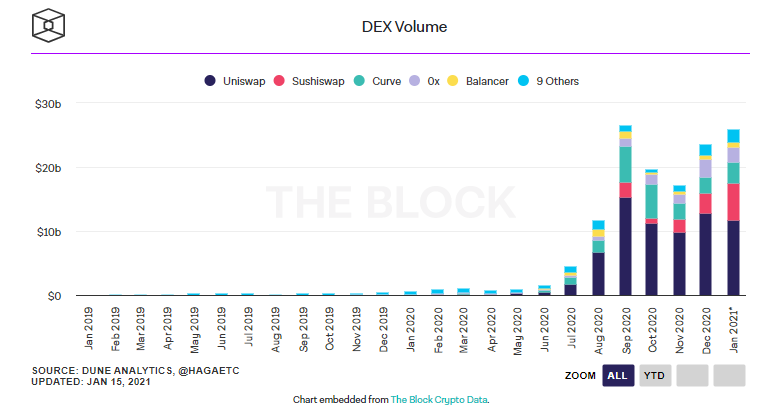 According to data compiled by The Block, current DEX volumes for January 2021 are $26.01 billion with 15 days remaining for the month. In September, DEX volumes reached $26.6 billion fueled by DeFi Summer.
As Mel Allen, the long time New York Yankee broadcaster, use to say, "Well how about that?".
Basically January's volume is going to surpass the all time high in a little more than half a month. This means, if the present pace is maintained, it will be close to double the volume.
As interest in the crypto world grows, we are seeing a great deal more activity. This is common during bull runs. One advantage though, is that long time holders and active participants have more crypto than they did a few years ago. This is helping to push these numbers to such great heights.
Uniswap currently makes up 44.85% of January's trading volume, with SushiSwap (22.19%) and Curve (12.98%) in second and third place, respectively.
Source
These exchanges tend to cater to the long time crypto enthusiasts. Newer players tend to drift to the centralized exchanges since they are dealing with fiat. DEX is ideal for those who are already holding crypto and looking to get involved with DeFi in some manner.
The latest numbers from DeFipulse.com tell us how much things have grown.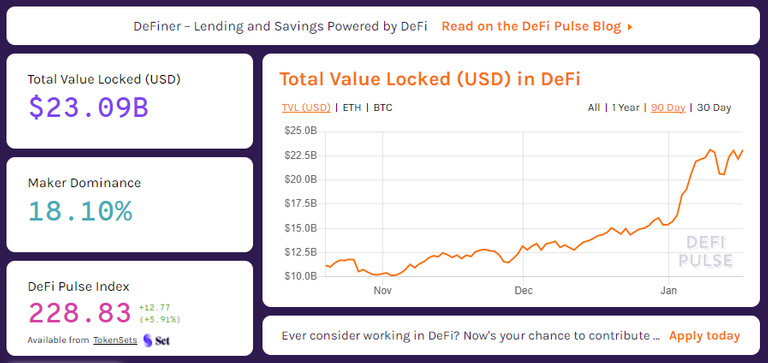 We are obviously still dealing with numbers that are much below the centralized counterparts. However, the fact that we are seeing records being set is very telling. Each day, the crypto world gets bigger.
When we think about it, there are many projects issuing out new tokens each day. Bitcoin, for example, doles out 900 new coins each day to miners. This makes the existing value grow if the price remains the same or goes up. Those who are receiving the tokens are seeing their bags grow.
This often leads people to do something with them. It is a sector filled with people seeking a return. Take all the tokens issued and then put a 15% annual return on them. That expands the total holdings even more.
It is something that will continue as long as innovation takes place. This is not even accounting for things such as airdrops and new projects where other tokens are created.
Over time, this all makes those involved in crypto more powerful and the entire pie growing at an insane rate.
The key for the world of DEX is to keep increasing the user friendliness of them. They are still a bit technical for most people. Again, with time, we can see enormous differences taking place.
Ultimately, it becomes a circular process. The more friendly the DEX become, the greater the amount that is drawn in. This is going to stimulate development and innovation, which will drive more opportunity to use these products. Again, that drives more money, increasing the activity.
As we see interoperability increase, this will provide the opportunity for one to leave where he or she is even less. Why move things around if you can swap from one token to another from a wallet where it is resident. Why even deal with the exchange process?
My expectation is that we will see the above chart, although with ebb and flows, see another move higher in the volume throughout the year.
It is not likely that the DeFi boom slows down any time soon.
---
If you found this article informative, please give an upvote and rehive.

gif by @doze

logo by @st8z
Posted Using LeoFinance Beta