There was some exciting news on Twitter posted out of the Leofinance account.
For those who read my blog, I stated on a number of occasions the reason why I was so excited about the new user interface was because of what it provided long term. This means that the first version, which mirrored Peakd, was just a MVP. All along, the juicy stuff was going to be in version 2 and version 3.
Now, it appears, we will get some insight into what that will be.
One of the vital moves for Leofinance is to provide features that financial based internet users require and are accustomed to. Remember, there are a number of sites that already cater to this crowd, so enticing them over to Leofinance is going to have to offer them a lot more than just the ability to post blogs.
At the same time, much of what took place recently, is all done with one intention: to attract more users to the Leofinance platform. Thus, the user interface is the end destination, not the beginning.
It is here where we see the importance of having something that is robust and feature-rich.
Posted on Twitter just a few hours ago was this: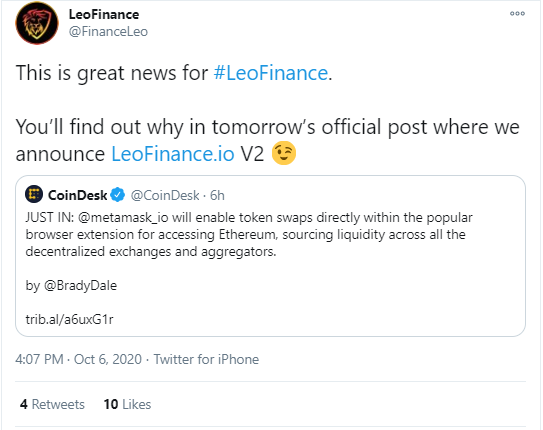 At this point, I have no idea what the announcement will contain. Will it be the details about V2 of Leofinance.io, a roadmap towards its development, or the official release.
Whatever is coming about is going to start the process of moving Leofinance users towards enhanced capabilities.
Obviously the tweet was in response to one that discussed the addition to Metamask which offered swap capabilities. We will see how all this comes into play with the user interface. Certainly, we can presume Metamask is going to have a part on what is coming down the road.
What makes the Leofinance project so interesting is the multi-faceted approach that is being taken. For those who understand technology, the word "convergence" comes to mind. This is where different technologies come together to offer combined capabilities. It is a crossroads that often leads to enormous expansion (think of how the Smartphone was the convergence of mobile, computing, and the internet).
It is easy to get excited about the price moves in Leo. With wLEO, we see the potential for some serious numbers being reached if the DeFi world catches on. However, I think it vital to remember this is more than just a pump.
Leofinance is actually building and developing. The goal is to get a token that has a value much greater than a buck or two. The potential exists to generate value through the building of a true Web 3.0 platform. This could push things to a much higher level than a DeFi driven pump.
Of course, the former will take a lot longer to produce since development takes time. However, as we have seen throughout this year, the development tied to this ecosystem comes out fast and heavy.
We will have to see what happens tomorrow but it is good to see that we will get some news about the second version of the user interface.
I have a feeling some incredible features are going to be added to it.
---
If you found this article informative, please give an upvote and rehive.

gif by @doze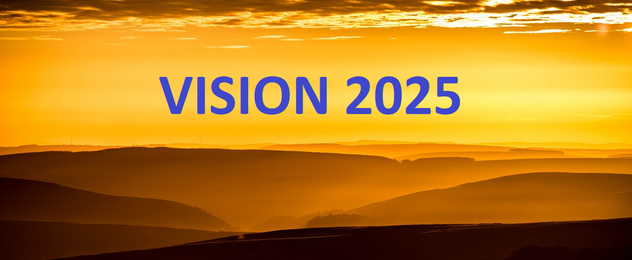 Posted Using LeoFinance Beta