Since the start of the year, there were a few projects that could be "game changers" for the Hive ecosystem in 2021.
To recap, they are:
Leofinance: Microblogging and LeoFi

3Speak: Decentralized video (and soon image) storage and SIP

Smart Contract Capability: The one to watch is what @disregardfiat is doing

Universal NFTs: A concept being worked on by @simplegame and his team (Second Half of 2021)
The top 3 made progress this week which can be read here, here, and here.
This article will focus upon the microblogging application that Leofinance is working on.
So what do we know about it so far?
Separate Application and Open Ended
Leofinance is a community that focuses upon financial and crypto related matters. It is a targeted community and the site is not a general purpose interface for Hive. Instead, it is a group of people who are interested in these subjects and the team is in the process of delivering features to the userbase.
This application, codename __________, is going to be a completely separate application. This will not be directly tied to Leofinance but will be part of the overall ecosystem. Consider, if you will, a sister project.
What this means is that any content will be eligible to be on there. The application is going to be general purpose, catering to whatever the interests of the users are.
Consider it "Twitter on the blockchain".
Token Drops
There will be a specific token created for this application. That means it will have its own tokeneconomics, most of what was not revealed yet. It will likely be based upon the proof-of-brain concept where people upvote the content they feel worthy.
Obviously, we can see those who are active receiving rewards. It would be presumed that the originator of the content will get a payout, similar to the author rewards. However, there could also be curation rewards. Until we see what is rolled out, we will have to just keep speculating on that end.
From some of the announcements, there are also going to be miners that will relate to this token. That is something that many find profitable. Not only will they be for sale but are also going to be airdropped.
Decentralization
It is already announced that Leofinance is developing its own sidechain that has smart contract capabilities. This is going to provide them with a great deal more flexibility for many projects.
As it relates to this, the application will be on a chain that is run by many nodes. From what was expressed, there is a lightweight program that most can set up and run inexpensively.
With all the publicity around the established social media's censorship campaign, this is a point that could hold incredible interest.
To start, as we know, with a Hive account, nobody can take that away from anyone. Unlike the Big Tech applications, an account cannot be closed. In other words, it is owned by the individual, completely.
Secondly, being on a decentralized chain means that the content cannot be wiped out. Over the past week, we saw Twitter go through and zap a lot of accounts. When that happens, the account is closed and all data is gone. Years of Tweets could be erased in an instant.
Using Hive As A Database
All blockchains are distributed ledgers. Thus, Hive is just a giant database spread across a lot of computers where text is stored. It is one of the most underutilized features of decentralized blockchains right now.
Immutable is becoming an important concept to people. As mentioned, with the closing of accounts, data is being lost to the user. It once again shows who is in control of it.
Certainly, most of what Donald Trump sent out is not vital. His Tweets tended to be whatever topic got under his skin and sent him on a rant. However, many people use Twitter for business functions such as customer service and marketing. Losing all that data could be a setback to companies.
In the first link at the top, this takes it to a video that was put out a couple days ago. There is a point in the video where it mentions the user checking a box and having all the Tweets for that account backed up on Hive.
Suddenly, all that data is immutable and secure. Even if the account is lost, it is all resident under the individual's Hive account.
How Will This Benefit Hive?
Many mistakenly believe that applications can be separated from the blockchain. This is not the case. Everything that this application does will be resident on Hive. All post will appear in the person's account, just like it does when using Peakd, Hive.blog, or any of the tribes. The only difference is the content form that is posted.
The most obvious benefit is transactions; lots and lots of transactions. Most of the Internet is not interested in long form content creation. Instead, quick snippets of thought sent out many times a day is more the norm.
Here are sum numbers that describe how big things are.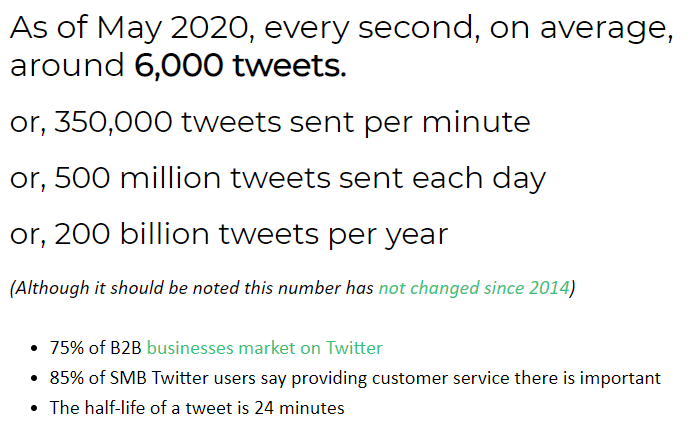 Source
500 million Tweets per day? That is astounding. Talk about a market to tap into.
How does Hive presently fare? According to the stats provided by @penguinpablo, it is about the 15,000 range.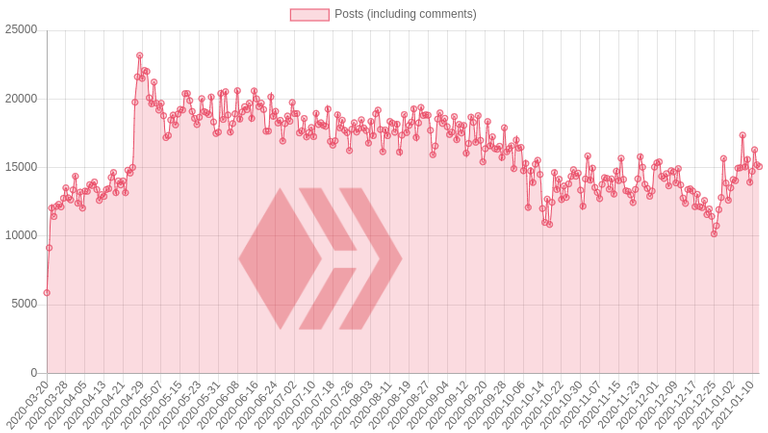 Source
In short, we are about to see a huge boost in engagement. Even with minimal success, there are likely to be tens of thousands of transactions occurring soon after the release.

Source
A Twitter "Frontend"
One of the features of Leofinance is the ability to automatically send one's posts to Twitter.

It only stands to reason that this feature will be available on the new application. This means that all activity done will be also on Twitter, as long as one links an account.
Coming from the perspective of immutability, this will automatically preserve all content generated from the account. After all, the activity originates from the blockchain and is then copied onto Twitter.
This could hold great appeal to those who are concerned about the security of their data. Over time, this is likely only going to grow as Big Tech becomes even more intrusive.
The trend they started is not likely going to be reversed.
Solves A Long Established Problem On Hive
We are about to see a major obstacle eliminated.
For years, the drawback to Hive is the fact that people's "friends" are not here. Individuals spend a long time gaining followers on their accounts so the idea of switching was not appealing.
This problem is now solved. Users do not have to give up their followers. Instead, they can remain right where they are. All that is being changed is where the content originates from. Instead of it being on Twitter solely, it will start from this application and be directed there.
We also see the ability to sign up using their Twitter account. Thus, the idea of having to learn about keys and how they work is not necessary to start interacting. Obviously, to collect rewards and things of that nature will require it, yet that can be learned over time.
Thus, we could see a large number of people, relative to Hive's userbase today, sign up and start using this application. Imagine what the numbers will look like with 40,000 people doing the 4.422 average number of Tweets per day. That will really explode the activity on the blockchain.
The numbers are out there and people are upset. This is likely the ideal time to start and target them.
Hopefully we will see the first version of this application go live in the next few weeks.
Many are anxiously awaiting.
---
If you found this article informative, please give an upvote and rehive.

gif by @doze

logo by @st8z
Posted Using LeoFinance Beta