There is no doubt that Vitalik Buterin, one of the co-founders of Ethereum, is one of the most recognized names and faces in the cryptocurrency community. Putting together the second most valuable blockchain at the age of 20 is quite an accomplishment. In short, he is a leading voice in the cryptocurrency community.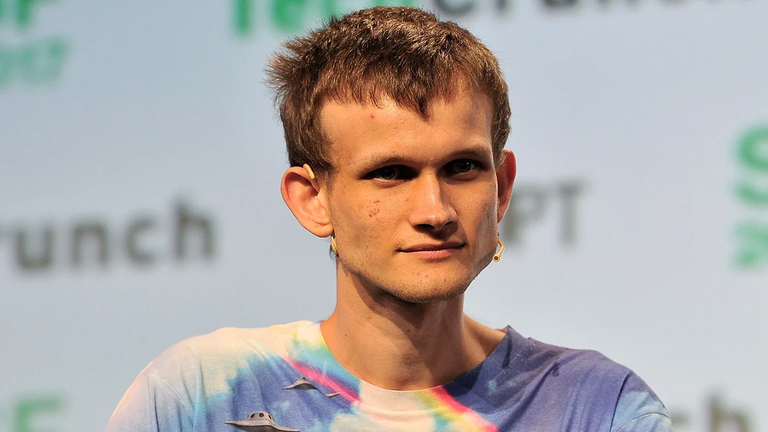 Source
The conflict between the Steem community and Justin Sun appears to be reaching epic proportions. Many feel it will go down as a case for others to study over the lessons of governance and freedom. However it is viewed down the road, it does appear it garnered a great deal of attention throughout the community.
Buterin is one who watched the process from afar. Over the months, he made a few comments about the situation. From the perspective of Hive, this was a motivational factor. The end result might not have paid many dividends but it is nice to be recognized and to know that others are on your side.
It does seem that Buterin's fondness for Hive has not disappeared. This is a Tweet that he sent out the other day.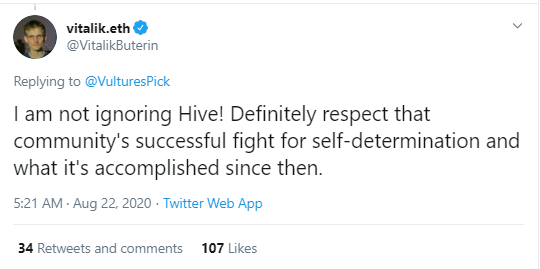 That is quite an endorsement coming from one of the more powerful players in the industry.
The fact that he not only is a fan because of the community's stand against what can be viewed as oppression but he also mentioned what it "accomplished since then".
It is something that is easy to overlook. Each day we trudge along focusing upon what is in front of us. Under this scenario, it is easy to miss the bigger picture. Buterin, on the other hand, is looking at Hive from afar. He is not likely focusing upon things on a regular basis. However, we do know we are on his continuing radar. This means that, periodically, something pops up to catch his attention.
At this point, he is aware of some of the highlights of what took place with Hive the last few months. This is very important and a tweet like this is so valuable in an industry where everyone is fighting for recognition. Buterin has close to a million followers on Twitter, a number which means that 250K are probably active and actually use the service. That is a large number of people to see the name.
What does this all mean from a big picture angle?
Other than adding validity to what is taking place, and knowing we have the attention of a major industry player, the end result is not a lot. Let's be honest here, Buterin is not going to suddenly jump from Ethereum and start coding on Hive. He is an observer as well as occasional commentator. Nevertheless, he is not actively involved in any manner.
Could this enhance some of the ideas that are being worked upon which will bridge Hive to Ethereum? Possibly. Having Buterin in favor of this project compared to opposing it is much preferred. This could result in an endorsement when the development that @netuoso and others are doing is complete. Or, it could simply be released without comment from Buterin.
Source
Unlike many famous people, Buterin is not out there hocking paid endorsements to tweet out to his followers. We see that taking place on a regular basis. The most noted of these is probably John McAfee who was touting any token that paid him.
This tweet by Buterin can be pointed to as a reference by the Hive community. There are a ton of projects outside Bitcoin that are completely unknown to the masses. Even to those who are involved in cryptocurrency, we are clueless as to what 90% of the tokens are related to. Standing out from the pack is vital.
The value in what Buterin wrote is that it is genuine. He was under no obligation to do that. It was simply something that he feels and wanted to express.
He is not ignoring Hive. This could be taken a few different ways. One of them could mean that Buterin feels that Hive is one to watch.
Whatever his intention, it is good to get the praise from someone who has such clout within the crypto community.
---
If you found this article informative, please give an upvote and rehive.

gif by @doze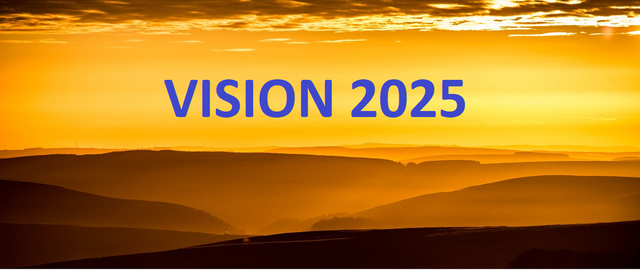 Posted Using LeoFinance