Most of us awoke today to pure carnage in the crypto markets. Things are certainly fun when they are flying. However, when markets reverse course, it is often a painful experience.
To start, we must remember that nothing ever goes straight up. There are fluctuations along the way. Secondly, this is magnified in cryptocurrency by the fact that it is so volatile.
So how do we avoid the emotional roller coasters?
Stephen Cohen is one of the leading hedge fun operators on Wall Street. He recently made news with his purchase of the New York Mets baseball team for close to $2.5 billion. Obviously, he is one who is accustomed to the swings in markets.
During one of his first interviews as owner of the new ballclub, this is what he had to say:
"But I never get too low," he said. "When I'm on a real great streak, I never get too high either. You're never as good as you are when you're doing great, you're never as bad as you are when you're doing poorly."
There will be setbacks along the way. Anyone who achieved any degree of success knows this. Problems arise and it takes working through.
Nevertheless, if we are to make great changes, we have to take on challenges. Playing it safe does not yield enormous results.
Cohen went onto to add:
Continuing with his thoughts on business Cohen remarked, "Playing it safe is no fun, it's actually boring. Being afraid of change is not a recipe for being as great as you can be. I've always been a risk-taker…All these decisions are about making intelligent risks."
Source
We all want to win. However, there can not be that without taking some losses. It really is that simple in life. No matter what the field, when one has to take a chance, there is the opportunity that things will not go as planned.
Traders are well aware of this. Each time one puts a trade on, there is the risk of losing money. Yet, at the same time, there is equal chance of making money. This is where risk assessment and money management enters the picture.
For those who are not into trading, there is another option. When looking long-term, the minor gyrations matter little. Let us look at Bitcoin to see how perspective alters things.
This is the 24 hour chart on Bitcoin.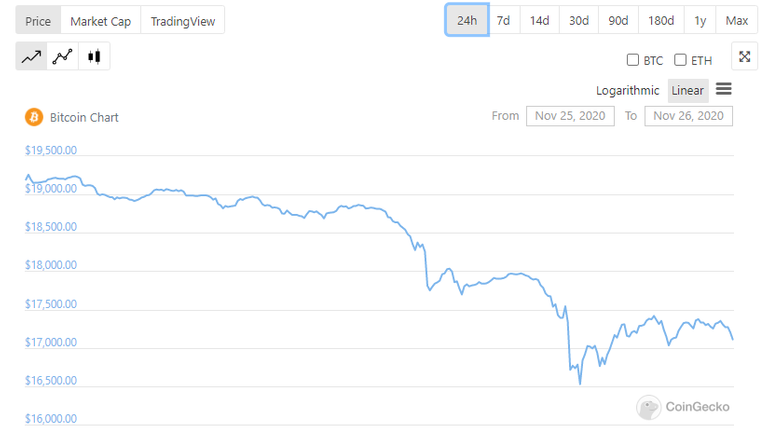 That is pretty ugly. It is enough to make one want to eat his or her shoe. Time to cash out and buy some low yield CDs for safety.
However, before we make that move, let us look at another chart.
Here we see the 1 year chart of Bitcoin: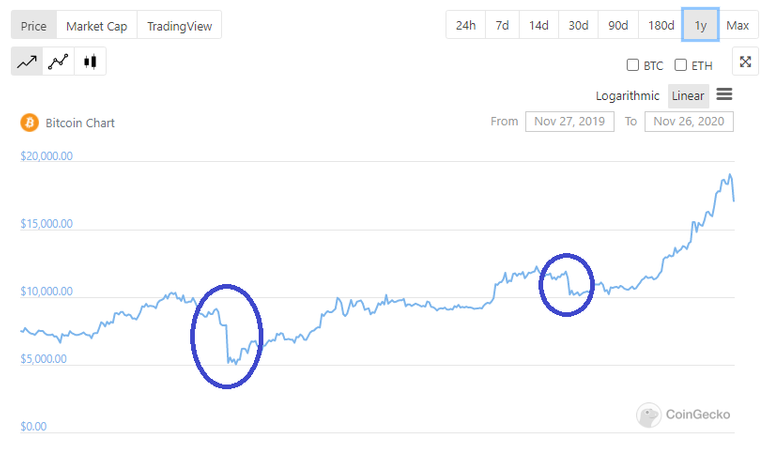 That obviously looks a lot better. Notice the areas highlighted on the chart. There were two moves during the past 12 months that were equal to, or worse, than this drop.
It is worth nothing that each of the previous moves preceded a much larger move up.
For now, the Bitcoin bears took control. There is no doubt about it. However, markets are a tug-o-war between the bulls and bears. Just as quickly as the bears took over, the Bitcoin bulls could grab it right back.
Here we see the value of taking a long-term view of things. In the moment, we can think things pretty bad. Unfortunately, the "moment" can last a while. For example, there are times when rough patches are experienced for 3 or 6 months. It is painful to endure that. However, as long as the organization survives, at some point, that stretch is in the rearview mirror.
Remember the battle with Justin Sun that the Steem community had to endure. Now, as we near closing out 2020, that is a distant memory. Nevertheless, it was not easy to go through at the time.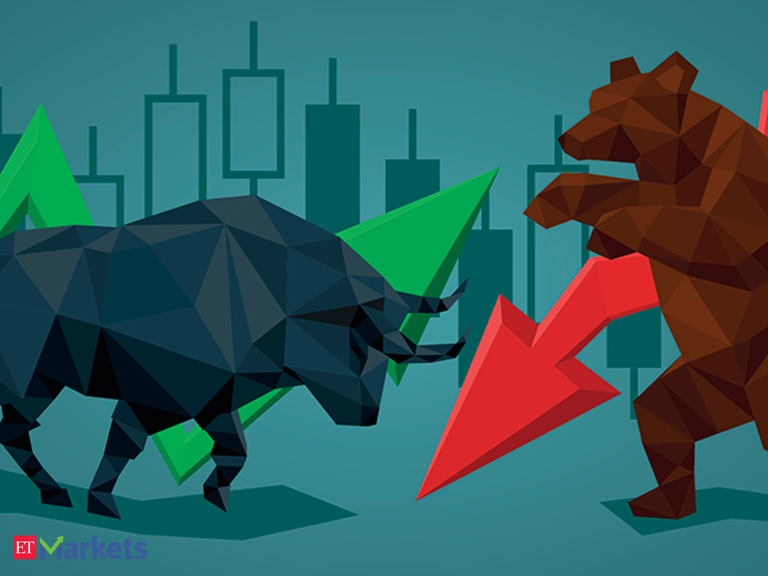 Source
Many often discuss the "buy the dip" approach. However, for that to be possible, there needs to be dips. Looking at the 1 year Bitcoin chart, we can, in hindsight, see where the buying opportunities were.
Long-term perspective enables us to sort through a lot of the noise that is often driven by emotions. When on a winning streak, as Cohen said, it is best to not get too high. There is a guaranteed setback somewhere along the line.
At the same time, when there is a sea of red, it is best not to get too low. This is normal activity for markets.
Here is the challenge for using price as a barometer for what is taking place. Markets are designed to go up and down. For all the research into the logic, the truth is nobody knows why they do it other then buyers taking control from sellers and vice versa.
That said, when looking at projects, what is being done is crucial. Follow the process to determine who things are unfolding. Markets are often mispricing things and that is common. To try and fight it makes no sense either.
However, equally as inane is to hang on every move in the markets. There will be ups and down. Often buyers or sellers have no insight into what is happening with a project. Instead, they are just doing what market players do.
As always, be careful out there.
---
If you found this article informative, please give an upvote and rehive.

gif by @doze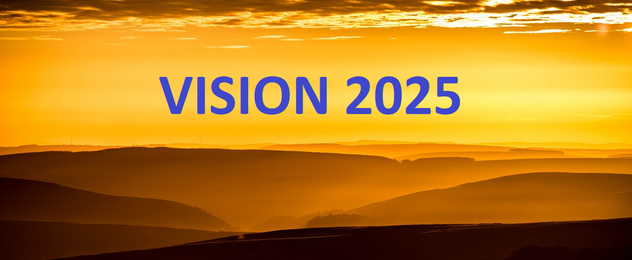 Posted Using LeoFinance Beta