This was the headline in a Cointelegraph article. It is something that is starting to get some attention and I think it is long overdue.
Hopefully, we see the trend continuing and working its way towards the mainstream media. Many ask what problem cryptocurrency solves. The way things are going, my conclusion is that cryptocurrency, ultimately, is a solution to income and wealth inequality.
It is no secret that the present system is not working for the majority of humanity. A large percentage of the global population lives in complete poverty. Outside of that, even in the developed countries, more than half the population is financially struggling.
Sadly, this is a trend that does not appear to be reversing itself, at least from a monetary standpoint.
To me, this all revolves around the idea of distribution. Our present system has a horrible distribution system. It is becoming obvious where most of the money flow is directed towards.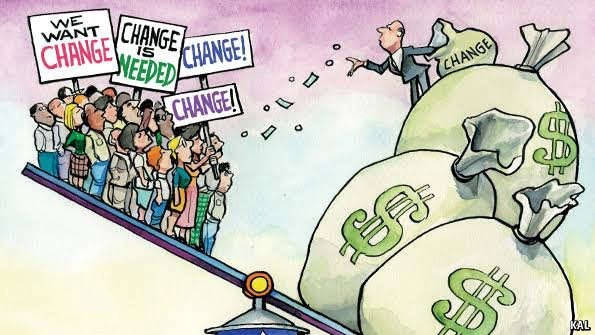 Source
Of course, many argue for a change of the system to another "ism". The challenge with that is that these systems have shown themselves to be poor at growing the pie. So while distribution might be more effective, the long term result is slowed growth and eventual collapse. The Soviet Union failed to innovate and many of the EU's present problems are following along the same lines.
Lately, the answer is to print money. This is something central banks are doing out of desperation. Simply put, they have no choice. With the global economy suddenly thrown into economic turmoil, things are bordering on civil unrest. Of course, true to form, the bankers go to the same playbook as they always did, only adding to the problem.
Many tout Bitcoin as a solution. As the Cointelegraph article points out, Bitcoin as money is not the solution in this environment. Not from a monetary perspective anyway. Where Bitcoin does excel, just like gold, is as a store of value. Over the next few years, if the money printing continues, Bitcoin could see an appreciation in price. This would bode well for all those holding the king of cryptocurrency.
Sadly, there is a major flaw with Bitcoin. To acquire it, for the most part, one needs to buy it. In other words, the swapping of fiat for Bitcoin is the most common course. Thus, those with fiat are the ones able to add to their Bitcoin holdings. No wonder the bankers are reported to be buying it on the quiet. Eventually, Bitcoin will be the cryptocurrency for the elite, just like gold.
That said, there is a lot in cryptocurrency outside of Bitcoin. Many cryptocurrencies are offering the ability to approach the industry without the ability to buy in yet still position oneself for financial growth.
For the past few years I touted how one of the biggest advantages to Hive (Steem) is the distribution model that it follows. While many complain about it, and certainly we could debate the faults, there is no denying that anyone can come to Hive and start being rewarded in cryptocurrency. Even if HIVE is scarce, there are plenty of other tokens being distributed on a daily basis that is helping to enrich people.
The key to all this is the fact that the ecosystem can keep expanding and growing. There is no limit to how many tokens can be created and projects they are tied to. Value, of course, is going to be determined by the number of users and who is involved with the applications.
Nevertheless, providing a steady reward stream will be an income for many people. This could be used to pay some bills or to help grow one's wealth. Here is where we see the ability to address wealth inequality. We all know there are projects that could see a 10, 20, even a 100 X over the next few years. Having some stake in those projects could provide a fabulous windfall.
The fact that this is global in nature and only limited by the ability to connect to the Internet, we could see a widespread move forward in people's finances. Those logging on in Nigeria can receive the rewards the same as someone in the EU. Location matters little in that regard.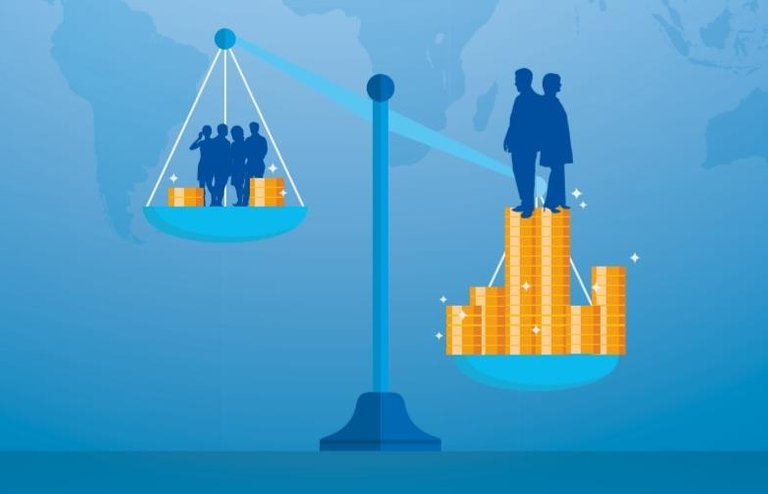 Source
Eventually, we could see similar financial approaches to the existing system. Whereas most of cryptocurrency, at the moment, is looking for the mooning of tokens, the next phase is going to be focused upon growth. How does one increase the number of tokens held and use them to get involved in projects that appreciate over time due to the growth of that application or platform? Ironic that this will provide for a more stable system, something that naysayers have pointed out as a negative of cryptocurrency.
We are rapidly approaching a point where it is easy to see the potential of Web 3.0. Many are discovering how online activity can net a decent income when the centralized platforms are removed from the equation. It is vital to remember that we are in the early stages yet the pathway is being laid.
Web 3.0 will be developed over the next decade. By the year 2030, it will be absurd to do something online that does not have a reward tied to it. Quite simply, those that do not follow this path will be ignored. It often takes a while for the "better mousetrap" to filter through the population but it eventually gets there.
In conclusion, I would have to agree that cryptocurrencies can solve the income inequality problem. Actually, over time, I feel it will also address a great deal of the wealth inequality that we see today.
Crypto-Economics takes things to an entirely different level and provides an alternate to the existing financial system.
To read Cointelegraph Article:
https://cointelegraph.com/news/income-inequality-can-bitcoin-or-other-cryptocurrencies-fix-this
---
If you found this article informative, please give an upvote and rehive.

gif by @doze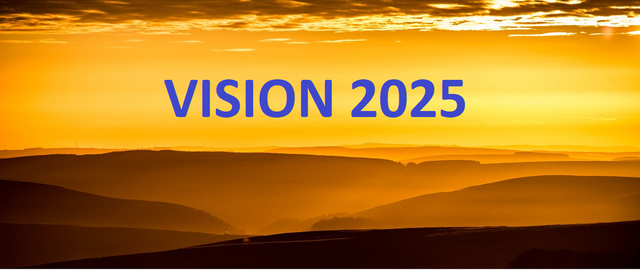 Posted Using LeoFinance