There are many comments out there that are really encouraging. A lot of people are noticing how fast things are getting around here. Hive is seeing a lot of activity which is something we were not always able to say, especially before the fork last March.
In fact, there were long periods of time where things were stagnant.
Not any more.
This sentiment seems to be supported by some of the numbers. In reading through @penguinpablo's daily post, there was some interesting tidbits to digest.
The first noticeable number is accounts transacting. Here is the chart that monitors that.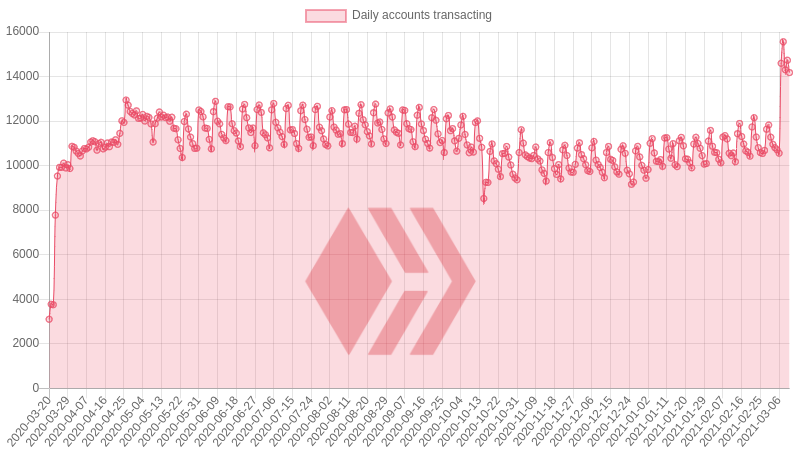 What the heck happened there? According the to specific data from the table in the post, that was a jump from 10,000 accounts to 15,000 at the top. It pulled back a little but is still at the 14,000 level.
That is a 40% jump in accounts compared to where we were. Certainly, we can't presume they are all individuals yet it is impressive nonetheless.
So that begs the question, what caused it? There is no way to tell so we will just embrace the fact that something got a lot of accounts operating.
Another interesting chart is the number of votes. This seems to be telling a bit of a different story than before.
Here is what this looks like: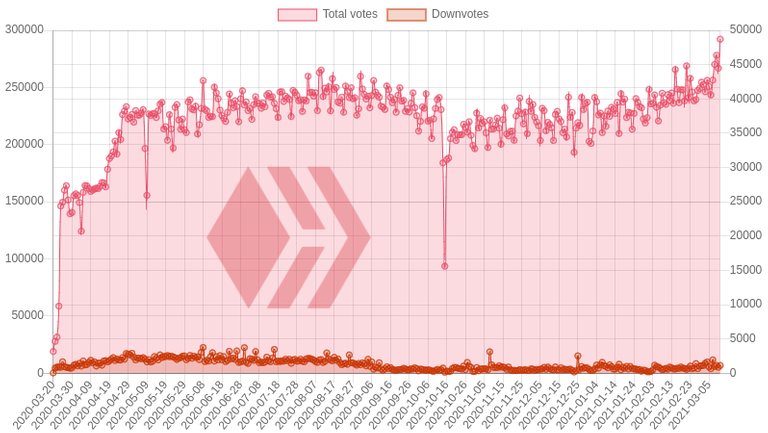 Another major change over the past week. The last full day charted came in at just under 300K votes.
The final chart is not at all time highs yet is trending up. We are getting back to levels we saw in the past, so this is not as novel.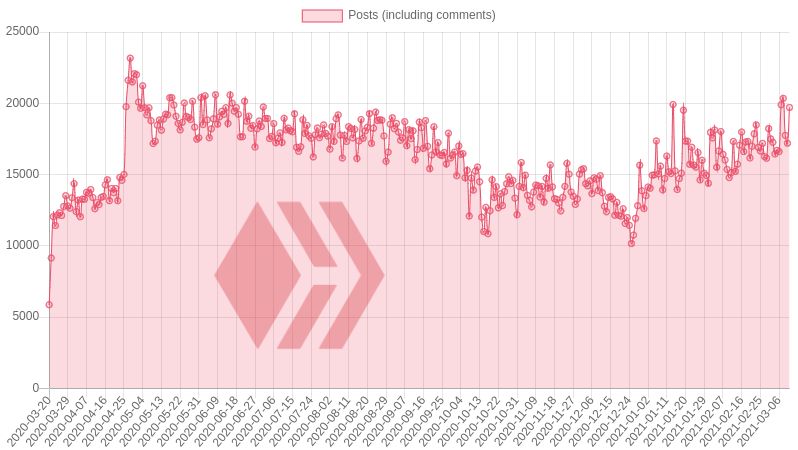 What is good to note is that, since bottoming out about 10K, we trended in an upward direction. The comments are up also, closing in on 5,000 per day.
We saw glimpses of this in the past, only to be disappointed. For a number of years, there were a lot of starts and stops. It seems each time we got momentum going, something pulled it back.
That said, things have a different "feel" to them now. This is not the same place it was when we forked a year ago. There appears to be an excitement unwitnessed the near 4 years since I joined.
A few of us were discussing today the opportunities that exist on Hive which were not available in the past. It is easy to get caught up in the most recent developments yet there are a lot of things that were expanding since the start of the year.
Essentially, it appears more people are understanding how Hive is a compounding machine. Their efforts, when taken on a consistent basis, can lead to bags filling up. This is shifting the focus to finding that areas that can be profitable to an individual.
There was a time when this place was a one-trick pony. That can no longer be said about Hive. We are seeing the number of tribes expanding. While they are not filling up at this time, some are showing amazing potential.
We also see the gaming community expanding greatly. There are a number of games, according to what others post, that are providing a terrific stream of rewards.
NFTs are getting a ton of attention across the crypto space and Hive has its @nftshowroom. This is where people can create and sell their NFTs with ZERO transaction costs. Try to do that on Ethereum.
What is fascinating is that, in the past, we were awaiting old promises. We no longer are at that stage. Now, it seems like the question is "what's next"?
Invariably, one does not have to wait too long before something else is announced.
Just this week we got an announcement by @klye regarding setting up Hive Smart Chain, which is a reproduction of Ethereum and Binance Smart Chain. Using the Ethereum Virtual Machine (EVM) code, it will be tailored to Hive, creating a PoW sidechain that removes some of the shortcomings of other PoW systems. The chain will also use Hive for the transaction fees, not some other token that is issued.
Many already agree, if implemented, this will be a major deal for Hive. In the past, this might have been a pipedream, something that was wishful thinking. Yet, today, with the developers running around and the desire to keep rolling out more, we see a different attitude at every level.
In a week we will see the first birthday since the fork after the Justin Sun episode. At that time, the attitude was mixed at best. Many felt that the end was near.
Instead, here we are a year later with the "feel" of what we were seeking for many years. The excitement is contagious and more people are optimistic about Hive's future. We saw a lot of development both at the base layer and Layer 2 this past year. It is putting us in a fabulous position entering the second year.
After flatlining for so long, Hive is taking on the aura where we can really look forward to where things will be in 3-5 years.
Exciting times ahead.
Let me know your thoughts and experiences in the comment section.
---
If you found this article informative, please give an upvote and rehive.

gif by @doze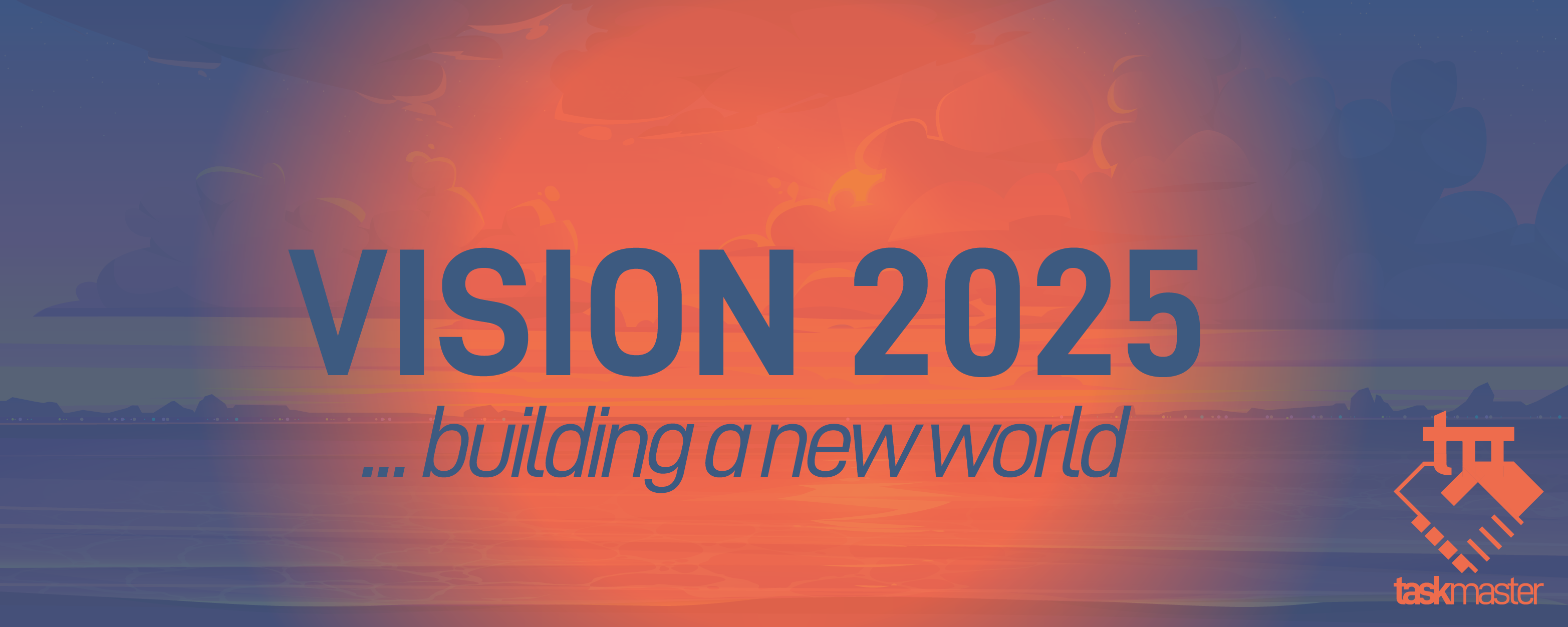 logo by @st8z
Posted Using LeoFinance Beta