By now, most everyone on Hive is aware of the success that Leofinance is having. The website is active and the token is shooting up. This is obviously something that every application is seeking.
Yet, we find that most are failing. They have not gained any traction and seem to be withering away. This is what makes Leofinance stand out; the fact that it is one of the fear applications on Hive having some success (especially among the tribes).
What is secret to the success? Here we are going to review the formula used to see if it can be duplicated.
At present, Hive is a thriving community. Last count there were over 450 people posting from the front in (over the last month). Of course, that wasn't always the case.
Here is the chart from the latest @leo.stats post.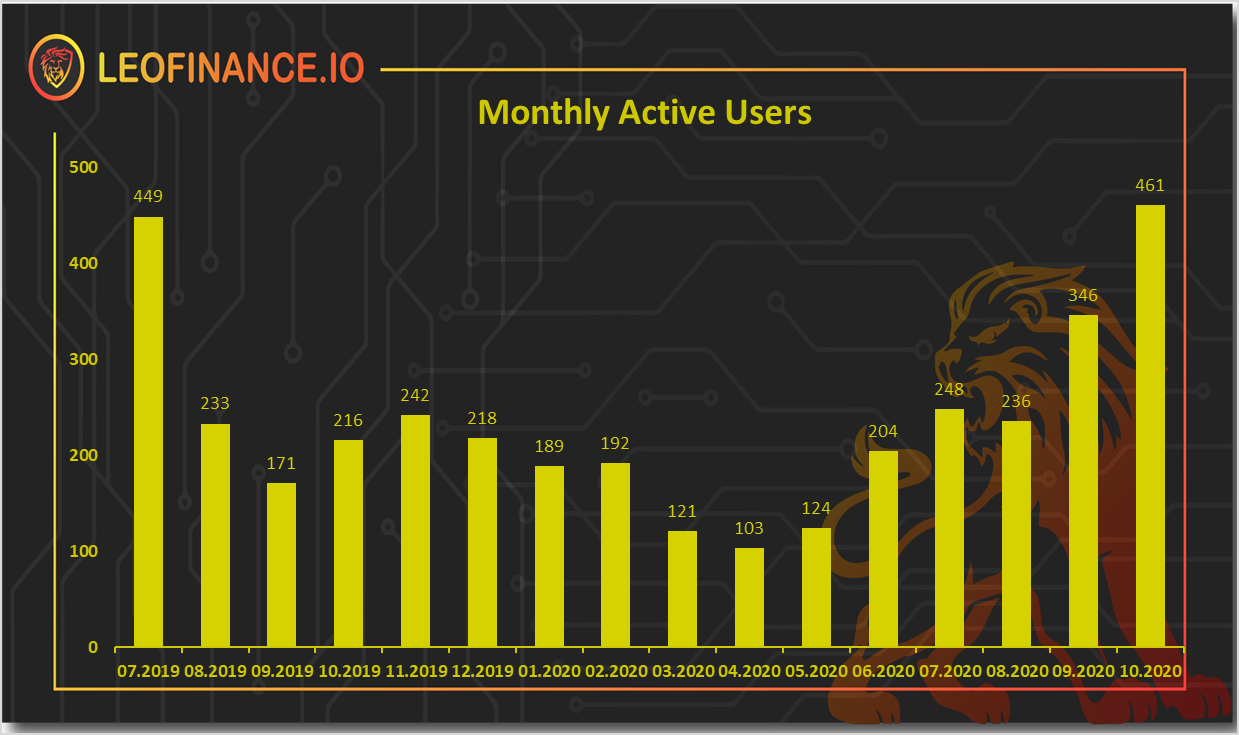 Source
As we can see, after the switch over to Hive, the usage dropped. Even before that, the user level was nowhere hear what it is now.
Thus, we saw a community that great, not only in number, but also activity. Over time, the users became more committed and got involved.
We saw a report from @abh12345 yesterday that analyzed the number of comments being made from each front end. Here is a chart from that post.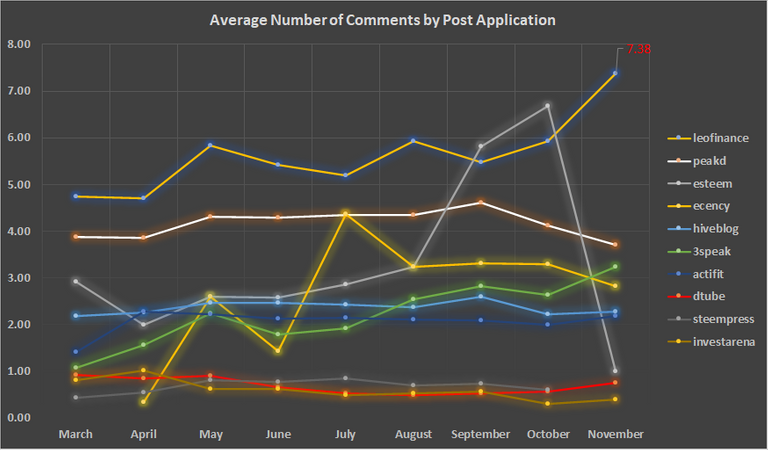 Source
The key thing to note here is the other front ends are much older than Leofinance (with the exception of Hive.blog although that basically replaced steemit.com).
Development Is Key
Throughout the entire process, the Leofinance team has been developing. One of the biggest moves was creating their own UI from the ground up. This got them away from Condenser providing greater flexibility. Also, the team kept producing no matter what was going on. The updates were consistent and frequent. Users could literally chart what was happening.
They also got involved in cross chain applications by developing wLEO. While it was unfortunately hacked, it did provide the basis for a great deal of information which is enabling the team to put together a second, more secure version of that.
The point is that none of what Leofinance did can not be duplicated. Why are other tribes not taking off? When we visit their website, they still look exactly the same as the day they were released. Without any development, how is the user base going to get excited. When things appear to be not moving anywhere, people move on.
Passion
It is easy to look at the situation now and simply proclaim that the Leo users are a bunch of passionate people. Certainly, that is true as the numbers grew yet it was not always that way. A year ago, there was a small handful of us who were dedicated to Leofinance and actively involved. Other were simply tagging the site to get a few extra tokens.
However, the lesson from this is how it does not take a large group to have an enormous impact. Even today, we are still talking about a user base that is less than 10% the size of Splinterlands. Leofinance did not become successful because of thousands of passionate monthly active users. At one point, it was in the dozens.
It is here that we see the path forward for Hive. The financial market is obviously a large one, yet it is still a niche. On here, we use the term "communities" to denote this concept. Many, including myself, believe this is the future of digital and virtual activities. As more powerful technology is in the hands of people, the push idea of distribution is going to dwindle. People will form their own following which is where individual will gravitate towards.
While finance and cryptocurrency is something that many are interested in, there are even more people who are not. That is alright since it is a particular niche. However, it is easy to see how this is not something where the most passion lies.
Here is an idea: what about a community for one of the most successful football (soccer) teams in the world? We know fans are rabid in their support and dedication. What would it look like if a dozen Manchester United or Real Madrid fans, as an example, got together to set up a community on Hive. They could follow a similar process as Leofinance. If they developed their website to cater to the needs of that community, all while providing the opportunity to "monetize their fandom" through tokenization, how would that change things?
Now, if you will, take that concept across many fanbases in different sports. There are hundreds of millions of fans who are passionate about their particular clubs, both professional and collegiate. Can you imagine the number of comments resulting from a back and forth between an Ohio State fan on a Michigan post?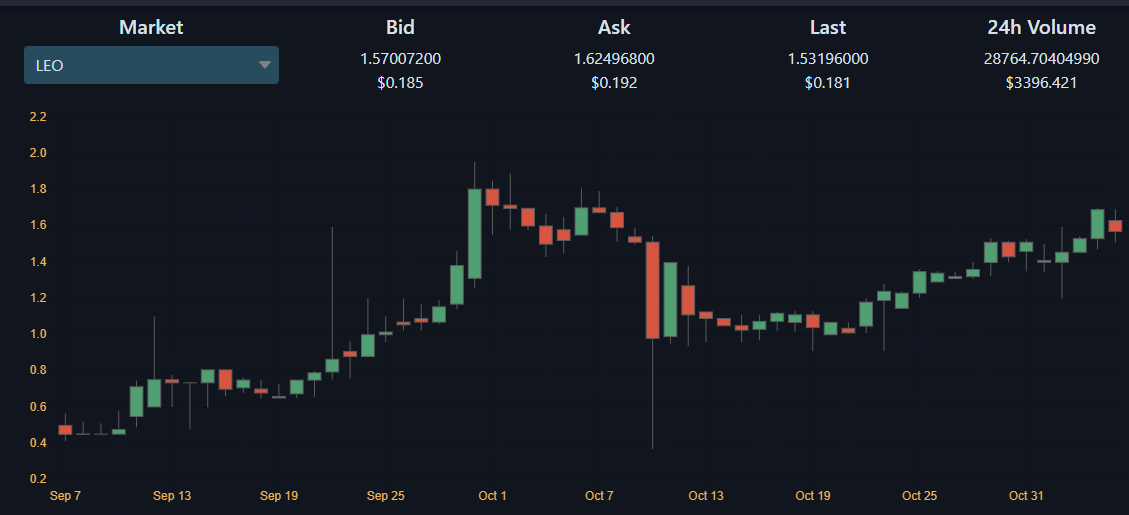 Who wouldn't want a chart that looks like this? Here is what the last two months of LEO looks like. Obviously, a 4x is going to bode well for any token holder. Yet, as we see, there is a lot more going on here than a simple pump.
A lot of effort went into achieving these results. Fortunately for all involved, a lot more is being done to hopefully replicate this move again over time.
The main point is that this can be duplicated by other tribes. Instead of focusing upon the token price, concentrate the efforts on building and growing. This is what is required.
Many are down on Hive while pointing to the success of Leofinance. The reality is that the activity on Leofinance all ends up on Hive. Hence, it is feeding into the success of that platform too.
Then how come things aren't moving on Hive like we see with Leofinance? The answer is simply the difference between a Sea-Doo and an oil tanker. One is much bigger.
That said, what if there were a couple dozen projects on Hive that mirrored what is taking place with Leofinance? What if there were different sports teams each with their own tribe? Perhaps we could see major colleges, focusing upon their teams? Dare I say, we could have political leanings where people could discuss all things related to politicians? How about a community where fans of the leading television programs can assemble to discuss the latest episode?
And the best part of this, all of those can be monetized.
Of course, it is not going to happen on its own. It takes a small group of people dedicated to making it done. There needs to be some technical capabilities involved, obviously, to develop things. Nevertheless, as Leofinance is proving, the payoff is there.
In the end, Leofinance is acting as a proof-of-concept. It shows that ideas from the past were valid, they just were not fully exploded. Many ask why would anyone develop on Hive. Part of that answer is contained in the success we are already seeing.
Having a successful system to follow really helps things along. Individuals and groups only need to get together, determine the niche of their passion, and get to work.
We now are aware of what the results can be.
---
If you found this article informative, please give an upvote and rehive.

gif by @doze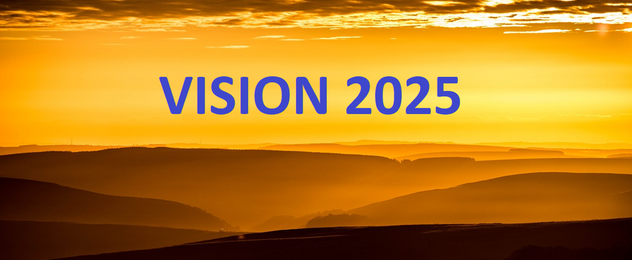 Posted Using LeoFinance Beta