Centralized Social Media At It Again
It is always nice to wake up to having your account zapped. This was the situation for a number of crypto influencers.
Twitter staged another round if account suspensions. This time, it seems, it wasn't malicious on the company's part. Names such as MMcrypto, WSBchairman, themooncarl, KoroushAK, and TheCryptoDog along with Willy Woo and PlanB were hit. It seems Twitter though, for some reason they were spam accounts.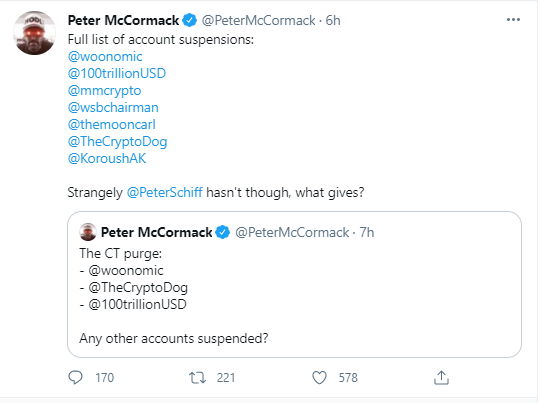 Since this is obviously a mistake, these accounts will be restored with some verification and proof they weren't spamming.
Of course, this does not detract from the bigger picture.
The problem here is not the fact these accounts were suspended. What is the core issue is that Twitter, or any other social media company, can suspend or close an account to begin with. This is the crux of the matter.
Unlike this situation with Twitter, we saw other social media entities zap crypto influencer accounts on a number of occasions. Both YouTube and Facebook did this in the past. Naturally, when this happens, those people take to other centralized social media entities to complain. Yet rarely do they do anything about it.
A few of us were discussing this topic a couple of week back. It is amazing how the crypto influencers, for the most part, talk about decentralization and crypto, yet do it on centralized platforms. Certainly, we can understand some of the bigger ones leveraging what they built since it pays them significant money.
That said, you would think with the track record of what took place, they would at least back up their stuff on decentralized applications. For example, how many of these individuals opt to also use apps like 3Speak or Bitchute? While not fully decentralized yet, they do offer the ability to protect one's account (and work).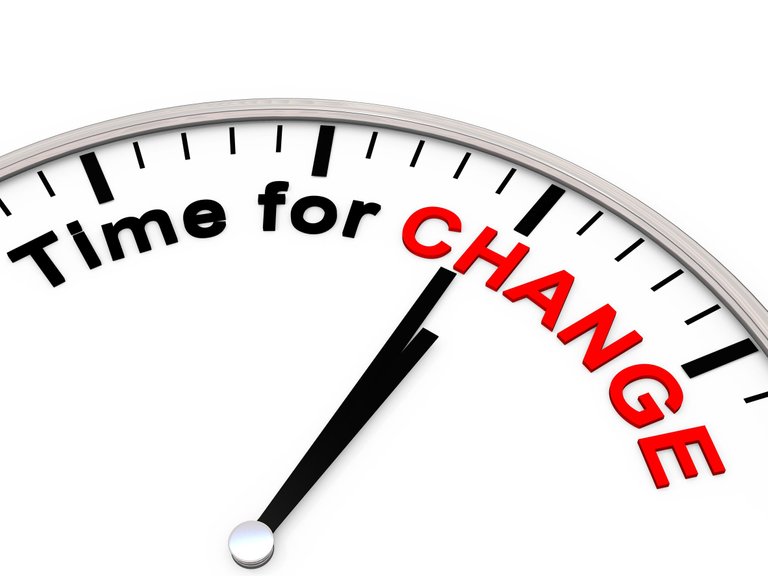 Source
This is a topic that is not going away. We are a number of months passed the election mess in the United States and we still see the same discussion, just with different players.
It is becoming obvious to many people that the centralization of social media is very dangerous. This puts enormous power in the hands of these companies, something they have shown they are willing to abuse. They are given the ability to hinder messages that are delivered, ultimately shaping the conversation about particular topics.
Overall, this is a bad sign for humanity and society in general. When a few elite individuals or entities can control the narrative, we move away from freedom. It is why some of the blockchain based social media applications like those being constructed on Hive are so crucial.
Jack Dorsey has espoused on a number of occasions the need to decentralize social media. He went so far as to call for plans to do that with Twitter. Of course, that was more than a year ago and nothing was done.
Nor will it.
The challenge is that, presuming he is genuine in his desire (a stretch), it does not fit into Twitter's business model. The fact is the major social media companies have shareholders to answer to. Their bread is buttered every 90 days when earnings are reported. This means money has to be generated.
To do this, the users are secondary in the equation. They are just pawns used to generate revenues. As these sites became popular, the data generated was harvested and sold to advertisers. Looking at the numbers, this is a very profitable approach.
That means that Wall Street shareholders are not going to allow Dorsey or any other tech executive slay their Golden Goose. Anything that works against increasing profits will be fiercely resisted.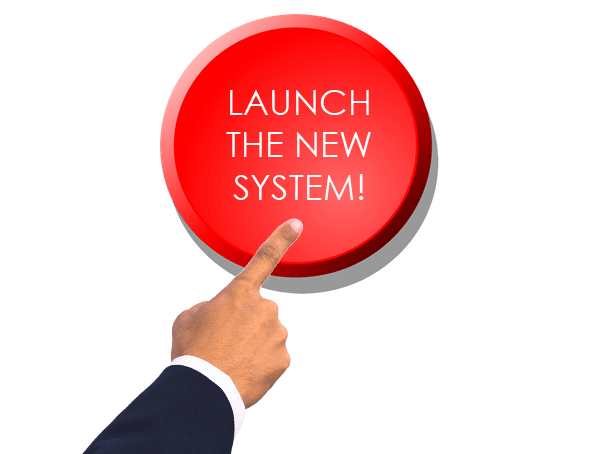 Source
It is for this reason why it is senseless to work within the present system. There are too many entities that will resist doing anything different because the existing model is profitable to them. Change most likely means harming their proceeds which is not going to happen without a fight.
When it comes to social media, these companies are essentially set in their ways. They can talk all they want about stakeholder value, benefiting society, and freedom. The reality is they are all about control. This is how they erected their ecosystems. From the very beginning, they were meant to silo people behind their walls and keep them locked in. We see this across the entire tech industry.
Apple, Microsoft, Snapchat, and Tesla seek to do the same thing.
Control means dollars and that is ultimately what the name of the game is. Leveraging user bases for revenues is what these companies excel at. It is time people simply embrace that fact. The evidence is mounting on a regular basis for those who overlook it.
Thus, it is up to us to develop the alternatives. We do not need to ask permission to proceed with this mission. The idea of freedom when it comes to social media is one most support. So why do people insist on waiting for the existing entities to offer it?
This is why I am so optimistic about Hive. We are seeing steps taken to develop the tools to provide this to the masses. A couple of the projects encountered hiccups but seem to be on the path to bringing these applications to market. Once they hit, we will have a strong offering of decentralized social media DApps that include blogging, video creation, and "tweeting".
The best part is all of this will reside on a platform where one account handles it all AND it cannot be closed or suspended. At the same time, all content that is posted is forever out there. Nobody can take it down. For text it is on the blockchain while video will be on a decentralized video storage system where the content is on individual computers all over the world.
For now, what we are witnessing is the same ole stuff from the social media companies. They have the power to erased years of a digital footprint in a matter of seconds.
In the end, this will not change until we change it. This means constructing the social media platforms that provide the censorship resistance that people obviously need.
---
If you found this article informative, please give an upvote and rehive.

gif by @doze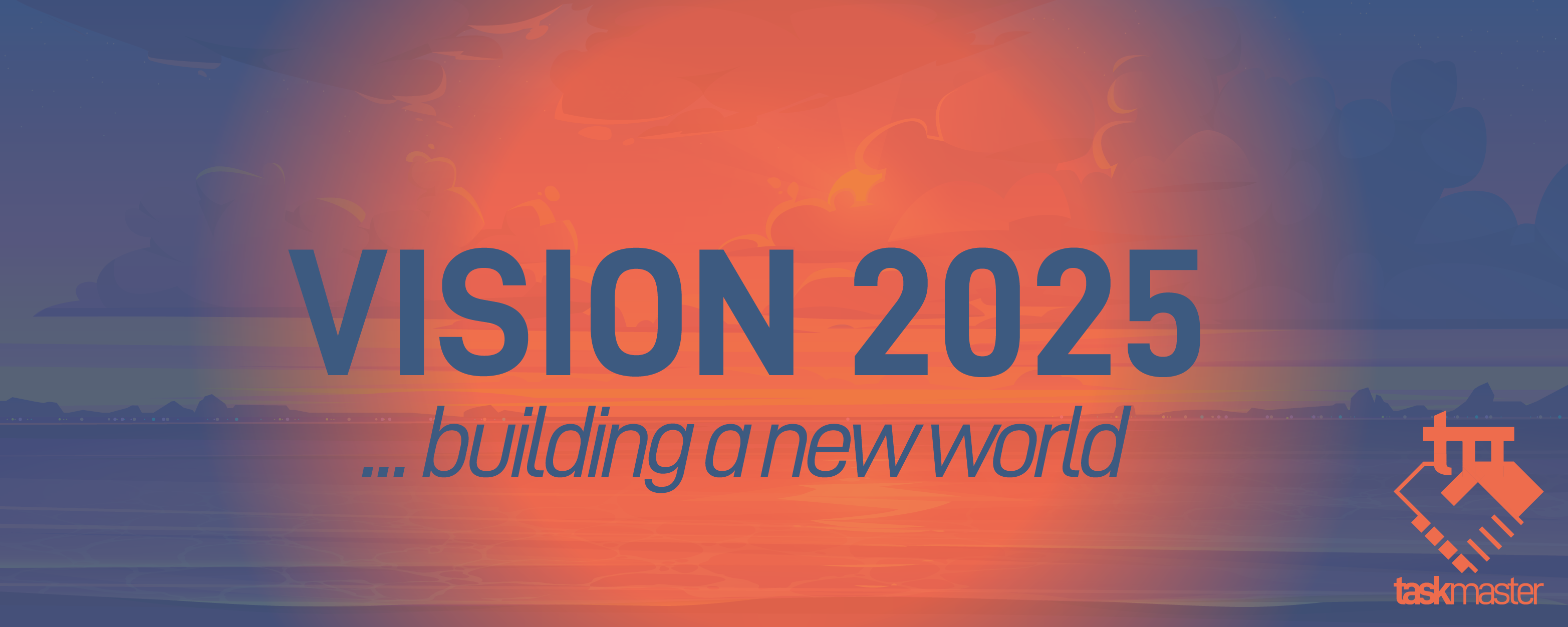 logo by @st8z
Posted Using LeoFinance Beta
---
---