If the token value of HIVE hit 10 dollars, would you be happy, or pissed off that my account would be worth 1.3 million dollars?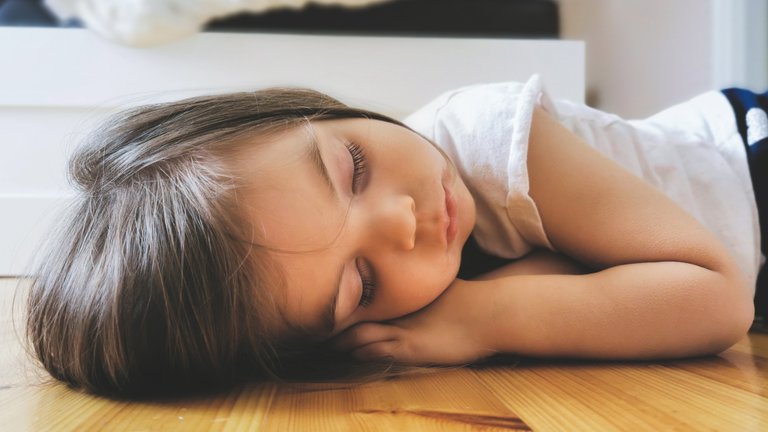 My sick daughter fell asleep on the floor today
I grew up in a family with three older brothers and our parents rarely had junk food in the house, which is probably why we all carry a sweet tooth. It is also why at that time I would compare what I had on my plate to what they had on theirs - and as a child, I never factored in that they were larger than me - I would just look at the portions and think, that's not fair.
Eyes on your own plate.

my mother
When it comes to things we want, if someone has more than us, we have the tendency to be envious in some way and believe that we are entitled to more ourselves. We do not consider the complex makeup of what led to the result, we consider only what comes to mind, putting extra weighting on the factors where we are equal or better, discounting or completely ignoring where we might be lacking. We do not consider the history or track record, we do not look at constitution or competence, we only feed our opinion based on what we feel in the moment, the desire - and think we deserve better. It doesn't matter how much we have, we just want more than others.
If HIVE hit 10 dollars, there will be a few accounts on here that are worth north of 50 million dollars and we could ask the question, does anyone deserve so much? Probably not. But that is the way this and every other industry works when there is an early investment into a business that becomes mainstream. Has Zuckerberg really earned his 80 billion dollar wealth over the last 15 years? He is not the only billionaire made out of Facebook, and there are hundreds of millionaires from the same business, plus many more from associated business that have leveraged it.
It is interesting to consider that while everyone is hoping that perhaps in their wildest dreams Hive will be able to compete at some level with the likes of Facebook and Twitter, at the same time it seems many people expect it to be done without anyone getting rich in the process - especially, astronomically rich.
Yet, for Hive to do what many are hoping it will do by continually developing applications and experiences like games that push into the internet to increasingly capture market share, people will have to get wealthy along the way, and this is a great thing. The higher the price goes and the more "wealthy" there are, the greater the potential to capture even more of the markets as some percentage of those people will use their funds to build further into the ecosystem and diversify use base. Many will build their businesses that will become gateways into Hive.
This is the decentralization of the blockchain that is needed also, not just the distribution of the token. It has to be attractive for people to build their lives upon and that means it has to stabilize so it provides a foundation for them they can trust. The decentralization of the token is one aspect of this, the development of a wide range of business owners and user base the other.
Anyone can build a shop, but putting it in the middle of a desert where there are no customers is risky. However, once there is the infrastructure that supports citizens, people start to move and settle down and then, demand goods and services from all kinds of businesses. The infrastructure being in place first means that the barrier to entry to settle and make a home is lower. At the moment, Hive is in a transition phase from the "wild frontier" to a border town - where laws are tenuous at best, but lawlessness runs rampant. It is the wild west, but it is rapidly changing, with those who live as gunslingers and bandits, being replaced by citizens and owners who are looking to build a life.
In this transition period, we are working out who we are, but that doesn't mean we are all going to be on the same path. The beauty of Hive is that it is open for anyone to take or build a path, but the success of the individual is going to vary depending on the path taken and the person themselves. What this means is that even at this stage, the expansion of Hive is happening through the diversification of user behavior and while some will be more successful than others, all will benefit from those who are able to expand the network in various ways.
The expansion of the network is not just app building and onboarding, it is also through the building of content and relationships that aid the application and onboarding - the content that keeps people interested, the engagement that keeps people in the discussions and, the user base that is actively making Hive the kind of place that people love to be.
Now, you might say that Hive isn't a place that people love to be and that they are only here for the money and let's say you are right but consider, if people love the money only, people are going to love it a fuckload when Hive is 10 dollars and the pool for the next year is distributing 260 million dollars worth of value to hundreds of thousands and likely millions of accounts. With a development fund to build with and a host of engaged and experienced developers with value behind them - this place would thrive.
You might say it didn't back at the ATH in 2017 - but that was a different userbase and most of the active members here now, weren't on Hive at that point - but have worked from that point toward the future. Timing matter.
But, no matter how great the result and how well people do, many people aren't going to be happy because they are going to compare their result to that of others. No matter how much better their lives are, they will be discontent with what they have - because it is less than what someone else has - and most will never reflect on why there is the difference.
In my experience, small differences matter a great deal and when it comes to Hive, I back my beliefs with my resources. People look at the current value, I look toward the future value, because that is where I am working for it to be. The hours and dollars of investment now have a future value and while someone might spend an hour making a post and writing some comments per day, I might spend 8-10. If that future value doesn't eventuate, the difference in current value isn't going to be that large and I would have "wasted my time" in comparison.
For a simple example, If for a year a person puts in 1 hour a day and earns 1000 HIVE and another puts in 8 hours a day for 4000 HIVE - HIVE value at a dollar makes the gap only 2000 dollars - one has earned 2.70 an hour, the other who worked 8x as much earned 1.30 an hour. Not great. However, HIVE at 10 dollars would mean that the first earned 27 dollars an hour, the other 13 dollars an hour, but the "real world" is that one earned 10,000 and the other 40,000 for a 30,000 dollar difference. That is significant over the space of a single year.
Some people say things like,
"I don't get out of bed for anything less than ____"
...but, how much time do they spend in bed?
The other thing they don't factor in is while they are in bed because someone won't pay them enough, others are out there working for less, developing skills, building relationships, making friends and finding that there are far more opportunities in activity, than in sleep.
Personally, I hope to see many thousands of Hive users who are rich from their time spent here, doing what they enjoy.
Taraz
[ Gen1: Hive ]
Posted Using LeoFinance