I am currently on furlough and working 60% and will return to 100% on Monday, about 3 weeks earlier than scheduled. I am happy with this as it has been challenging to get everything done I need in three days (impossible), but still get only 3/5th of my normal work income. My main job (my business) has also been heavily impacted, so it has been over a 50% loss of income for about 4 months - but with my wife working at 100% due to her line of business, we have fared better than many.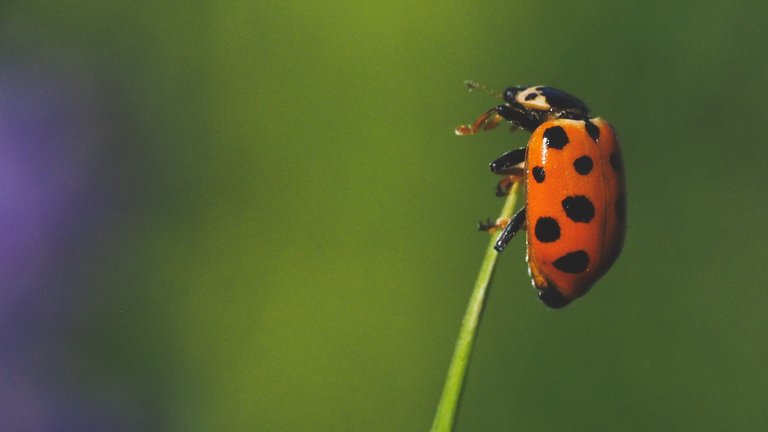 I was asking from my wife (who is in Human Resources and hires for a large retailer), what my chances would be for getting a job stacking shelves and what kind of income that would bring - which isn't much, though would cover our mortgage and food expenses, but fall short of being able to cover everything. If push comes to shove, this is what I would do, or I would work at McDonald's flipping burgers, or emptying bins in an office, or washing windows for the elderly - it doesn't really matter much - I'd do what it takes to cover my responsibilities the best I can.
I have mentioned this before that it seems that a lot of people these days don't seem to want to work, even though they also don't want to go without purchasing consumables. Yeah, this is going to depend on many factors as well as where one is, but that is not my concern - it is up to each of us as individuals to consider this for ourselves.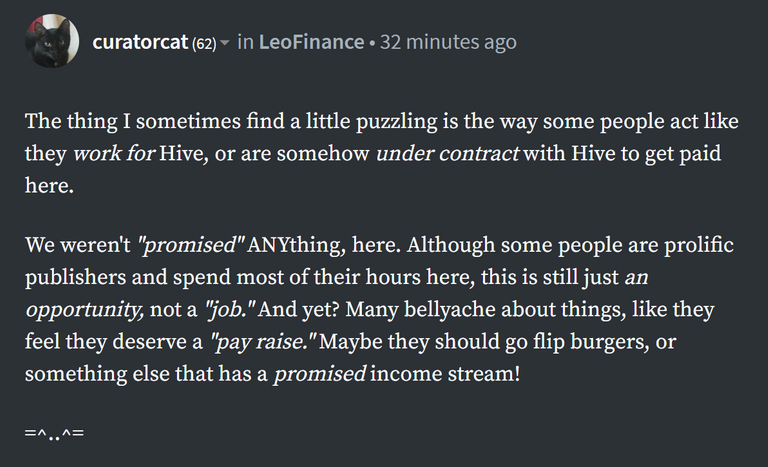 Yep, @curatorcat is right, this isn't a job as a job comes with a salary, but I do think this is work and acting like it is work isn't a bad thing, yet this depends on what one considers work to be. For me, work is intentional effort applied to accomplishing some kind of outcome - it doesn't matter if it is paid, a hobby or done for charitable reasons - all that we can do could be work. A job however comes with predefined tasks in order to get an income.
In the case of me stacking shelves, I would get paid for doing just that, stacking shelves - but those shelves would also need to be stacked with the right products and in the right way - with these conditions being set by the employer. I would have very little say over what I put where or how I place them, but I do the task I get paid for and, I get paid.
Hive in general is not like this, as there are no predefined set tasks that need to be completed in order to get paid, there is no job contract, no standard operating procedures (SOPs) and no employer that signs a check at the end of the week. What there is however, are active users who make up a community of staked shareholders who based on a multitude of personal conditions, distribute some kind of value across the user base. What the blockchain does is record the actions and handle the transactions defined by individual users and the mechanisms of the blockchain to move HIVE to and from the pool and directly across accounts. Remember, it is just a ledger that automates the recording the processes and can have algorithms applied that handle the supply chain of the interactions.
What this means is that it is again up to the individual user how they act, interact and transact (behavior, relationships, transfers) on the blockchain and while they have no control over other users, everyone can influence other users. For example, through what kind of content one posts, what kind of relationships one develops, what kind of activity one partakes in - will heavily influence what feedback gets returned from the community.
A simple illustration of this could be that a decent post could influence users to give upvote value and provide positive engagement - whereas a plagiarized post could be met with downvote value and negative engagement. While no one can control what others do, the author can control what kind of content they provide and potentially influence the community with - there are no guarantees if what one provides is going to be met positively or negatively, but it is quite predictable over time if paying attention - just like a job.
If you have a job and consistently fulfill task requirements, you can quite accurately predict that you will be paid for those tasks performed. If you consistently fail to meet the conditions of the predefined task list, it is quite predictable that one won't be paid for long. When this is applied to "working on Hive", as there is no set task list and the environment is directed by a diverse community, what "gets paid" is going to dynamically change over time, with some "tasks" trending and dying rapidly, with others being able to maintain popularity for longer.
When it comes to "getting a raise" on Hive, one has to meet the conditions of the moment or invest more in as an owner and then the "raise" is going to be a question of Return on Investment (ROI). However, even though consistency is key, offering something that is being rewarded today doesn't mean that the same set of actions, interactions and transactions will garner the same support or "pay" in the future. What is likely however, is if the behavior is consistently negative, it is likely to influence stakeholders to interact negatively or more likely, to ignore what is being offered. At some point, even making a change of content will be futile due to reputation built in the past and stakeholders can have a long memory and once they switch off, it can be hard to "turn them on" again.
There is an obvious reason for this of course, and that is that this is an investment for many with many understanding that how they use their stake influences the outcome of their investment. Supporting people who they feel harm the future of their investment is counter-productive to their desired outcome. This doesn't mean that the investor is blind to the challenges and limitations of the current conditions, but they aren't going to support the airing of dirty laundry often and rather work toward repairing and improving in a more positive way, at least publicly.
So, while Hive is not a job, it generally takes work to earn here because one has to be able to satisfy a set of tasks that aren't obvious (though I think consistent quality of post and engagement are pretty well standard for success). These tasks are also going to change over time and, what one stakeholder sees as valuable might be in direct conflict with what another sees as valuable. This means that there is a competition for eyes and stake based on many factors, most of which are personal to an individual account as it is preference driven - not a set of hard and fast rules.
For me, I am fortunate that where I like to work and where I hold some relative skill is also currently in areas that influence actions, interactions and transactions on the blockchain more positively than negatively. I get plenty of negative attention too, but it is outweighed on average by the positive. This means that the work I do with my own actions, interactions and transactions tends to be seen i a positive light - meaning that on a platform that offers value from the community, I do get "paid" consistently for now, but that can shift at any time - especially if I stop working at offering something that influences the audience. Again, I am lucky because I am highly interested in the content I create and it isn't just a placeholder I put up to collect votes. This is work - not a "job".
However, for people who do want to get paid, it is worth considering and evaluating what is required for you to influence the audience. Why I say "for you" is because if you do what I do, it might not be suited to your own interests, skills or knowledge - so will be likely delivered in a way that is disingenuous, which is unlikely to shift the audience positively.
In my opinion - finding what you love to do means working at it as often as one can manage - whereas doing a job is predominantly for a salary and often leads to a disinterested approach and a passionless fulfillment of tasks - it is not very inspiring.
If you aren't inspired by what you offer, do you think your audience will be?
Taraz
[ Gen1: Hive ]
Posted Using LeoFinance