So the "dream" for me is to one day be able to live off of crypto completely - but, this doesn't mean that I won't work. I enjoy working and regardless of what the conditions might be today, everything can change rapidly - working gives access to opportunities that aren't available when sitting at home not working. Not only that, through work it is possible to meet and create relationships with a lot of people that further expand opportunities through network and collaboration.
I am a long way to being able to live off of crypto
However, I am building a platform of potential for myself and the cool thing is that in doing so, I am aiding others to do similar in various ways. The goal of the platform I am building isn't so that I can retire and move to a tropical island, but I want to be able to get an income that means that I am better able to pick and choose my work without having to worry about timelines or, whether one job offers 20% more than another. It is a freedom to be able to pick and choose knowing that one is relatively covered even if things don't work according to plan.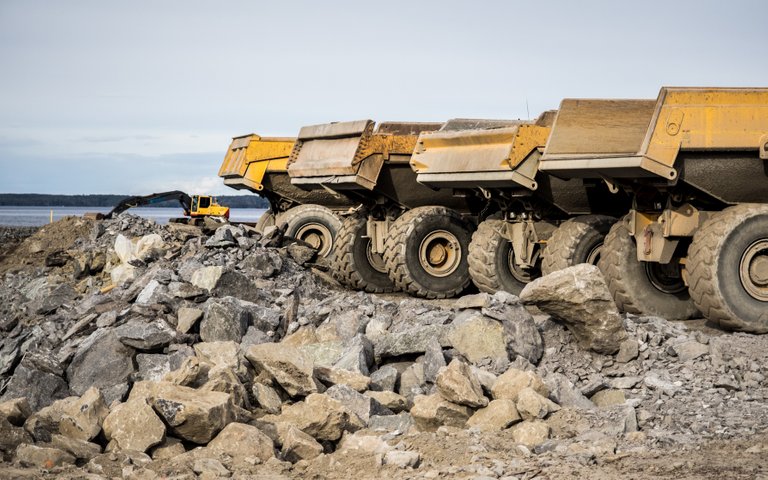 The other thing I want from my platform is that it has the potential to be maintained, meaning that I don't have to keep biting into the principle, even though it is continually providing income. On Hive, this would be through curation with stake, a perpetual earning based on the principle.
Currently, I am getting about 300 HIVE a week through curation which is fantastic, but at current prices is worth about 60 dollars US dollars or 50€ - This amount is about 50x short from where curation would be able to cover my salary and the taxes I would have to pay on the earnings to be able to get an average Finnish income. Not only that, to satisfy the perpetual nature I am looking for, the price would have to be at least there to be able to cover needs.
However as I said, I am not scared to work, so if I can hold a half decent job, that kind of income on top of a salary would be more than enough for me to be able to not only maintain, but extend my economic opportunity compared to my position today - a position that I have to hold indefinitely to keep my head above water. This is a problem, as the world is changing and I envisage jobs getting harder to come by, so holding onto jobs will also be more difficult as competition increases.
Some people will be happy with whatever they can get from some government, for example through a Universal Basic Income, but that means being at the mercy of the distributor, which will likely lead to a continual reduction in living standards unless able to provide extra for oneself. For me, I am looking for crypto to be that just in case backup position, a safety net to be called upon when I can no longer compete in the traditional job markets.
I know quite a few elderly people who worked hard, saved their whole life and put into their superannuation - and are struggling. Retiring at 65 and potentially living another 20 years on top struggling after working a lifetime isn't a comfortable position to be in and I have no plan to rely on my daughter for my own well being, even if that is an option, which it likely won't be for most due to the lack of jobs. I see a lot of economic struggle unless the system is radically transformed and fast.
I see what we are doing here as part of the transformation process and thousands of people have access to directing the change as well as learning about and building a platform for themselves in the future. Some people might be able to "get there" sooner than others, but when playing the long game, a year, 5 or ten won't matter too much.
Industries usually take decades to build and I believe that the blockchain and crypto industries will move far more rapidly than those world-changers of the past, as it leverages a lot of the technology that is already in place, while becoming a solution for the economic infrastructure that is falling apart. While there are still no guarantees in the industry, let alone Hive as a piece within, I feel that participation toward changing the economic sctructure of the current world is far more valuable than trying to "make it" in the economy as it is.
Our financial position is always affected by our decisions and deciding to play a game that is so imbalanced it is rigged with resources too small to get a foothold, is only going to end in tears. At least this is how I see it. However, this shift can't be a 100% move either due to responsibilities and risks of failure, so a hybrid approach for me makes far more sense. I can't live off crypto, but I can buy and earn it - because I can currently earn off my income in the traditional economy. At some point, there will be more mixing between the traditional and new mechanisms with some of the new replacing the old that will collapse until eventually, the old is tranformed into the new.
Everyone is in a rush to retire early, but that is not in the cards for most people unless they win the lottery in some way. So I make the assumption that I am going to have to work til at least 65 and have 24 years ahead of me to build a platform to sustain me for the rest, but I can't assume that the conditions I have currently will remain equal over those 24 years, so I have to start closing potential gaps now. This takes more work than if I play only in the traditional economy, as I have to live in both worlds and satisfy both sides simultaneously, but I see this as my sweat equity investment to survive the future - kind of like building a bunker.
While no bunker is impenetrable, it has to be ready before the bombs start falling to be effective.
Taraz
[ Gen1: Hive ]
Posted Using LeoFinance