Review - Robinhood versus Stockpile
This post will weigh some pros and cons for two investing apps that I have downloaded on my phone.
This post is not a recommendation for either app but rather a reflection of how I personally use both apps. This is not financial advice. Please do your own due diligence before downloading and/or using either app.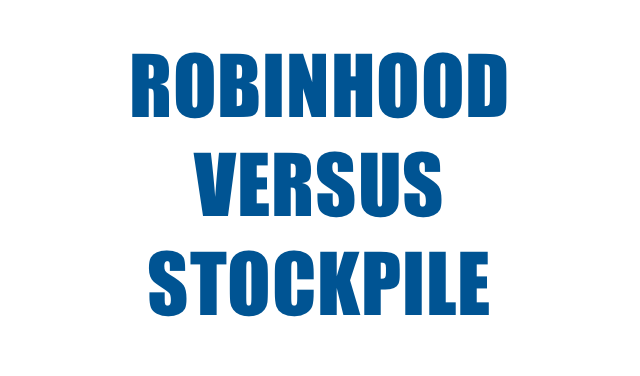 Robinhood
I downloaded Robinhood a couple of years ago because of the Free Stock Promotion, which is is ongoing. If you sign up for Robinhood using my affiliate link and fund your account, you will receive one free stock, and I will receive three. Normally, I would only receive one, but there is a special promotion until January 2nd.
Robinhood makes it easy to "get started" with investing. As a mobile device, all of the information is cleanly and concisely displayed on the screen.
The main screen displays ...
An overview of your investment totals, including gains or losses for the day. There options to select different time ranges, including 1 week, 1 month, 3 months, 1 year, and all.
List of the current stocks/indexes owned
Option to create watchlists
Ability to track (and purchase) some of the more popular cryptocurrencies.
Overall, I have been impressed with Robinhood. One of the major benefits is "zero cost trading," meaning that you don't have to pay a fee to purchase or sell stocks. That being said, nothing is free.
I have done some additional research to determine how this is possible. Robinhood can offer free stock purchases because the "fees" are built into the purchase and selling prices that are displayed within the system.
This has not been a major issue for me as I have not used Robinhood as a day trading account, and my trades have not been time-sensitive.
Robinhood offers a premium service, but I cannot speak to its features as I have not upgraded at this time.
I will continue to use Robinhood to make future investments.
Stockpile
For the last several weeks, I have searched for an account/app that allows me to set up a custodial investment account for my children.
My oldest daughter and I have been discussing investments for some time now, and she is ready to make her first investment.
Stockpile distinguishes itself from other apps for the following reasons:
Ability for a parent to up multiple custodial accounts under a single login
Ability for a dependent child to have his or her own separate login
Children can browse the site to learn more about investing. Stockpile appears to be geared towards new investors and appropriate for children who are beginning to invest.
Children can initiate an investment transaction. But the transaction will not be completed until the custodian of the account approves.
Parents and other family members/friends can help fund an account with "gift certificates."
The benefit of a custodial account is that a parent or adult can help the minor navigate the investment process. As mentioned earlier, a child can initiate transactions, but a parent/adult has to approve those transactions before they are completed.
As a custodial account, all the money invested belongs to the minor and will be available to him or her once he/she reaches the age of majority (typically 18 years old or 21 years old).
Stockpile does a great job of helping new investors understand what projects and products are associated with specific companies.
Who Wins?
Well, that depends on what you need.
| | Winner | Robinhood | Stockpile |
| --- | --- | --- | --- |
| cryptocurrency | Robinhood | can purchase cryptocurrency directly | can purchase a few crypto-related indexes |
| custodial account | Stockpile | not available | can set up multiple custodial accounts with individual logins |
| fractional shares | Stockpile - slight advantage | not immediately available | immediately available |
| cost per trade | Robinhood - slight advantage | "free" | 99 cents |
| learning resources | Stockpile | standard resources | child-friendly |
| invitation incentive | Robinhood | one free stock | none that I am aware of |
If you want more features related to cryptocurrency, then Robinhood is better.
If you need to set up custodial accounts, then Stockpile is better.
Final Thoughts
People say that the best time to start investing is 20 years ago. The second best time is today.
For my daughter, there is no greater time than right now.
I want to hear from you.
Have you used Robinhood or Stockpile?
What did you think about one or both of them?
If you have kids, how have you helped them learn about investing?
Thanks for stopping by!
@SumatraNate
Posted Using LeoFinance Beta
---
---