How Binance.us Users Overcome The BEP20 Dilemma
My CubDefi experience was purring like a happy cub until this morning.
I was super excited to harvest my Cub. I clicked the Harvest (image 1) and then received the following (image 2).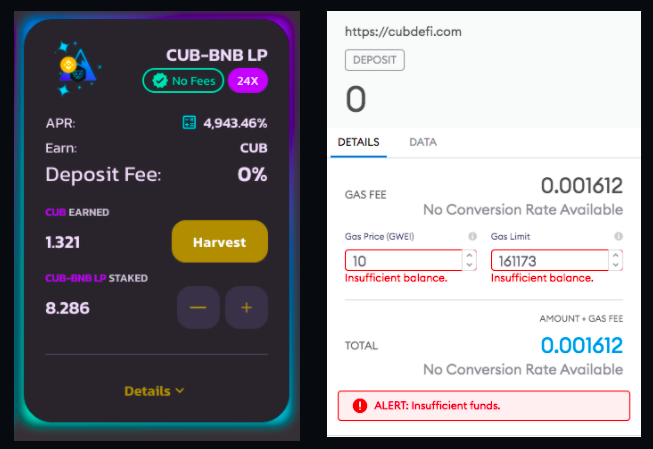 What does this mean and what did I do wrong?
I received the "ALERT: Insufficient funds" message because I did not have enough Binance Coin (BNB) to cover the fees. Thanks to @deathwing for confirming my suspicions.
I was so excited about provide liquidity via a FARM pool, I forget to hold back some BNB for fees associated with Harvest, Compound, Exchange, and other CubDefi transactions.
PRO TIP (from @gerber): Keep 0.01 or more BNB in Metamask at all times. Sell some of your profits and convert to BNB so that you always have enough BNB to cover fees.
Binance.us Users Cannot Send BNB Via The BEP20 Protocol
I exchanged for some BNB in my Atomic Wallet, but Atomic does not support BEP20.
I previously had a Binance.org account (since I lived overseas when the account was created). As a user in the United States, I was able to withdraw BNB from Binance.org but was not able to make a new purchase. BEP20 is supported on Binance.org.
So I set up a Binance.us account hoping to be able to make the transfer to Metamask. Unfortunately, Binance.us does not support BEP20 withdraws.
Binance Chain Extension Wallet to the Rescue!
When I stumbled across the following article, I was pretty sure I had found the solution I was looking for.
https://docs.binance.org/smart-chain/wallet/binance.html
I installed the Binance Chain Extention Wallet and set up a new wallet.
Since I was not sure if this process would work, I decided to follow some of the testnet instructions to prove the concept.
Basic Steps
Install Binance Chain Extension Wallet. Available on Chrome/Brave and Firefox.
Set up a new wallet. The main screen should look something like this.

Click the Network Drop Down Box at the top of the screen to see the what Networks are available. Select or deselect the "Show Test Network" checkbox depending on your preferences.

Select Binance Chain Network and copy the address.
Go to Binance.us and initiate a Withdraw.
Paste the Binance Chain Network address copied above into the "Recipient BNB Address field" and select how much BNB you want to transfer.

Click Submit. Note that there will be fees associated with the withdraw.
BNB should now be in the Binance Chain Network Wallet.
Select Binance Smart Chain Network and copy the address.
Select Binance Chain Network and click Send.
Paste the Binace Smart Chain Network address into the Address field.
The following message should appear:
"Note: Cross Chain Transfer to Binance Smart Chain"

Confirm the amount you want to transfer and click Send. Note that there will be fees associated with the transfer.
BNB should now be in the Binance Smart Chain Network Wallet.
You can now transfer BNB (via BEP20 protocol) to your Metamask wallet so that you can cover BNB fees in CubDefi (or use BNB to add to the CUB/BNB liquidity pool).
Key Takeaways
Always have some BNB available to cover fees.
Binance.us does not support BEP20 protocol.
If you live in the United States and have a Binance.org account, you can only make withdraws.
The Binance Chain Extension Wallet allows you to convert assets from BEP2 to BEP20.
Disclaimer
Nothing in this post should be considered financial, legal, or technical advice. Always carefully research any new service or product.
I have just documented the steps I took. I am not responsible if any of the information included in this post is missing or inaccurate. I am not responsible for what happens if you choose to use any of the products or services mentioned in this post, including but not limited to CubDefi, Binance.us, and Binance Chain Extension Wallet.
Thanks for stopping by!
@SumatraNate
Posted Using LeoFinance Beta
---
---