Coin Base Earn Rewards


I decided to make a purchase on Coinbase this morning to buy on the recent dip. Once again, I was tempted by the "Earn Rewards - Get $120+" button.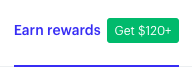 It keeps taunting me, but I like it because I can exchange some time for crypto.
For the sake of transparency, this article contains affiliate links.)
The Latest Offering
The latest offering was Band Protocol, which describes itself as "Bringing real-world data to blockchains."
In less than 3 minutes I was able to earn $3 worth of BAND. Will BAND change the world? Will it be the next latest and greatest?
I have no idea, but I have $3 worth of it now and I have some initial exposure to the project. Well worth my time (imho)!
So Why Make A Post About This?
Two reasons:
You can benefit
I can benefit
I never want to miss an opportunity to let the Leo/Hive community know about these types of offerings. I would not call these opportunities FREE, because you have to exchange time for crypto, but I would say that they are low cost (in terms of time).
I can earn more Band Protocol (BAND, Stellar Lumen (XLM), and Compound (COMP) when people I have invited complete the offer.
Sounds like a win-win!
My Call To Action
So what is next? Glad you asked.
Please consider using the following links so that we can both earn more crypto:
There are certain conditions with the biggest being that you have to be eligible to be a CoinbaseUser to be able to earn the rewards.


Thanks for stopping by!

Posted Using LeoFinance Beta
---
---