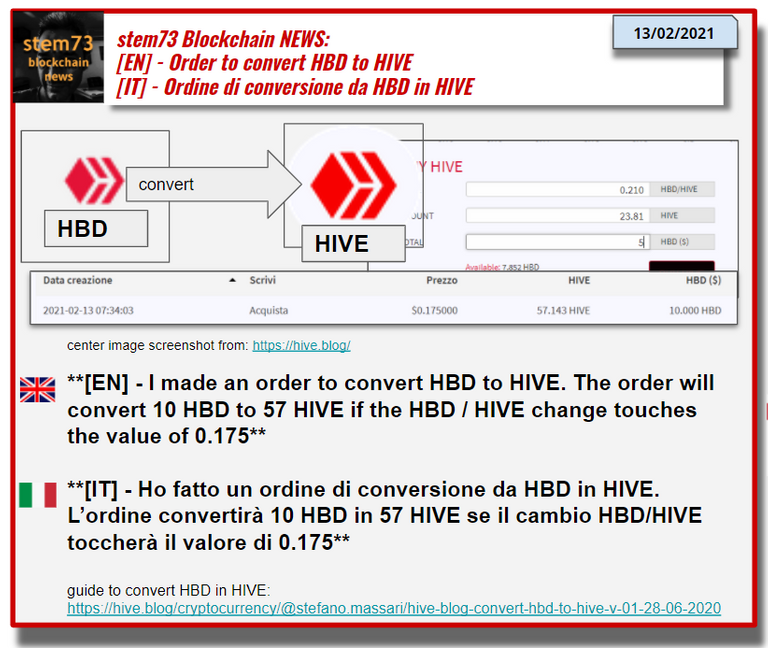 center image screenshot from: https://hive.blog/
[EN] - I set up an order to convert HBD to HIVE. The order will convert 10 HBD to 57 HIVE if the HBD / HIVE change touches the value of 0.175
[IT] - Ho fatto un ordine di conversione da HBD in HIVE. L'ordine convertirà 10 HBD in 57 HIVE se il cambio HBD/HIVE toccherà il valore di 0.175
guide to convert HBD in HIVE: https://hive.blog/cryptocurrency/@stefano.massari/hive-blog-convert-hbd-to-hive-v-01-28-06-2020
[EN] - My opinion
At the end of September I had placed an order to convert HBD to HIVE and with that order I took 60 HIVE with 10 HBD. In September the HBD / HIVE exchange rate was 0.167, today the exchange rate is 0.179. I try to do an operation similar to that of September and convert 10 HBD to an HBD / HIVE ratio of 0.175. If this order is activated my 10 HBDs will be converted to 57 HIVE. Now all that remains is to wait.
Disclaimer: I am not a financial advisor and this is not advice. If you invest, do it responsibly and in full awareness of what you do.
.
[IT] - Considerazioni personali
A fine Settembre avevo fatto un ordine di conversione di HBD in HIVE e con quell'ordine presi 60 HIVE con 10 HBD. A Settembre il cambio HBD/HIVE era a 0.167, oggi il cambio è a 0.179. Provo a fare un'operazione simile a quella di Settembre e convertire 10 HBD ad un rapporto HBD/HIVE di 0.175. Se questo ordine verrà attivato i miei 10 HBD verranno convertiti in 57 HIVE. Ora non rimane che aspettare.
Disclaimer: Io non sono un consulente finanziario e questo non è un consiglio. Se investite fatelo con responsabilità ed in piena coscienza di quello che fate.
---
My HIVE referral link:
https://hiveonboard.com?ref=stefano.massari
Posted Using LeoFinance Beta