Blurt is worth 1/3 of the Leo token.
But #leofinance is "only" a token on the hive block chain, admittedly it is the most successful tribe and absolutely justified.
Der Blurt Token ist 1/3 vom Leo Token wert.
#leofinance
ist aber "nur" ein Token auf der Hive Blockchain, zugegeben es ist die erfolgreichste Tribe und das völlig zu recht.
_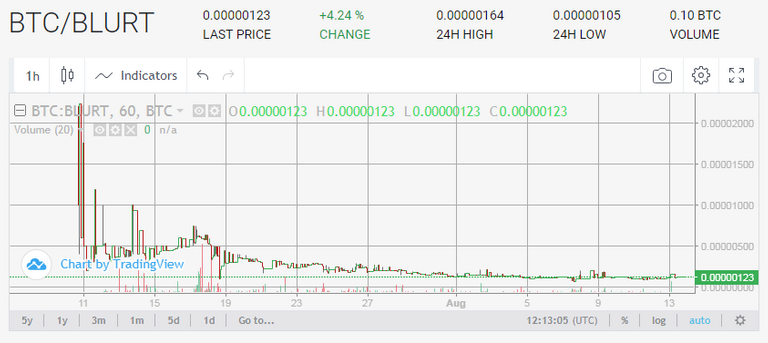 Development of Blurt since the HardFork | source
The "revolution" after Justin Sun was necessary, but now we should concentrate more on the basics.
Too many separations make this concept of blockchain insignificant as there is no outstanding variant with real weight.
Users migrate from one chain to the next, stay there, write to 2 at a time, but nobody gets more users.
If it goes on like this that individuals or small groups push further splits without a real new concept I see social media on blockchains as self-destructed because of irrelevance.
We are drifting into meaninglessness.
Blurt may have new approaches, but only approaches that simultaneously produce new imbalances and one might almost say "natural" to the disadvantage of small accounts.
It's good that everyone can choose his or her chain of confidence and hopefully in the future Steem / Hive / Blurt will all go very different ways to optimize this idea and get the best out of it.
With a little bit of luck, there will be 1 chain left at the end with a big weight in the block chain world.

Die "Revolution" nach Justin Sun war notwendig, aber jetzt sollten wir uns wieder mehr auf die Grundlagen konzentrieren. Zu viele Abspaltungen macht dieses Konzept der Blockchain unbedeutend da es keine herausragende Variante mit tatsächlichem Gewicht gibt. Die Nutzer migrieren von einer zur nächsten Chain, bleiben dort, schreiben auf 2 gleichzeitig, aber es werden nicht mehr Nutzer.
Sollte es so weiter gehen das Einzelpersonen oder Kleingruppen weitere Abspaltungen ohne ein echtes neues Konzept voran treiben sehe ich social media auf Blockchains erst einmal als selbst zerstört wegen Irrelevanz an.
Wir driften in die Bedeutungslosigkeit ab.
Blurt mag neue Ansätze haben, aber eben nur Ansätze die gleichzeitig neue Ungleichgewichte produzieren und man mag fast schon sagen "natürlich" zu Ungunsten von kleinen Accounts.
Es ist gut das jeder sich seine Chain seines Vertrauens aussuchen kann wie er es will und hoffentlich gehen Steem / Hive / Blurt in Zukunft alle sehr unterschiedliche Wege um diese Idee zu optimieren und das Beste heraus zu holen.
Mit etwas Glück bleibt am Ende 1 Chain übrig mit großem Gewicht in der Blockchainwelt.