Hello and welcome to this SPinvest post
SPinvest is a tokenized investment fund/club for all users of social blockchains. Everyone is welcome! The concept of SPinvest is to get rich slowly by using time tested methods of earning, saving and compounding long term. This lets SPinvest offer an ROI of 20% per year on SPI tokens. We encourage long term investing on and off the blockchain. We hope someday everyone will HODL some SPI tokens that can be bought directly from @spinvest are through the hive-engine
.
---
Hello everyone, today lets do a good old SPinvest update. We have not done this in a while so this should be a good way to get everyone updated. In fact, this post could be huge because it's we've been doing so much and dipping our toes into lots of new things. Let's get this post started.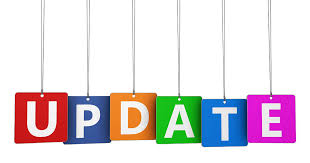 Quick updates
Spinvest HIVE balances
We are still closing in on 100k HIVE as a small goal. Between spinvest, spinvest-leo and HIVEp, SPinvest has 95k HIVE so we are only 5k HIVE from hitting this target. It will be nice to have 1 HIVE for ever SPI token out there.
SPI token price
So, I don't really need to say that much as the chart speaks for itself. The SPI token price hit 2.59 yesterday. Thank god for our hedge investments, this is why the token price is increasing so much as the price of HIVE drops. Pretty nice looking chart.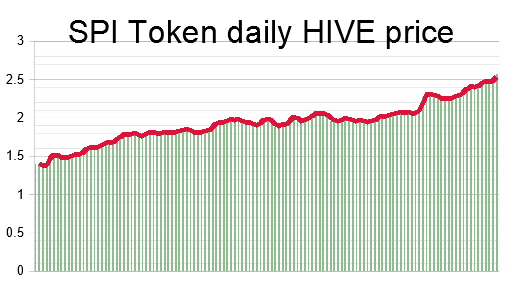 ---
SPEW wLEO Pool
Spinvest
Pooled
Eth
Wleo
@jk6276 over at @spinvest-leo has set up the completed the first round of investing for SPEW, the SPinvest wLEO pool. Spinvest bought 10 ETH at $330 each with some of our tether balance so they are being used in this pool. JK was able to collect up around 24k LEO and at the time of writing, we have earned $2.65. It's not a lot, not even that good, to be honest, but we are in it for the LEO rewards. Please check out the latest post from spinvest-Leo by clicking here. The second round of investing is now open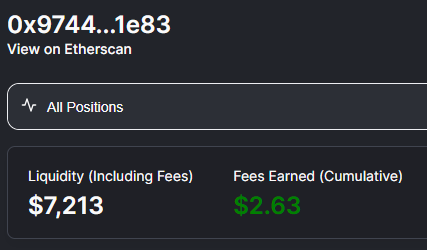 ---
Dividends have changed
This post-Sunday, SPinvest changed its weekly dividend payments to token holders from HIVE to SPI tokens. There was a small problem that meant the payments did not go through and as I was at my real job, I was not able to solve the problem s for 9-10 hours. The problem was the way SPI tokens are set up to be 2 decimal and most bots default to 3 decimals, sounds weird? It is but bots are like a house of cards, remove are damage 1 card and it'll fall apart. Anyways, the problem was found thanks to Gerber and payment s went out on Monday morning. Everything should work perfectly this Sunday.

---
Earning are through the roof
The past 5 weeks in a row, SPinvest has made new all-time high earnings and with the next report coming tomorrow, we might make it 6 in a row. In the past 5 weeks, our earnings have gone from a steady 500 HIVE to over a 1000 HIVE this week. The first 2 weeks were because of gaming rewards but the past 3 weeks, it's been all LEO. Spinvest-Leo has started to produce more posts and SPinvest always earns about 300-400 LEO per week from delegations and posting so.....LONG LIVE KHAL and LeoFinance!!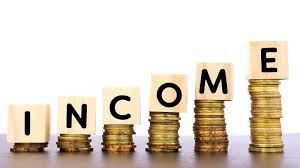 ---
Eddie -Earner
Some of you might be aware that SPinvest launched its 1st subsidiary project in the form of inflation-proof HIVE income tokens. The project is fronted by Eddie Earner, a bumblebee man that is lovable but unfortunately as smart as a doornail. The project produces weekly cartoons, they are a 20k 1st issue of tokens, 14k remaining at 1.01 HIVE each on hive-engine. Check out @eddie-earner for more details.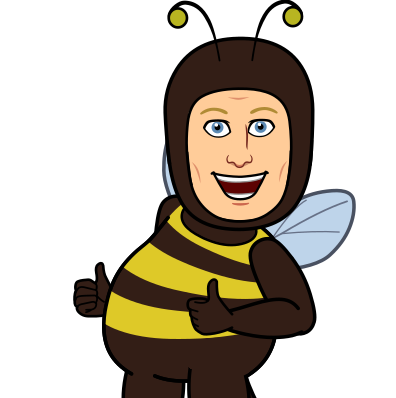 ---
Future investments
We have our 1 BTC and out 10 ETH. What's the next target? More crypto, stocks, gold, fiat? Do we put a small into defi projects? My personal thoughts would be to aim to have around $5000 in some no blockchain investment. At the minute, we have around $1700-1900 tether and 3000 liquid HIVE to sell but the price is too low for us to sell now so will need to HODL a while and wait for 20 cent HIVE. Im thinking gold, it boring and produces no yield but let me tell you, I hold gold and sleep better because of it. If the internet crashes and everything drops to zero, our gold will still be worth something and in a world of madness, holding some shiny is fundamental to a well-balanced portfolio. We have our crypto bags, whats next?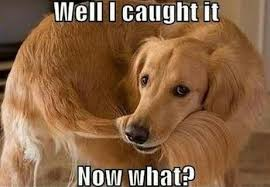 With dividend switching over to SPI tokens, SPinvest is basically paying itself for the SPI tokens to pays out every week and 100% of earning could, in theory, be investment off-platform. That would require converting all LEO, NEO, other tribe tokens and gaming rewards into liquid HIVE while having a power-down going. I would guess going forward, we will be able to move off 70% of earning off-platform if we wanted to.
---
BroVest is over
We need this last Saturday over in The mancave server in collaboration with the BroFund community. In total, we gave away 21 prizes valued at over $1200. We sold 365 tickets at 1 HIVE each which was a bit shit, to be honest, I had expected at least 600-700 tickets to sell. The prizes were worth almost 4 times to tickets sells giving super odds as an investment. Each ticket sold was worth around 3.28 HIVE in rewards. One person caught onto this @axeman and smartly bought 50 tickets for 50 HBD last minute and won 3 prizes worth 540 HIVE. Well done for being the only person to see this and take advantage last minute.
So all the funds have been transferred out. 195 went to @ecoinstant towards his help local children get birding watching equipment. It's nice as we know 100% of that and prob a little more from ECO himself will go toward funding this. 90 went to each SPinvest and BroFund. Both converted into HIVE and powered up.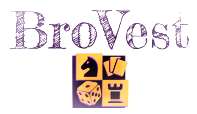 For the first one, it went ok. The live draw went smoother than I thought and people were quick enough to pick prizes. The whole thing lasted about 90 minutes and it would be nice to do it again, but maybe in a years time are so. We can't be asking people for donations all the time. Obviously big thank you to everyone that made a donation, it would not have been possible without donations :)
Lastly, BroFund
If you check the SPinvest wallet, you'll see a juicy daily dividend getting paid in there every day for around 11.80 HIVE. That comes from the 4000 BroFund tokens we hold. Now, I know I always say hive-engine tokens and community tokens are rubbish but brofund is different in many ways. First off it's paid out dividends at currently 37% based on its 4 HIVE per token price. Actually higher because it pays out daily LEO and other tribes are coming soon. Secondly, it has an actual active community beheld it. A community that has not been ruined by having its own frontend. BroFund is currently meanly a discord community and it's working.
So on the numbers. We bought around 1550 BRO for 2 HIVE each. We straight swapped 2000 SPI tokens for 2000 BRO just before the 1st price increase to 3 HIVE. On having insider info (JK), I was able to buy another 450 BRO just before the price increased to 4 HIVE so shit, we are killing it. The 4000 tokens that are worth 16 HIVE cost us roughly 8500 HIVE. Not bad at all considering I knew that other things are in the works plus they've just hard-capped the token to 75K bros. 55k in circulation and 20k reserve.
The plan for our BRO investment is HODL until it goes to zero. Its daily rewards are fantastic and I think having this sitting in our holding will add value over time, it's already doubled in HIVE value and we all see what adding a hard cap did for SPinvest. SPI tokens are worth 2.59 HIVE and the last trade was for 2.91, people like a hard cap. Daily dividends are funded from brofund Dcity payments, curating, earning tons of LEO from being the #1 holder of miners tokens and a bunch of other stuff I don't even know about.
BroFund is the all the crazy stuff that SPinvest will not touch. 95% is connected to HIVE and they really push hard on everything they do. They have a top 10 dcity, almost 1 million NEO, 50k+ LEO, all the LEO miners and curate from 2 accounts, both with 150k+ HIVE balances. Enough said it's a cash cow!!!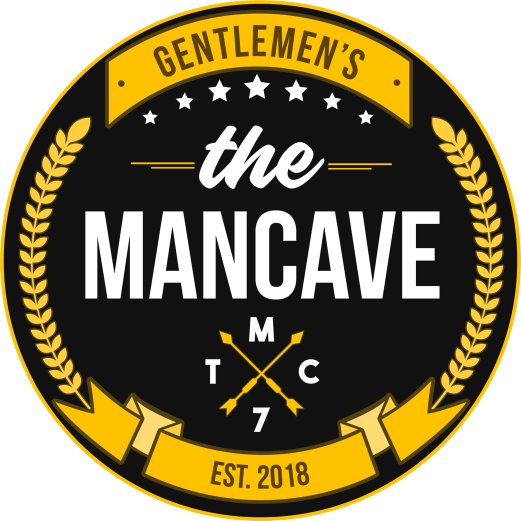 I hope you enjoyed that and now you are all up to date with what has been happening. Lastly, we started a game over at rising star. It's earning us around 30 HIVE per week and Shitsignals unwrapped a card worth around 350 HIVE the other day so we always win. we can't lose.
Any feedback are questions, comments below and I'll get back as soon as
---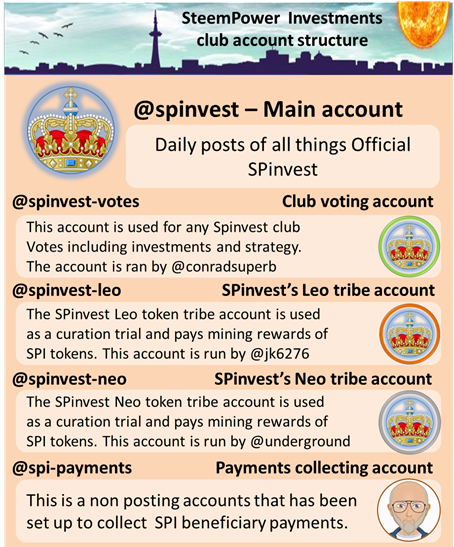 .
SPinvest's content is contributed by @silverstackeruk, @underground, @no-advice, @metzli & @taskmaster4450
Today's post comes to you from @silverstackeruk

Posted Using LeoFinance