What's up you bloggers
SilverGoldHunter here and today I will be discussing on news that the US Mint is now offering Morgan & Peace Dollars of 2021 in 3 pre-order windows.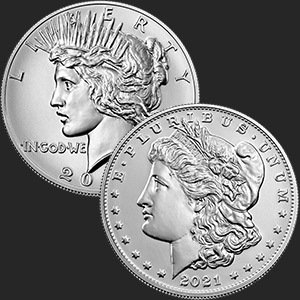 So what I've heard that from the United States Mint that they have announced on the classic 2021 Morgan & Peace Dollar Coins will be available in 3 pre-order windows at the beginning of May 24 then again on June 1 and wrapping it on June 7 with each order window lasting two weeks.
These products will include 5 morgan dollars with three different versions which are three different versions from Philadephia and 1 each from Denver & Sa Francisco
There are many different types of versions for both either Morgan or even the peace dollar.
If you wish to purchase either one of them, It will set you at a total of $85 where it will be struck in .999 silver in an uncirculated finish & it is limited to 10 coins per household.
And for the limit for both Morgan & Peace Dollar will be as the following.
The Morgan Dollar is 175,000
The Peace Dollar is 200,000
---
Here is the link for you all to check out each different coins
---
If you like this content, don't forget to hit the heart icon, and I will catch you all on the next blog
PEACE OUT EVERYBODY
SilverGoldHunter
Posted Using LeoFinance Beta