Hello everyone......


Well as I've been saying in my last several posts, I'm going to try my best to follow the tags that I started a while back and have not been very good with as of late.
It's back.....
And I'm going to start this one off with a BANG....


The coin I am sharing with you today is a 1944 Un Peso silver coin. This is one of my favorite circulated coins from Mexico. But this one isn't circulated at all. Is a matter of fact it's been graded as an MS64 by NGC.
Here are the specs on it:
Country Mexico (Estados Unidos)
Type Standard circulation coin
Years 1920-1945
Value 1 Peso (1 MXP)
Currency Peso (1905-1992)
Composition Silver (.720)
Weight 16.6 g
Diameter 34 mm
Thickness 2.4 mm
Shape Round
Orientation Coin alignment ↑↓
Demonetized Yes
References KM# 455
Obverse
The Mexican coat of arms: a Mexican golden eagle perched on a prickly pear cactus devouring a rattlesnake. The eagle, cactus and snake are surrounded by a holm oak (encina) branch on one side and a laurel branch on the other.
The head of the eagle and snake separates the purity (0.720). "ESTADOS UNIDOS MEXICANOS" over the coat of arms.
Lettering:
ESTADOS UNIDOS MEXICANOS
0.7 20
Translation: United Mexican States
Reverse
Radiant cap with denomination and wreath below
Lettering:
LIBERTAD
M
UN PESO
1944
Translation:
Liberty
One Peso
Edge
Plain with incuse lettering
Lettering: INDEPENDENCIA Y LIBERTAD
Translation: Independence and liberty


Now the beauty....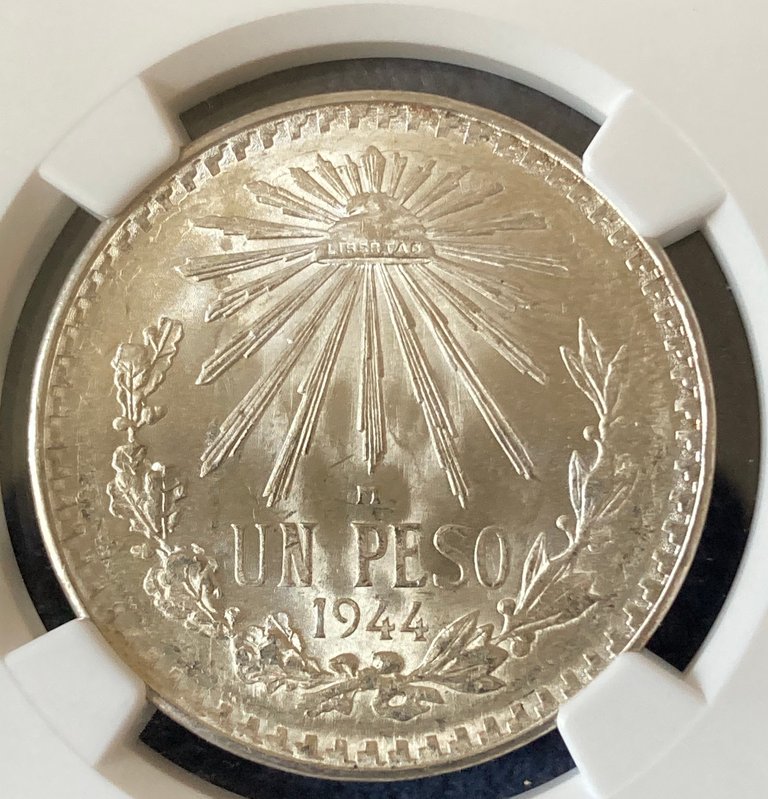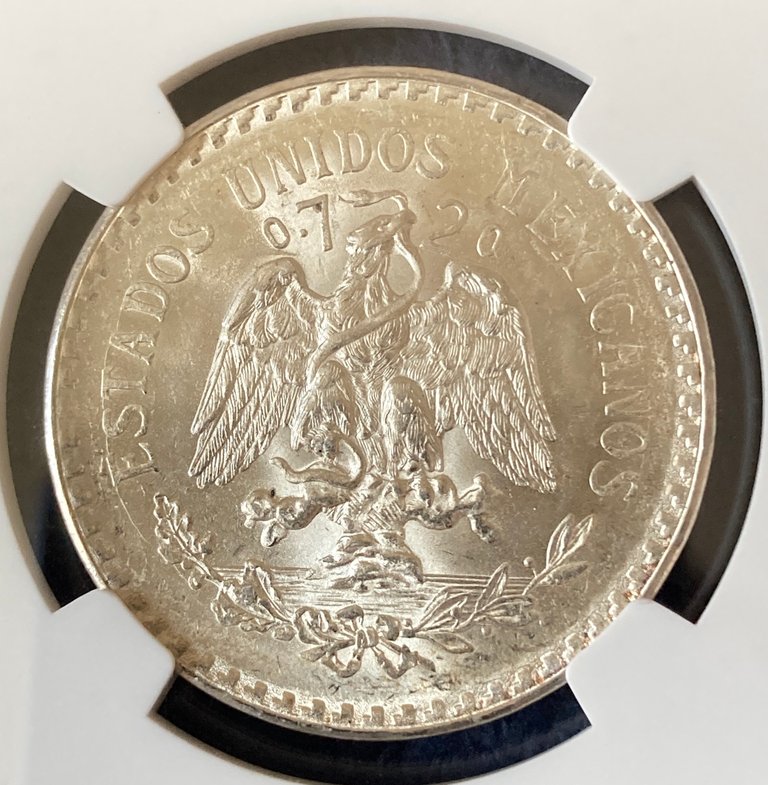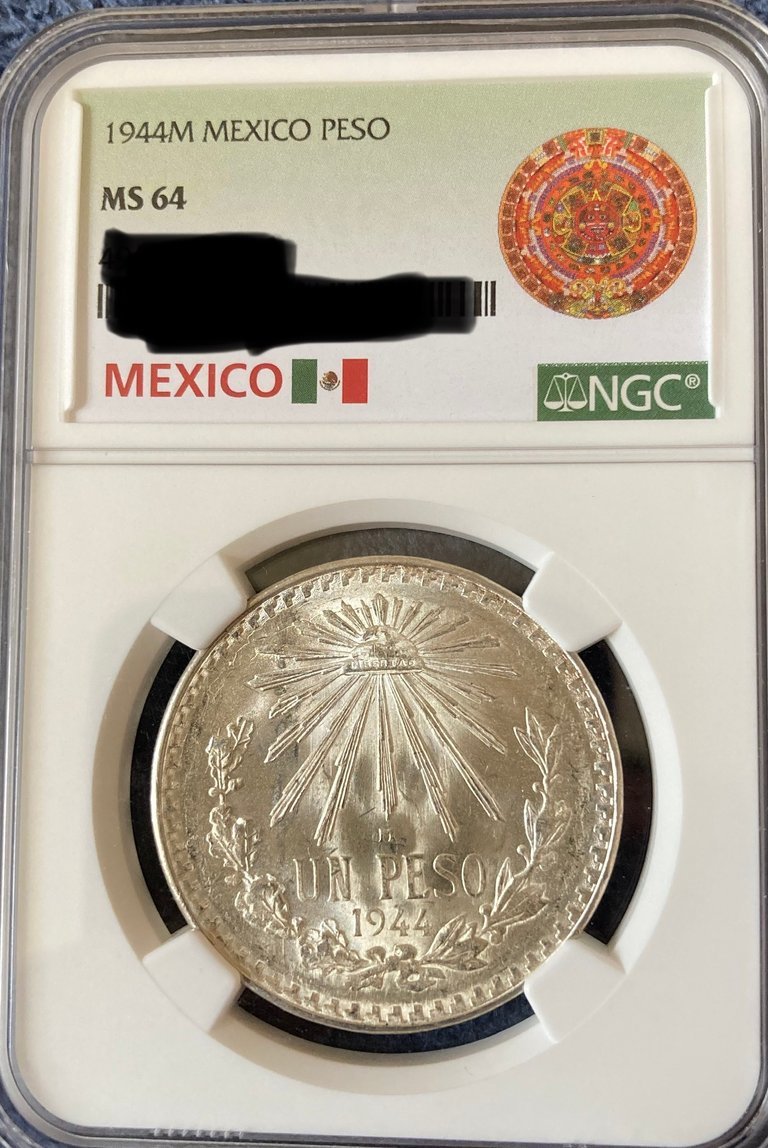 Now that's a FIESTA....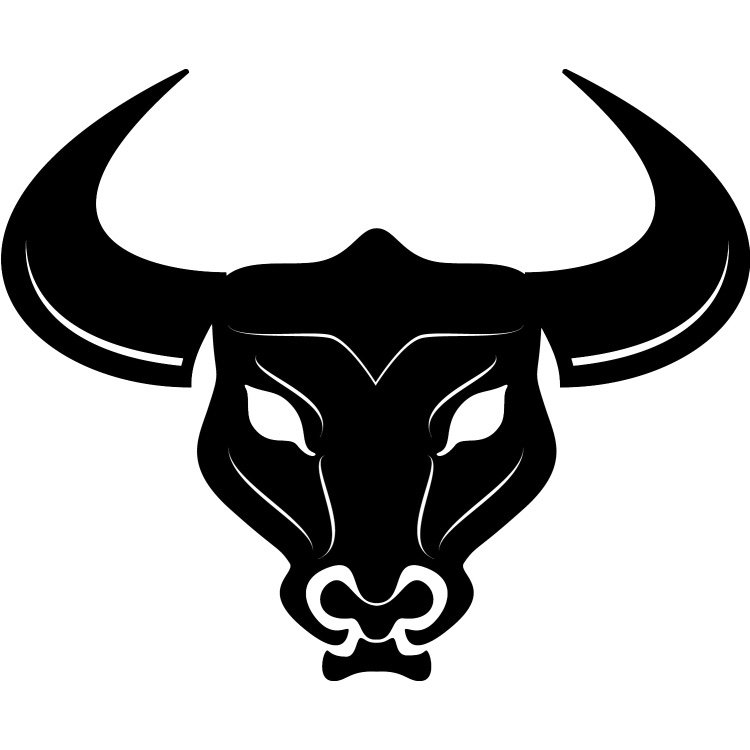 Posted Using LeoFinance