Morning everyone....


With the anticipated upcoming release from the US Mint. I thought I'd share a beautiful piece in its honor.
For those of you that are unaware. The US Mint is doing a 100 year anniversary release of both the Morgan Silver Dollar and the Peace Dollar this year. The last struck coins of both were in 1921.
What we do know so far about these upcoming releases is:
The Morgan Silver Dollar will be struck at the Denver, San Francisco and Philadelphia Mints. They are doing Morgan Silver Dollars with privy marks as well for the New Orleans and Carson City Mints.
They will be struck in .999 fine silver as apposed to the 90% silver done originally for commerce. Not much else has been released yet. No mintage figures, no information if there will be proof versions and no release date yet.
The Peace will also be struck by all three current mints, which were the only ones to ever produce it.
So today I am going to share the best version of a Peace Dollar that I have in my collection.
It's a 1926-D, it has been graded by PCGS as a MS65. This grade is a more difficult grade to obtain in the Peace dollar. Both the 1922 and 1923 are the easiest to find and the cheapest due to the crazy high mintage numbers.
There were just 2,348,700 of these originally struck at the Denver Mint. This graded example per my notes at the time of my purchase, had only 381 in this grade and 146 in higher grades.
This coin has a book value of $1200 per PCGS currently. In my research there are 172 people with registry sets listed for the Peace Dollar series in this grade. Out of the 172 registry sets 89 are missing this coin from their set.
Which tells me that this is one is a desirable coin.
Let's look at this beauty....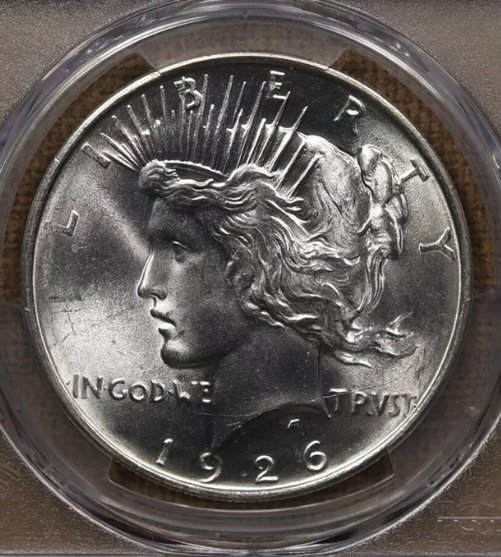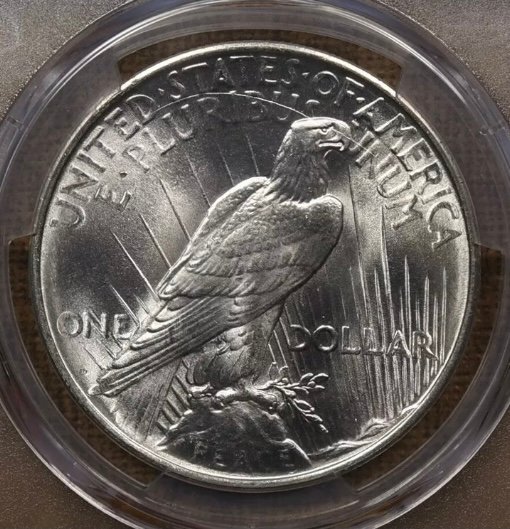 Beautiful cartwheel luster, the detail is spot on with no visual flaws. The reverse has amazing feather detail on the Eagle. Just an absolute gem.
Thanks for stopping by
Posted Using LeoFinance Beta