Hello everyone....


Today I am going to share with you a coin that I would never typically would've bought or even found searching for coins. I came across this coin doing a search on a coin forum for graded Mexican coins.
When I see a coin up for sale that I like and might want to purchase, what I typically do is search the rest of what the buyer is offering as well. In doing that I came across this very coin. After researching this coin, I decided to buy it and here are the reasons why:
I don't own a coin minted in the Czech Republic.
After checking both NGC & PCGS for population of this coin I found out it was the top grade in population. There are only 2 known coins of this in this grade. Now I own one of the two.
There are only 45,000 BU strikes, and 5,000 proof strikes total. This is directly from the NGC website.
Note: 6,439 pieces, Unc and Proof, were melted by the Czech National Bank in 1999. That means that the total mintage both BU and proof is under 45,000 coins. All of the ones I've seen up for sale are very circulated and in rough shape. The few that were in nice ungraded condition were more expensive then this one.
After checking sales of this exact coin, it was a no brainer purchase. There are sales of non graded ones that have sold for double what I paid for the highest graded specimen in population know so far.
Here are the coin specs:
Country Czechoslovakia
Period Socialist Republic (1960-1990)
Type Non-circulating coin
Year 1972
Value 50 Korun (50 CSK)
Currency Koruna (1953-1992)
Composition Silver (.700)
Weight 13 g
Diameter 31 mm
Thickness 2.20 mm
Shape Round
Demonetized 09-30-2000
References KM# 77
Commemorative issue
50 Years - Death of Josef Václav Myslbek
Obverse
Czechoslovak socialist coat of arms, value
Lettering:
ČESKOSLOVENSKÁ SOCIALISTICKÁ REPUBLIKA
50
Translation: Czechoslovak Socialist Republic
Engraver: Andrej Peter
Reverse
Portrait of Josef Václav Myslbek left, lettering around
Lettering: J.V.MYSLBEK 1922 - 1972
Engraver: Ladislav Pícha
Edge
Smooth with inscription
Lettering: J. V. MYSLBEK * 1922 - 1972 *


Now for the coin....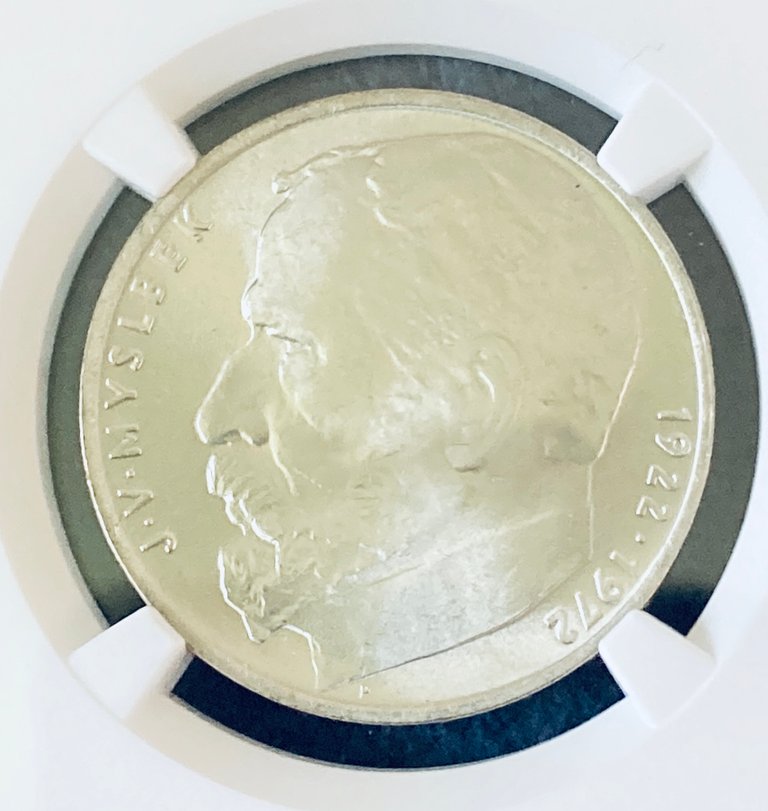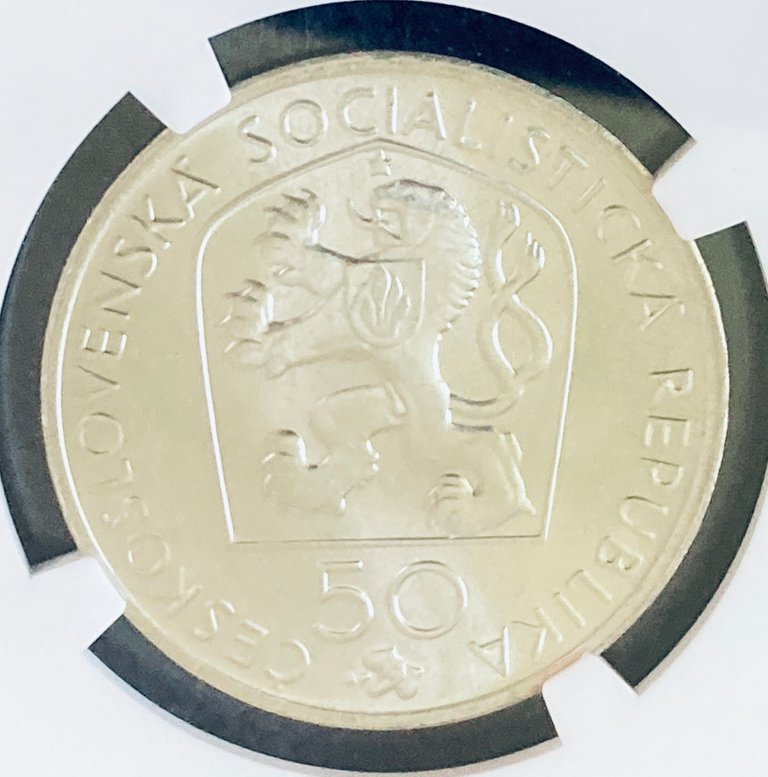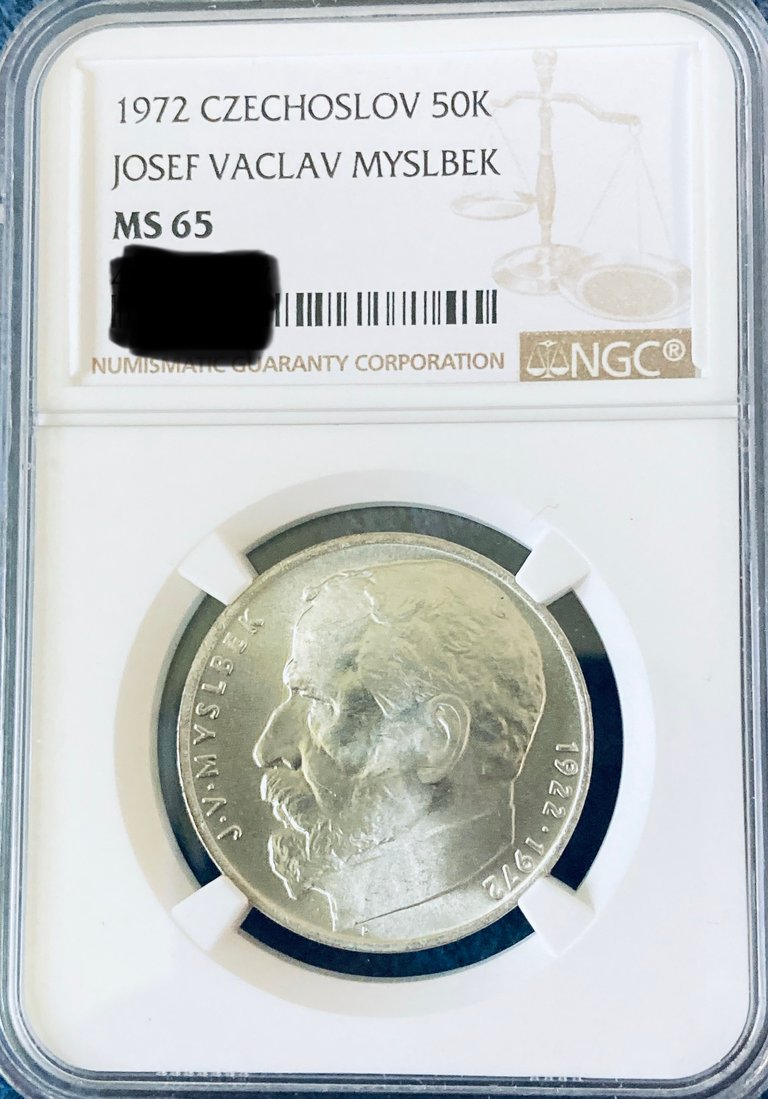 Have a great day
Thank you for stopping by.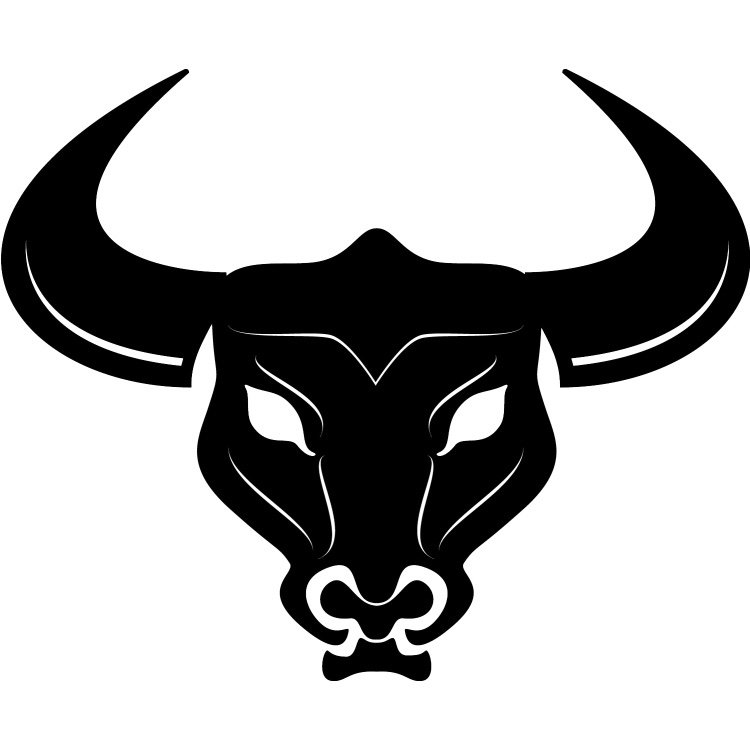 Posted Using LeoFinance