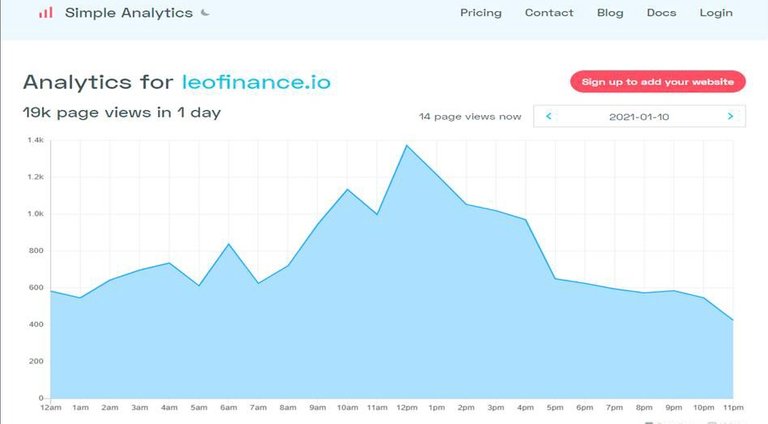 486,000 page views in 30 days, according to Simple Analytics! Largest one day 19,000 views!
I went to this site: www.simpleanalytics.com
And looked at our data. This site shows the number of page views, referrers, top pages and top visits. Total page views in past 30 days is 486,000. Largest page view day 19,000 views on Jan 7th, 2021
Here's some of the graphics. I see how with 12,000 to 19,000 views per day how it adds up to 480,000. What I could find were definitions of these things like page views, page visits and referrals. Do I will write them for more information. Here are some interesting graphics: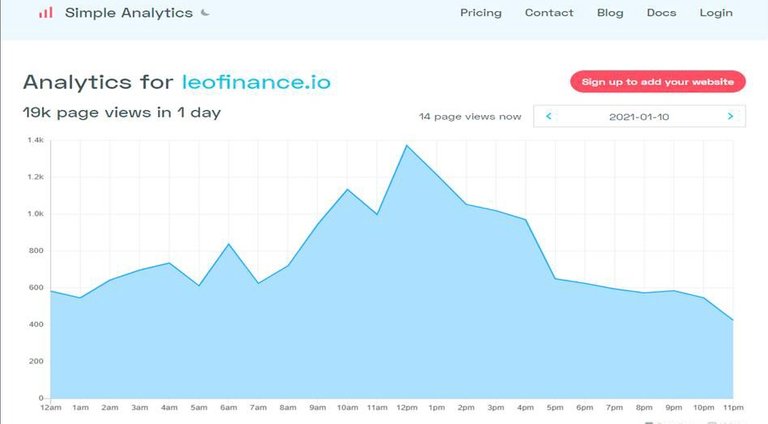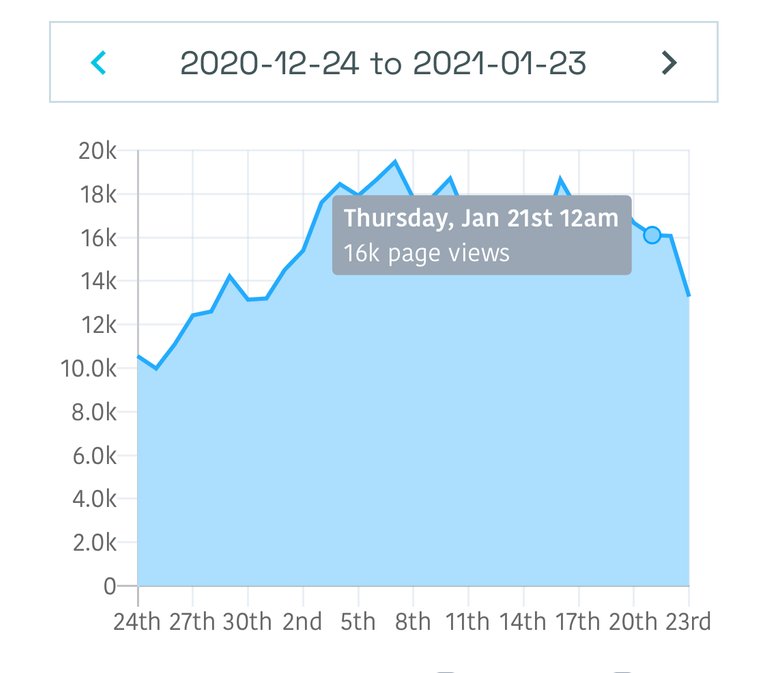 I thought it would be interesting to see:
What are the Top Ten sources of those views?
Who are the Top Ten People for page views?
Who are the Top Ten for Page Visitors?
Which Devices were used to access Leofinance?
Which Browser was used?
Which Countries do our views come from?
Top Ten Sources of referrals to Leofinance are…
Number One Source is Twitter 6300 and Google 4500 they are far ahead of the other 30 plus sources. Maybe we can target our efforts better with this.
6.3k twitter.com
4.5k google
842 hive.blog
842 noise.cash
738 reddit.com
725 facebook.com
402 publish0x.com
384 leodex.io
306 android-app
290 torum.com
Top Ten People for page views
Maybe we can look at their titles, pictures and layouts or topics to get an idea what generates views?
And give them some love?
2.6 /@acesontop
2.0 /@camanda
1.8k /@wiseagent
1.6k /@whatageek
1.6k /@lbi-token
1.5k trending/hive-167922
1.4k /@hykss/replies
1.3k /@acesontop/wallet
1.3k /@hitmeasap
1.1k /@crypto619
1.1k /@celi130
572 /@CryptoWendyO
I enter a special mention because she has been in the Community less then a week is already generating large number of views!
Top Ten for Page Visitors
541 /created
512 /@cryptowendyo introduction-post
414 /publish
311 /hot
289 /@razam/feed
282 /trending
156 /@cryptowendyo
144 /@acesontop
131 /@theatdhe
Which Devices were used to access Leofinance.io
Desktop Computer 66%
Phone 33%
Tablet Device 0.8%
Which Browser was used
Chrome 43%
Chrome for Android 24%
Chromium 19%
Firefox 5%
iOS Safari 4%
Which Countries do our views come from?
USA 19%
Nigeria 7%
Romania 7%
Germany 6%
Indonesia 6%
Venezuela 5%
United Kingdom 5%
Canada 5%
India 5%
Spain 5%
Twitter and Google
Leofinance is an exciting new cryptocurrency and finance oriented community for writers and video bloggers in this niche. While we can grow within the Hive community, there are far more people outside the Hive community and Twitter and Google are very good ways to attract people to our webpages.
Leofinance Weekly Twitter Storm
I would like to organize more Twitter advertisement by listing suggested links for a weekly Twitter Storm, so as many members as possible can Copy, and Paste a link into a Tweet. We have 3900 plus members we can drive traffic to our site and promote the growth of our community.
I could choose them on the basis of their Content, number of Likes, number of comments and the amount of rewards. I mention all these items because they are import to highlight all the positives.
What do you think?
CryptoWendyO shoutout about Leofinance:# Link
This is great, one of the new members of our community @cryptowendyo gave a shout out to our Community on YouTube!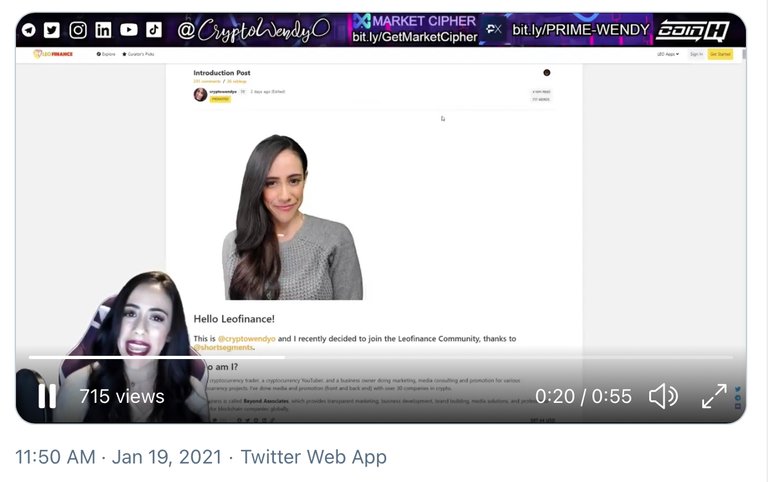 Thank you!
Put other links in comments below!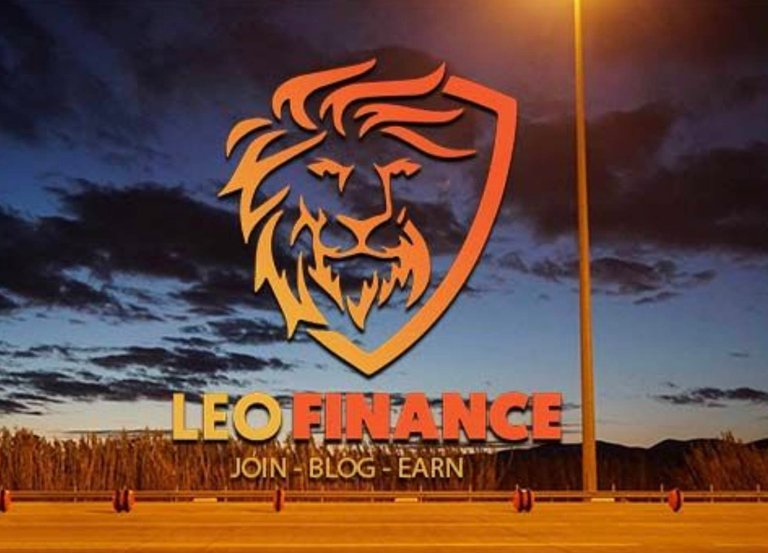 Posted Using LeoFinance Beta