Ok, so the title is a little tongue in cheek but crypto is selling off hard on Thanksgiving day here in the states.
Many have been waiting for a pullback in coins like Ethereum and Bitcoin after this last leg up was a bit overstretched from technical indicators.
I was one of those people and apparently came early to the game. After selling some ETH up at 620 I bought back last night at 529, which is a win of course but damn now we are testing key levels with ETH below $500 as I write this.
Ethereum Price Action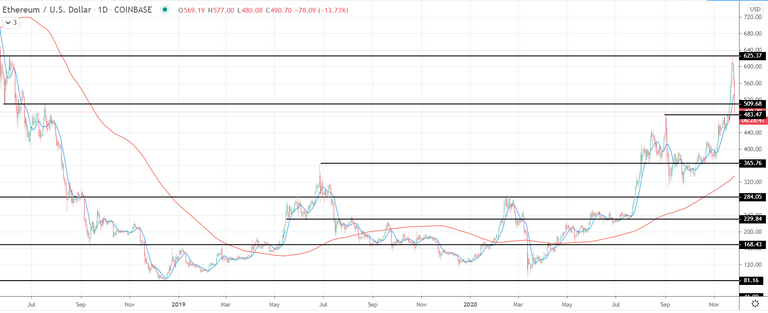 Looking at the chart you can see price is below the 510 support level and is now testing the 485 area as a potential support.
It is the short line to the right that was drawn of that last pivot top.
Pivot points tend to become places of support or resistance. In this case we are hopping it acts as a new support.
If not then ETH can likely see downward to 440 as a next stop. Essentially erase the whole November move.
Don't forget about Bitcoin!
Bitcoin has pulled back more than 2,000 points in less than 48 hours.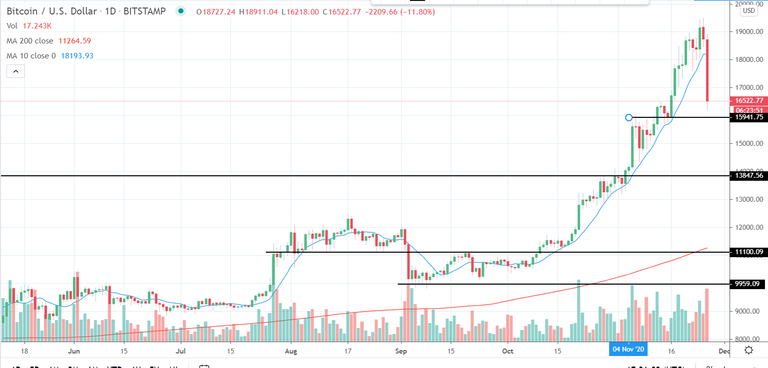 I'm keeping an eye on the 16,000 level as a potential support. Bottom line, a new support based off one of these recent consolidation levels needs to take hold otherwise there is no reason bitcoin cannot go back down to 15K and then 13,900.
Just my opinion of course. As for upside the most recent highs is the target on both bitcoin and ethereum.
Happy Crypto Discount-giving day!
Posted Using LeoFinance Beta