The price of WLEO has done well in 2021. Yes, so have alot of other cryptos but what I like about WLEO's price action compared to many others is the steadyness.
Moving Up that Hill...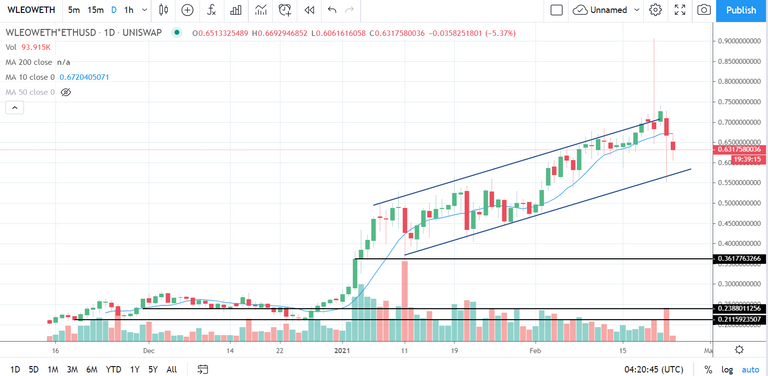 Slow and Steady in Crypto???
Looking at the above daily chart you can see that price has been in an ascending channel since the beginning of the year.
I mean, you really can't ask for much more than that in terms of a solid uptrend.
A spike here and there...
This is not to say there hasn't been some spikes higher and lower like the other cryptos.
You can see the daily candle, going to the fourth candle back has a big price spike higher before ultimately closing back in the channel.
The cause of that is well known but just in case you missed it, some unknown whale came and swapped 40 ETH for WLEO.
It turned out to be short lived as they flipped back out hours later, but it made for a fun ride for a minute there!
Then you look at yesterday's candle and the spike lower. Well that one was just crypto market induced as just about every coin out that trades experienced the flash crash.
What is important is you see the wick bounced right off the support line of the channel.
Mostly order in the air...
Outside of those two outliers, price has been on an orderly climb higher.
This pace works just fine for me and I'm rooting for it to stay in this channel as long as possible!
Posted Using LeoFinance Beta