Litecoin just hasn't recovered like BTC and ETH with both in new all time high territory.
We'll take a look at the daily chart to see where litecoin price can go and where it has been.
Still a long ways to go....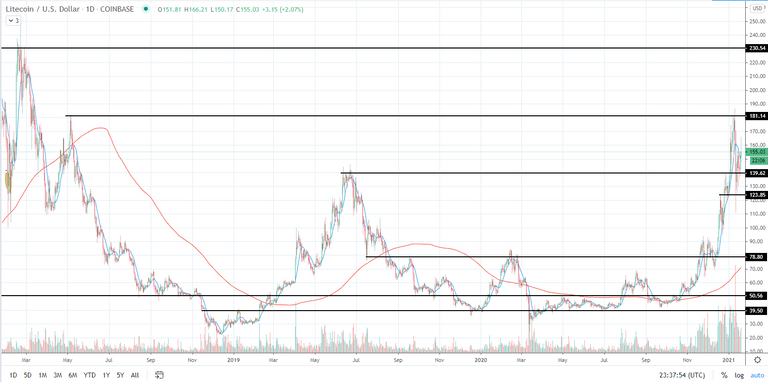 All time highs not in the chart view, yet!
The chart is zoomed out back to February/March 2018, which represents an area that is still only a little more than half the all time price high for litecoin.
Yes, litecoin has underperformed BTC and ETH that bad on this move thus far. This level is the 230-245 area. This also marks the next upside target if price can push above its most recent high.
180 resistance first...
As you can see price just hit its head off the 180 area and is bouncing between that and the 2019 price high of 140.
Ideally litecoin can maintain the 140 level and then make another run at the 180 resistance, which is a clear level that we first saw as a pivot point in February/March 2018 and then got confirmed with the recent failure at that level.'
So that is the most current price target to the upside.
What is the next level?
If you look at the top line of the chart you'll see the 230-245 area resistance line I mentioned earlier.
This is the next target if and when the 180 level is surpassed. The good news is that's a good chunk of real estate between those two levels.
Key levels to hold
I mentioned holding the 140 level being essential to keep the bullish price action intact, but below that the most immediate level we have a price point that has been created on this recent move higher.
You'll see a short line drawn on the right in the 120-125 price area. That was a consolidation area on the way up and then we saw price spike off there on the big one day sell off on January 11th.
It's important that price holds either of these levels as a break below would see price action lose its bullish tone and expose price to a downside risk of the 100 level.
Conclusion
So there you have it, we have two upside targets and two downside targets that allows us to act accordingly.
Best case is if we can see price go higher and then begin to look at the levels that take litecoin near its all time highs.
Posted Using LeoFinance Beta