Bitcoin (BTC), which ranks first by market cap, has long had a great difficulty in exceeding $ 60,000, while Ethereum (ETH) has continued its successful rise, breaking the $ 4,000 psychological milestone for the first time. Bitcoin (BTC) wants to break the $ 60,000 resistance and reach a new high. On the other hand, Ethereum (ETH), which is 2nd in terms of market size, reached $ 4,208, breaking the all-time record. Will ETH be able to continue its successful rise? and what's next?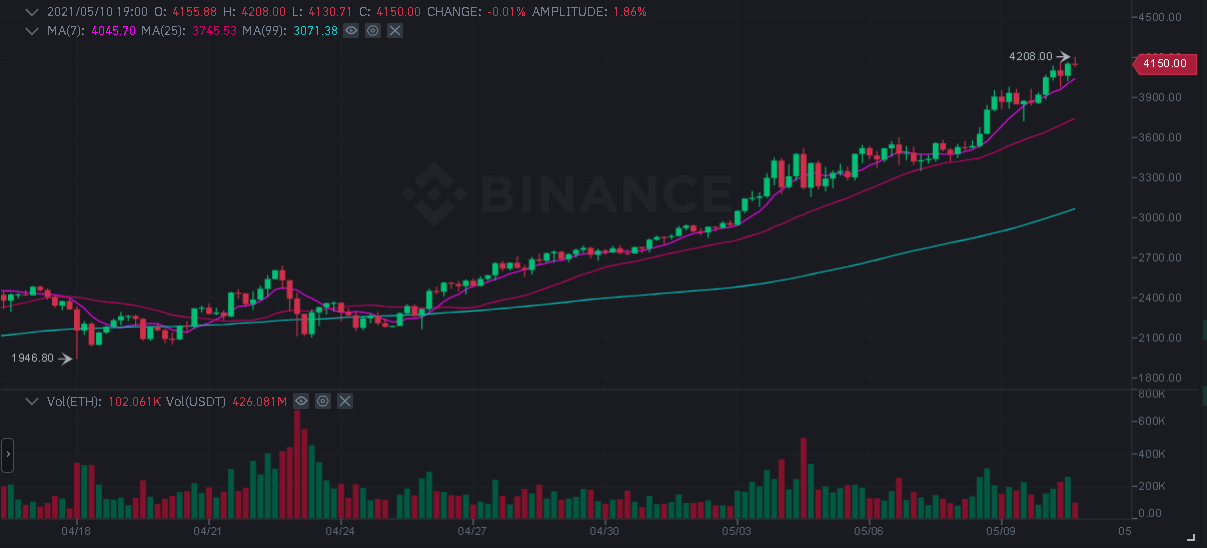 Ethereum (ETH) continues its upward trend fast. ETH, the second most valuable cryptocurrency by market cap, broke the all-time record, surpassing $ 4,200. It achieved great success, exceeding $ 482 billion in market value. It is very close to the stock market valuation of JPMorgan Chase, the largest bank in the USA, of $ 488 billion. It is currently trading at $ 4150 after the price adjustment.
Some of the most important developments behind ETH's successful rise are creating new financial solutions projects such as updates on the ETH side, drop in transfer fees, decentralized finance (DeFi), fungible token (NFT) and AMM (Automated Market Maker).
Decentralized finance DEFI automates many functions of banks and other traditional finance companies. The Ethereum blockchain forms the basis of much of DeFi. It also forms the basis for fungible token (NFT), which has been increasing in popularity recently. The secret of the success of ETH is that many projects and platforms created prefer the Ethereum blockchain. Ethereum continues to lead in this field. In addition, there is an upward trend on the BNB side, which is due to similar projects. Due to the fact that Binance Smart Chain is much cheaper and faster, DEFI, NFT, AMM and new projects are preferred. These and similar projects and platforms have a positive impact on the ETH and BNB side and seem to be in the future.
Generally, institutional investors preferred BTC, but lately it seems that the switch to the ETH side has been high. Therefore, the price difference between Ethereum (ETH) and Bitcoin (BTC) continues to decrease day by day, it seems that the price difference will decrease more in the coming days. This successful rise on the ETH side will continue in the coming days and there is a signal to reach higher. With new projects and new investors coming, ETH could exceed $ 5,000 in May.
Posted Using LeoFinance Beta