Binance Coin (BNB), which has seen an incredible rise in recent days, hits a new ATH every day. BNB increased almost 100% within 2 weeks, and one of the most profitable investments in April was BNB. Also, BNB has seen a huge increase of 3485% in 1 year.
Binance had previously said about BNB that a certain part of it will be burned over time and will be out of circulation forever. About this, Binance CEO Changpeng Zhao made an announcement on twitter today.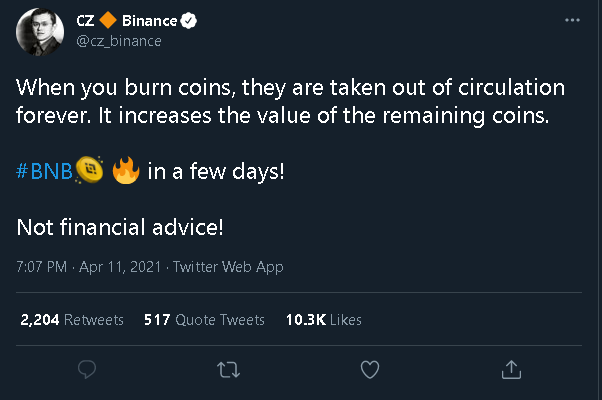 source
When you burn coins, they are taken out of circulation forever. It increases the value of the remaining coins.
#BNB Fire in a few days!
Not financial advice!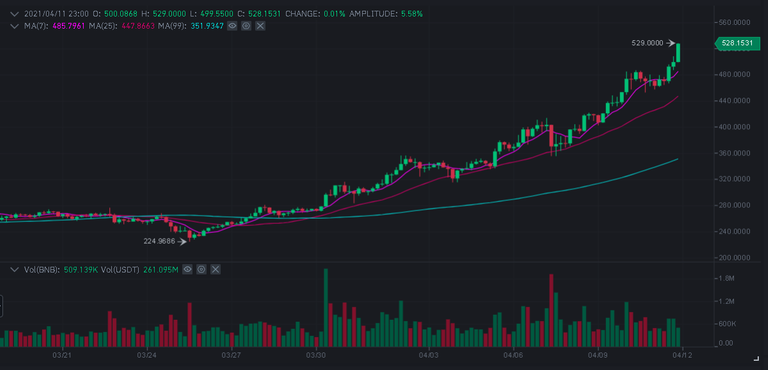 Such a news about BNB was expected, with the announcement made today, BNB started to rise rapidly. It broke the all-time record, reaching $ 529. It continues to rise even as I write the article (I had to update the price 5 times while writing the article). BNB is heading towards $ 1,000.
The rise of BNB will continue in the coming days. In addition, BNB may be burned again in the following months. I would like to tell you that the more it is burned, the more valuable it will gain.
Also, Binance is doing its best to make BNB even stronger. Launchpad at Binance, in particular, is carefully followed by investors. Staking and pre-sales are usually done with BNB or more earnings are possible with BNB. After every Launchpad announcement, BNB usually goes up.
Posted Using LeoFinance Beta