I'm one of the privileged few on Hive who's fortunate enough to be guaranteed a daily-post pay-out of > $10 thanks to people having put me on auto-vote.
I say daily-post pay-out because I'm fairly certain most people limit their auto-votes so they don't reward more than once a day on average, I certainly do this with most people I have on my auto-vote.
Note the irony that on this particular post, it's my second of the day (a rare occurrence) so I might get < $10 on auto-vote.
That said, this is still a very nice position to be in, and it certainly inspires me to post everyday, but it got me to wondering what does one have to do in order to get added to someone's auto-vote and get a daily pay-out of >$10?
I did a quick manual trawl of people who auto-voted me within the first 10 minutes of two of my posts going out and found the following: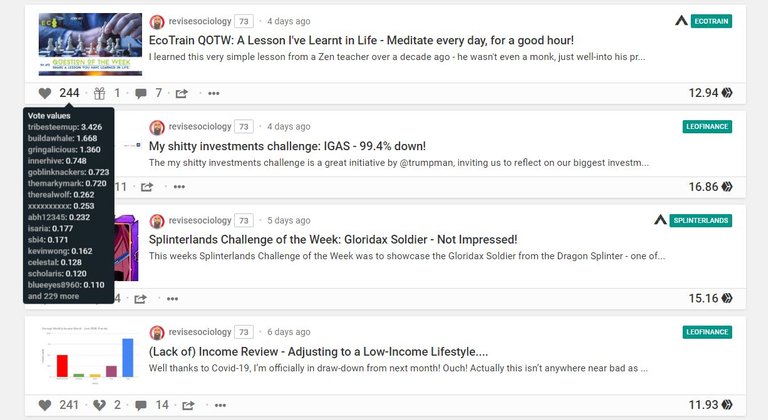 Around 50% of my $10 dollar minimum pay-out comes from having gained whale votes:
Whale vote one comes from being part of @abundance.tribe, with the vote coming from the now rather unfortunately named @tribesteemup, and that being delegated to by @jamesc - an enigmatic account that rarely transacts in person. Thanks to @kennyskitchen for organising these votes for peops.
Regular whale vote two comes from @themarkymark and the @buildawhale account which is funded mainly by @blocktrades
Regular whale vote three comes from @therealwolf and @xxxxxxxx no sure how many XXXXs! - one follows the other I think, I'm not sure which.
Around half of my $10 pay-out comes from the above three sources, I must say it's quite nice to see a few of the top witnesses in their giving me some support, I return the favour by supporting their witnesses, deserved IMO!
I'd say that around $1 worth comes from people following the abundance.tribe trail, which is significant, it certainly makes me want to follow trails more! NB I also trail the abundance.tribe trail
Most of the rest comes from diversified accounts - I've had what I'd call 'meaningful comment interation' with at least 70% of the people who auto-vote me - from my various interests - running, splinterlands, LEO, obviously Hive!
I've met about 10 of the people who autovote me, most of them Brits.
Finally I've got '?' against around $1 worth of my autovotes, no idea who these accounts are!
So what does it take to get yer posts auto-voted to > $10

There's basically three things you need to do
Get active within a community you care about - this accounts for at least a third of my Hive income, if I count LEO that's growing rapidly. Interact with people - drop in comments, and go out and meet them! Go to the next Hive gathering if you can!
Invest in Hive - I'm sure my non abundance tribe Whale auto-votes have stuck because I was on-board with the whole ditching Steem and moving to Hive thing and I've bought more Hive since. Fair enough I say, no point in voting on people who are going to PD and sell, that's not me.
It also helps if you can actually write and have something worth writing about that people want to read. And once you've got your nice auto-votes coming in, don't be a dick with your posting, try to maintain at least some minimal level of quality.
There's no real correlation between who auto-votes me and who I auto-vote

I don't just do vote for vote, I'm not really sure why, it's just not the way it works here on Hive.
Having said that, I do follow (I think) everyone who autovotes me, and I am more inclined to throw out the odd manual vote to people who auto-vote me.
I know a lot of people I interact with don't like auto-voting, fair enough I say, personally I do it as it simplifies my time on Hive.
I quite often get more than $10 a post because of manual votes, cheers!
Implications of getting a $10 pay-out per post

Personally I see this as something of a responsibility - it's a lot more than most people earn from blogging on Hive and so I do feel kind of bound to maintaining a certain level of quality, otherwise it just makes the ecosystem look broken - I really don't want to be seen to be earning $10 for posting selfies of my dinner like exyle used to, that's just embarrassing, and why I use alt accounts like @blockbeard for quick-posts.
Having said that $10 a post, or $5 after it's share with curators is sufficient to keep me posting at least once a day, and now with the added impetus of earning LEO, I'm thinking about upping that to 10 times a week, so twice a day some days.
There is a problem for the ecosystem, maybe, with people narrowing their votes in order to chase curation returns - that is knowing that whales will vote on certain posts, if you can front-run those, it just means more money going to people like me that have already attracted whale votes. That may not be so great for bringing new people in!?!
Anyway, thank you for the autovotes....
@lloyddaivs
@goblinknackers
@indigoocean
@primersion
@kevinwong
@stevelivingston
@costanza
@toofasteddie
@digital-mine
@celestal
@dreimaldad
@jeffjagoe
@belemo
@misslasvegas
@riverflows
@nainaztengra
@ura-soul
@innerhive
@denmarkguy
@xxxxxxxx
@naturalmedicine
@bitshares101
@doitvoluntarily
@inspirewithwords
@livingfree
@created
@taskmaster4450
@payroll
@tribesteemup
@ecotrain
@wearechange-co
@terrybrock
@abundance.tribe
@fitat40
@nanzo-scoop
@stortebeker
@swelker101
@arcange
@isaria
@blueeyes8960
@argon
@smartsteem
@roomservice
@buildawhale
@therealwolf
@bosman
@themarkymark
@smartvote
@shanibeer
@ew-and-patterns
@asa-raw
@borran
@dalz
@enforcer48
@mmmmkkkk311
@scholaris
@cryptoandcoffee
@abh12345
And apologies if I've missed anyone out, or if in fact you don't autovote me from the above list and you just sneaked a manual vote in early on!
Posted Using LeoFinance