I've been digging around the good old internet for information on how 'blockchain and crypto' are being used to tackle income inequality and poverty, inspired by this week's @eco-train question of the week which is to write something on blockchain and social good, so I narrowed the topic down to this one.
NB One of the things I've concluded after digging around a bit is this: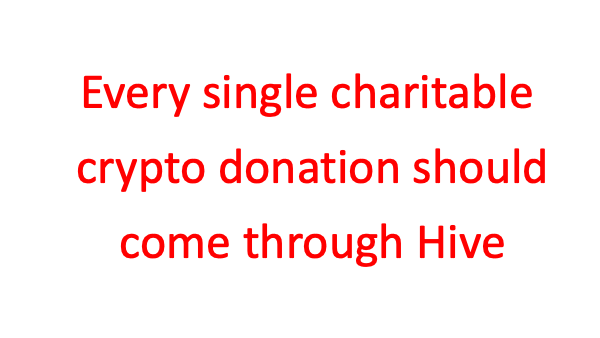 I know charity isn't necessarily the best means to alleviate poverty, but if people MUST give to charity, they may as well come through our chain. More on that later!
Arguments and evidence for blockchain and crypto tackling inequality and poverty
I looked at numerous articles (linked below) and found the following arguments and evidence:
Peer to peer distributed ledgers weaken the power of corrupt governments and elites to control the money supply.
Crypto is both a wealth preserver (against fiat inflation) and has the potential for greater explosive growth potential.
It's easier for people to acquire crypto than to acquire stocks or property.
Blockchain technology has been used to help some of world's 1.7 billion 'unbanked' people credit histories and thus access to loans.
There are increasing numbers of charitable organisations which allow people to donate in crypto.
Teaching people about crypto is a good way to increase their financial literacy.
All of the above may well be true, but I'm not convinced that all of them are effective means for blockchain/ crypto to tackle poverty/ inequality, at least not without undermining some of the key advantages that blockchian/ crypto has over fiat.
There's also quite a lot of contingencies to the above arguments..
Arguments one and two are true, but only IF crypto gains wider recognition and grows in value faster than fiat, and then its capacity to combat inequality/ poverty depends on which cryptos grow and is limited to only those who have it!
Number three is true, but there are very limited means whereby people can acquire crypto without having to buy with FIAT - HIVE/ that other chain I won't mention/ LBRY/ PublishOX/ BAT/ bits and pieces you can earn from Coinbase and similar initiatives - there may be a few more, but surly they are limited?
Four and five may well be the case - but these are not crypto exclusive - I doubt those loans are in BTC, they're probably in FIAT, and having looked at 'The Giving Block' - responsible for BTC Tuesday - all that happens there is people give BTC etc. to whatever charity and the charity spends it - it hardly seams like a win for the blockhain!
So taking four and five together - the first seems like a win for blockchain, but not for crypto, and vice versa for the other, where poverty alleviation is concerned.
Number 6 above I have no criticism of at all - I recommend everyone listen to this podcast on Banking the Unbanked - with Carlos Acevedo from Brave - he talks about how he used to run a 'crypto club' when he was a teacher in a school in a deprived area of New York, and how this got the kids thinking about finance - he even gave them Crypto when they graduated.
He also talks about the 'ideology' of Brave - paying people tiny micropayments for their attention in BAT (when they choose to watch ads) - all they need is a phone to be able to earn, and then from there BAT can be used to buy more data, for example.
I actually bought some more BAT on listening to it!
Hive and Leofinance have enormous potential to be leading projects in tackling inequality and poverty
This is just a brain dump at this phase, but I just can't help but think that this is the blockchain for combatting inequality -
Firstly, it's one of the few places where people anywhere in the world can sign up for free and start earning.
Secondly, there is already a solid track record of Hive and leo being used to lift people out of poverty/ tide them over pandemic income droughts.
Thirdly, there is scope to directly establish positive projects IRL and blogged about on Hive like the Decentralised Football Academy - you can support simply by upvoting them.
Even more simply, if a charity like OXFAM, or even an individual you know in need simply opened up a Hive account, you can directly support them by adding them as a beneficiary on your posts, they don't even need to blog!
Probably most obviously, you can just send someone Hive or LEO instantaneously, FOR FREE!
Maybe we're missing a trick here with marketing Hive - I mean, we want investors, right, and there's plenty of BTC millionaires who are prepared to donate a few thousand dollars worth of Crypto on 'BTC Tuesday' - well why the hell not buy some Hive or LEO instead, power it up and then use it to perpetually donate to a charity or person/ people of your choice?
Let's go with the cliche - you want to buy a village a well - well (excuse the pun) why not just send them a few thousand Hive initially to get the well up and running and then 100 Hive or however much it takes a month to keep it maintained?
All recorded on the chain, that's leveraging the full advantage of crypto and blockchain right?!?!
As far as I see it - Every single charitable crypto donation should be coming to Hive!
Of course you may not like the sense of 'patronage' that comes along with that, but surely all charity is a form of that?
And think of the 'virtue signalling' those charity-investors can engage in if they want to if they're making regular donations and it's all on-chain. So much more return on their investment! Or they can of course be anonymous too.
Thinking long term - if HIVE becomes known as the 'charity or development' chain (or something less patronising, that's one for a marketing expert) then it could mean more eyes, more people willing to buy Hive to power up and support development projects?
Maybe it's worth a try? I mean pictures of me eating my BBQd steak for dinner don't seem to have brought about mass adoption for some reason, so maybe it's time for a counter-intuitive approach>?
And we can have all of that 'classic charity donating' stuff going on at the same time as all sorts of regular people just blogging and writing and earning with there being no sense of it being like charity at all!
And maybe a few lambos into the mix too.
I'm sure we can have it all?!?
Anyway, enough, that sort of turned into two posts, I might have to elaborate on the second half a bit tomo, or at some point later on!
Feel free to kill the idea in the comments! Where's @pennsif when you need him, I'm sure he'd agree with me.
Sources
Posted Using LeoFinance Beta