Below is my Personal Hive stats review for July 2020. These stats are approximate as this post has been written gradually over a few days (it's far too punishing to do it all at once!).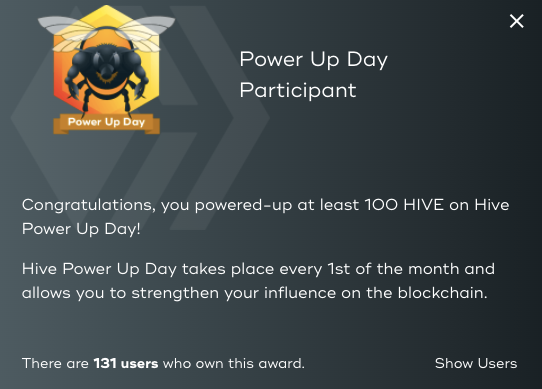 Along with an extreme minority of users, I Powered Up >100 Hive for HPUD day.
I've decided I'm going to track my 'progress' in Hive, not dollars. I like the idea of thinking in Hive!
I use mainly the following sources to get these stats:
HiveStats, maintained by the Leo Devs.
The 'tools' section of @Peakd
HiveBuzz - from @acrcage
@abh12345's Engagement League and his 'my stats service'

Headline Stats
Hive Power - 43 500
Hive Rewards - 1360 (560 author, 350 curation)
LEO Power - 16 500
Leo Rewards - 1300 (40-30-30-author-curation-delegation)
Splinterlands cards - worth just over $2000
Number of Posts - 38
Number of comments -450

July 2020 Stats
Hive Power and Hive Rewards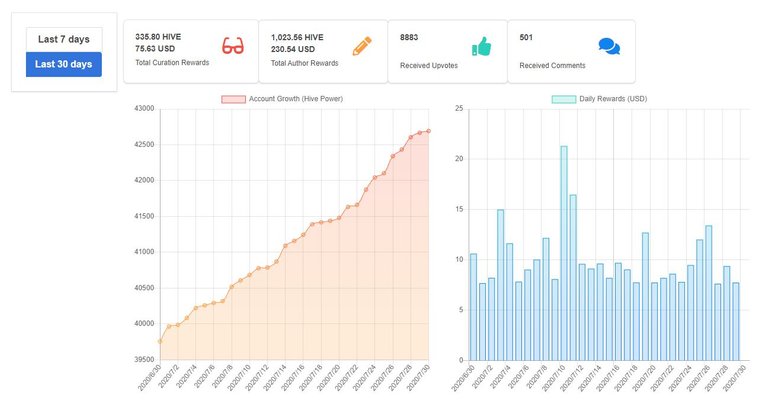 Hive Power = 43 500, up from 39 250 30 days ago, so that's a 3250 Hive Power increase.
1020 Hive in author rewards in July
340 Hive in Curation rewards
I'm quite humbled by the author rewards TBH, and thankful for all the upvotes!
I would really like to see an improvement in my curation returns, I want to increase so it's at least 50% of my author rewards.
I've bought in approximately 1800 Hive - most of that was still from Steem PowerDowns, you know that last little bit you hadn't PDd initially because of it being delegated out! Most of that's gone now, so I expect a slow down in the increase of my HP from August!


LEO Power and LEO rewards
LEO Power = 16 300, up from 12 100 30 days ago, so that's a 4200 LEO Power increase in 30 days
570 LEO in author rewards in July
400 LEO in Curation rewards
Probably around 400 (ish) LEO in delegation and mining rewards
So that's just under 2500 LEO bought in.
I'm quite happy with that, especially the curation return. Note that 16K LP brings me in 400 LEO, 36K active Hive brings me in less than that in Hive!
I've been buying in LEO gradually because it's less inflationary than Hive, and it's got a much better curation return ATM. And I like the platform too of course!

Splinterlands progress and cards

I made Champions 1 for the first time, and then again for the second time - 4800 and something points, both occasions. but generally pretty crap rewards.
I find the game a little dull TBH - My deck isn't maxed and in C1 you just get too many Yodins and/ or maxed decks with pounding magic or sneak and OMFG - YAWWWNNN - I lose because someones spent twice as much money on their deck as I have.
My collection is valued at just over $2000, and I've got around 450 000 DEC, which I'm stacking for land.
I've bought in a few more cards from the Beta sales this year, a maxed gold dragon being my favourite purchase, I think that was this month, it may have even been in May, time is flying!

Number of Posts

So I managed 38 posts, which is in line with my efforts to write more for LEO - I've been quite content upping my writing slightly, it feels like a good time to write, and I've sorted out my writing strategy into different themes, or realy consolidated it, it was already sorted, as i outlined here!
Number of comments

With around 450 comments I'm happy with that - It's one of the first things I do in the morning, and after lunch and dinner, is check my feed and drop in comments as appropriate, and reply, naturally!

Qualitative observations

I've enjoyed July on Hive, but there's also some downsides - 50-50 I'd say!
I'm enjoying a few things
I am enjoying writing stuff on Hive, and I'm enjoying my rewards, but I'm also aware I'm just a medium sized fish in a decreasingly viscous pond.
I enjoy the regular interactions I get from people, it's the only social life I've had this last month!
I've enjoyed doing more writing about finance stuff on LEO, I should have started this sooner!
I think spending 50 Euros on the @cryptobrewmaster brew and am possibly going to be getting some beermats is the most exciting development I've seen this month!
I'm loving @orlev's Discomfort Zone podcast - every Thursday, 23.00 GMT on Discord, MSP Waves!
I've also discovered a nice new @bdcommunity Splinterlands contest once a week, very similar in writing style to the regular @splinterlands weekly challenge contest, and I like writing those - In fact I like writing and thinking through strategies more than actually playing the game.
There's a lot I find discouraging:
There is now a trend to increasing inequality, the first month of pure Hive data, relatively free from Steem PD distortion.
There's more Hive being Powered Down and finding its way to the exchanges - this may be people getting ready to speculate on an expected alt coin bump.
Engagement has stagnated
Onboarding efforts seem to be getting nowhere, maybe because of lack of clarity.
@exodegame development is taking significantly longer than was mooted.
I've got an uncomfortable feeling that some Whales would rather see Hive stuck at 25 cents and maintain their power in a small, stagnant pond, rather than see mass adoption.
I can sort of understand why people are gradually disappearing.
Having said that, I still have faith that the fiat world is flawed, that it will shortly go through a severe contraction (I doubt it will collapse), people will find BTC en masse, and then greed, ego and herd-mentality will see them flocking to Hive in the future, on the back of a wider crypto-moon, without that, we're going nowhere.
It's just a matter of time, and I'm sure Hive will do something!

Posted Using LeoFinance