Woke up to a nice surprise this morning - a discord message from @khaleelkazi saying that my LEO from the WLEO 1.0 fiasco had been returned, and lo I checked in with leofinance to find 10K LEO in my account:!: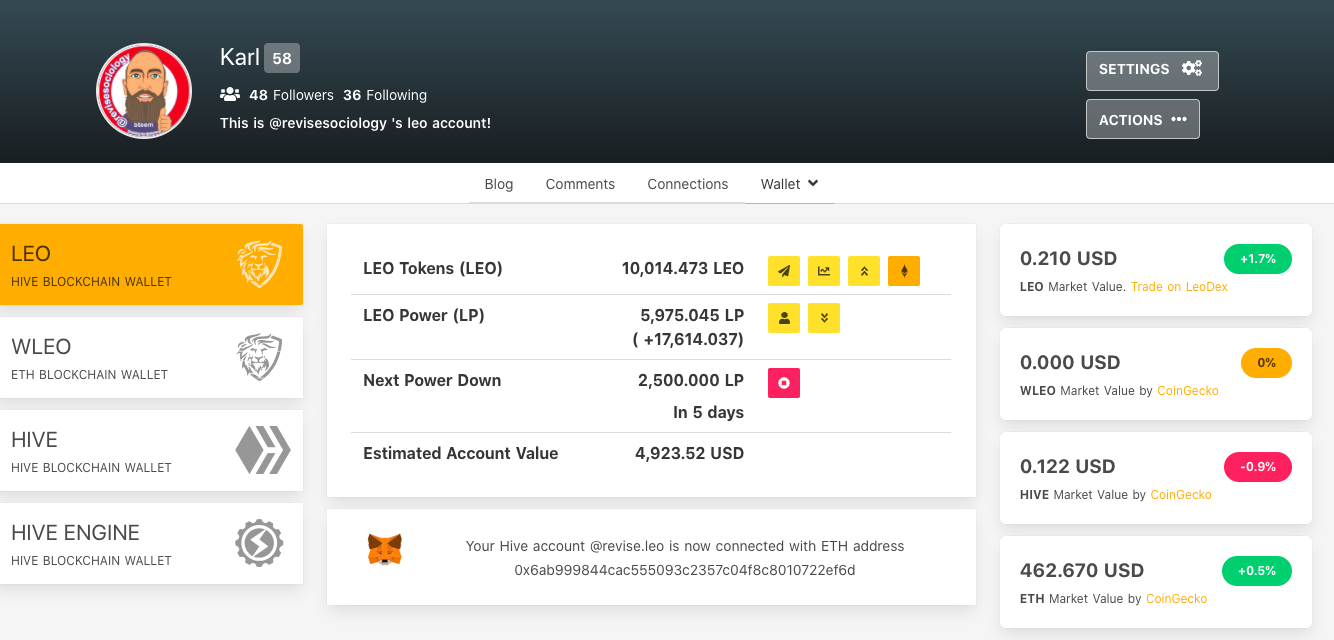 Which is nice to say the least!
It's at moments like these that I'm thankful there's such a competent team running this place.
In case you're not aware, I was in late to the Discord when the initial 'hack' took place and managed to remove my liquidity BEFORE my entire ETH stack had been drained, but I sent 9K WLEO to the @wrapped-leo account then didn't get it back as lEO because I got unlucky with the window then they shut it down!
Apparently there had been some false claims made about lost LEO, so it took a while to sift through the data. I can only assume this was from people who aren't that active on the platform (or maybe just confused people?) otherwise why would you want to tarnish your reputation?
OK stake is one thing, but the later is also pretty useful around here, let's face it, and in purely earning terms, if you ain't got much of the former, the later is all you've got! So why anyone would want to burn that through by putting in a false WLEO compensation claim is beyond me, but that's crypto I guess - it takes all sorts!
I seem to have ended up with an additional 1K LEO, which is, again, nice! It's safe with me folks, don't you worry!
Once more into the Pool - 5K (near enough) now staked.
I converted 2000 LEO to ETH so I could add another 2000 wrapped LEO into the liquidity pool - done for cheap in terms of GAS - around $1.50 this time.
I would have liked to have kept all the LEO as LEO but I'd obviously lost some ETH from the WLEO 1 thing, so I needed a replenish to be able to in more. Besides 20% of the 'refund' is OK.
And I powered up another 4K - 30K Power total!
This isn't quite as much as I wanted to power up, but I guess 30K is nothing to be sneezed at, actually I need to go check out how much that's worth in terms of a vote now - I guess it's quite a lot more than this time last week given that funds are heading into the pool.
And the rest
I've kept a little liquid, and I couldn't resist buying another 20 LEOMs, and I EVEN (sorry) powered up 15 Hive from the sale of LEO.
Having these funds locked away for three weeks may even have saved me money.
I did a quick calculation based on the relative LEO/ ETH prices on the 25/10 (when I should have got my LEO from WLEO initially) to today...
Had I converted 2K Leo for Eth 3 weeks ago, I'd have got 0.02 ETH more than today...
Oct - 0.18 *2000 = 360/408 = 0.88 = ETH
Nov - 0.20 *2000 = 400/462 = 0.86 ETH
I mean that's near enough parity, but the thing is had I got that 9/10K LEO back then would I have converted more of it to ETH then, or gradually over the last three weeks? Probably!
But having it locked away means I couldn't touch it, and now I've got more in the bank to liquify if I choose to, as the price (probably increases) compared to ETH.
If you think about it, the fact that LEO has remained so tightly pegged to ETH for three weeks even after WLEO 1.0, that's really something!
Anyway, I'm a happy bunny this morning
Have a good day everyone!
I REALLY need to get up and out and start mine! Or maybe I'll just spend it here, it has just started raining after all?!?
Posted Using LeoFinance Beta