Just like happiness, hive moon tends to be 'just around the corner'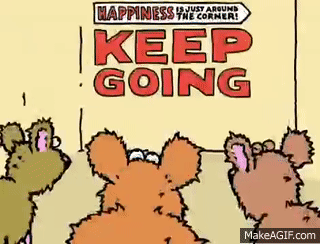 But we we maybe on the verge of breaking out the box?
Maybe, but then again maybe not.
If we review three key metrics at the end of this month and compare them to last month, the progress picture is mixed:
Number of accounts transacting is up, slightly.
All the newly minted Hive from last month remains liquid, in the form of HBDs
The distribution of powered up Hive across accounts remains broadly the same.
I take the stats below from the most excellent @penguinpablo and @arcange, both are worth a follow to keep up to date with key Hive metrics...
Number of accounts transacting are increasing
There is a definite uptrend in the number of accounts transacting on a daily and weekly basis, if we take the trend from that dip in early October.
We are up to 10500 daily accounts transacting compared to only 9500 shortly after the 'October crash', 3/5ths of the way along the chart below.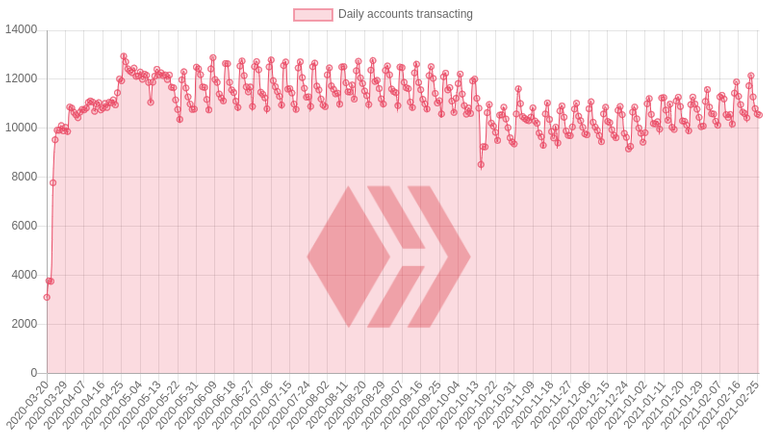 (I'm guessing that dip was a DAPP either shutting down or changing so that users had to re-authorise it and many never did).
The proportion of Vested Hive has decreased relative to the virtual supply
| Month | HIVE virtual supply | Vested HIVE | Non Vested Hive |
| --- | --- | --- | --- |
| Jan | 404,238,927 HIVE | 143,486,782 HP | 240,182,782 |
| Feb | 415,174,027 | 142,663,028 HP | 240,027,467 HIVE |
And there are almost another half a million HBDs floating about this month compared to last month.
Not so good - awash with HBDs.
The distribution of Hive Power has remained broadly similar
I use the without delegation stats below. @arcange also produces the with 'delegation' distribution, but delegation is just 'patronage', not ownership, so I prefer to look at the 'owned' weightings, I think they're a more valid measurement of power distribution, which is what I'm interested in.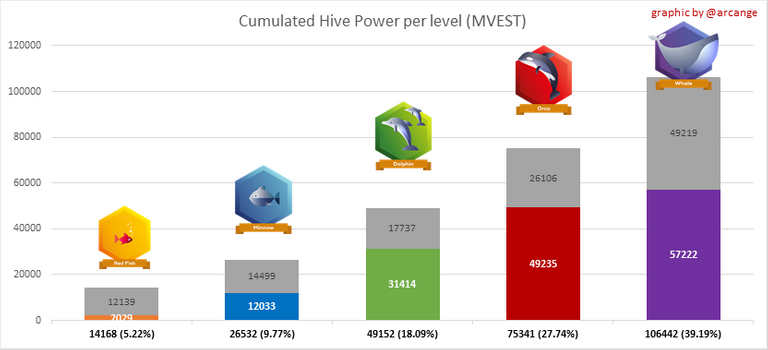 | Level | % total MVESTS end Jan | % of total MVESTS end Feb |
| --- | --- | --- |
| Whales | 39.38 | 39.19 |
| Orcas | 27.48 | 27.74 |
| Dolphins | 18.06 | 18.09 |
| Minnows | 9.87 | 9.77 |
| Redfish | 5.21 | 5.22} |
Final Thoughts - Turning the corner
Na, looks to me like it's still a case of HBD money printer going bbbbbrrrrrrrrrr while the rate of increase in active users isn't sufficient to create enough buying pressure to soak up the print rate.
The only mystery is where the recent Hive price pump came from? I can't see any basis for it in these stats?
Posted Using LeoFinance Beta