You've no doubt heard that Donald Trump has been banned from FaceBook and Twitter - if you try to find his Twitter account now, all you see is this: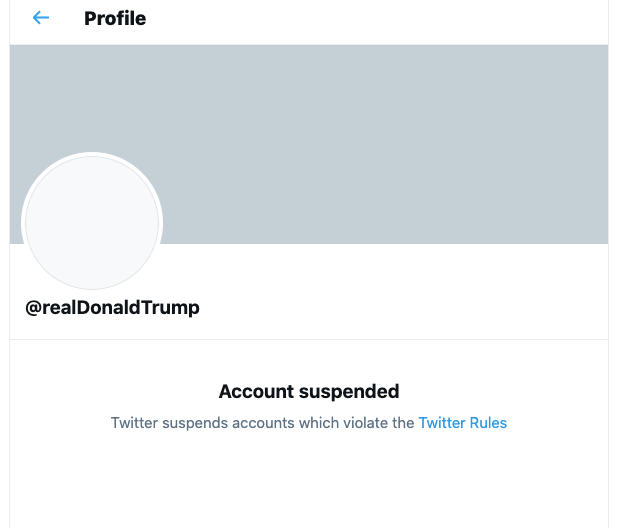 And at the same time the pro free speech app Parler, favoured by alt-right Trump followers, has been taken down by Amazon (in case you don't know the shop is a bit-player in the Amazon empire, web hosting services are its main thing).
So that's two of the BIG TECH companies - Facebook and Amazon, and the smaller company Twitter, deciding to censor not only an individual but an entire political movement from their platforms.
Personally I'm not a fan of Donald Trump or the Alt Right, but neither am I fan of Big Tech companies deciding to de-platform them with a few lines of code.
It's a stark reminder that if you publish anything to Facebook, Twitter, or anything hosted on AWS, that you do not control your content they do - you do not own your content - they do.
And just like that: >paste pre-written code to delete content here> + >insert account name here< - poof your social media legacy is gone, your network no more.

If you want to secure your social media content, Hive is a better option...
If you've never heard of it, Hive is a blockchain based social media platform.
You can find out more about it and open up an account here: https://hive.io/
When you open up a Hive account, you download your own set of private keys which means that you and only you can post to your account, or delete anything from your account. No one else can.
Because it's a blockchain, once you post your content to Hive, then that content is hard-wired into the chain, imprinted as an immutable block, time stamped and distributed across several servers, no one, not even you, can change that text – it's immutable.
This makes Hive a very secure place to store a historical, time-stamped record of your text-based thoughts and ideas.
(It also makes it imperative to be very careful about what you put on the chain!).
NB Hive is more than just an immutable ledger of text based content, you can also get rewards in crypto for posting that content, and play games, and even build your own dapps on the same chain, all of which will be stored as transactions on said chain.

Moderation of content is still possible on Front Ends...
NB it's only the raw blockchain data that's truly immutable. Most people will access this data via different front-ends - interfaces built as a second layer on top of the blockchain that make blockchain data more accessible.
You're probably reading this on leofiance.io, but you could also access this article via Peakd.com or read it on hive.blog - two other front ends which connect to the Hive blockchain.
These all read data from the back-end blockchain and present it in different ways.
NB - either of these front ends can selectively censor any account of their choice, or content from any tags. They could effectively have the same rules as Twitter or Facebook for 'universally muting' content for reasons such as 'inciting violence', 'trolling' or 'spam'.
HOWEVER, The difference between Hive and Facebook/ Twitter is this...
That the content the front-ends mute would still be available on the blockchain in the back end.
So, going back to the example of Trump - IF he had been on Hive, his content would still be there, so all he'd have to do to retrieve it and make it accessible again is to knock up another front-end, and anyone who wanted to could access it there.
Personally, I much prefer this as an option for ownership of social media data - I would like to have the ability to be able to go back and maybe in the future look at what Trump has said about certain topics, and what the reactions were. As it stands, I cannot, because Twitter, Facebook and Amazon have re-written that part of history.
NB - this is some proper 1984 level stuff going on here, from Orwell's classic:
Every record has been destroyed or falsified, every book rewritten, every picture has been repainted, every statue and street building has been renamed, every date has been altered. History has stopped."
Except in 2020/ 21 it's not the State doing the erasing, its Big Tech companies.

So if you want to be part of a social media environment that's a little bit less dystopian, maybe get onto Hive and use that as your social media of choice!
If you don't have a hive account yet, get one and start owning your damned content! The easiest way is through Hive Onboard... https://hiveonboard.com/
Credits....
Thanks to @tarazkp for the brief Discord chat that helped clarify a few thoughts on this!
Posted Using LeoFinance Beta