The distribution of Hive Power has become slightly more unequal over the last month, according to a comparison of @arcange's most excellent statistics, which show us distribution levels my MVEST and by number of accounts, and by all accounts and active accounts.
Below I look at trends in distribution from June 30th 2020 to July 30th, based on all MVESTs and all users.
I'm using the 'without delegation' figures below - an innovation in @arcange's stats this month is to show the 'with delegation' figures too, but I can't compare that this month because there were no such stats for last month.
In any case, 'delegation' is just 'patronage', not ownership, so I'll probably stick with the 'owned' weightings, I think they're a more valid measurement of power distribution, which is what I'm interested in.
This analysis doesn't take account of the millions of liquid HIVE currently not staked in the DAO.
I also noticed he's swapped his colours around too!
Trends in distribution by MVEST levels
30th June 2020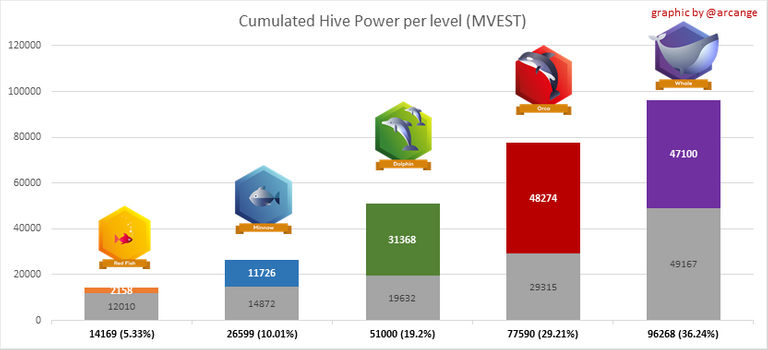 30th July 2020 (without delegation)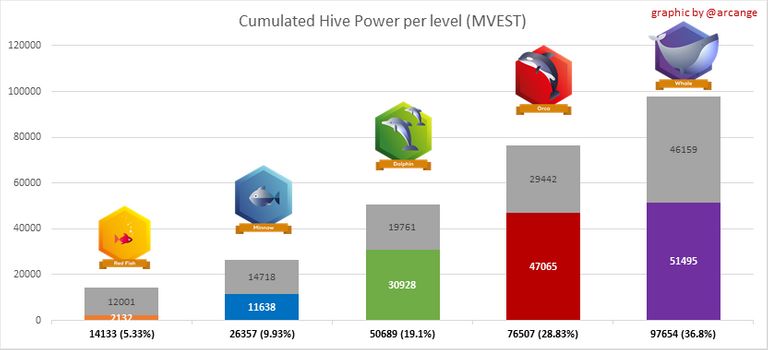 | Level | % of total MVESTS 30th June | % of total MVESTS 30th July |
| --- | --- | --- |
| Whales | 36.24 | 36.8 |
| Orcas | 29.21 | 28.23 |
| Dolphins | 19.2 | 19.1 |
| Minnows | 10.01 | 9.93 |
| Redfish | 5.33 | 5.33 |
It's pretty much all 'Whale gain' at the expense of Orcas.
My hypothesis is that now the Steem PDs are done, and no one external to the system interested in buying in, at least not significantly, this is just the way it goes with curation returns accumulating disproportionately to Whales - they gain more and Hive Power gets sucked upwards.
I believe that's the point of the systems design.
Trends in distribution by number of accounts
30th June 2020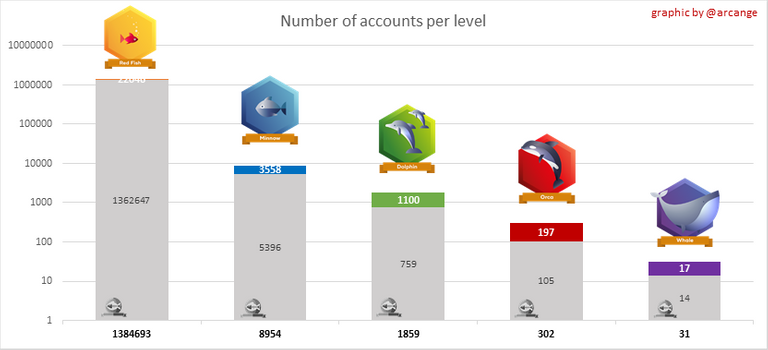 30th July 2020 (without delegation)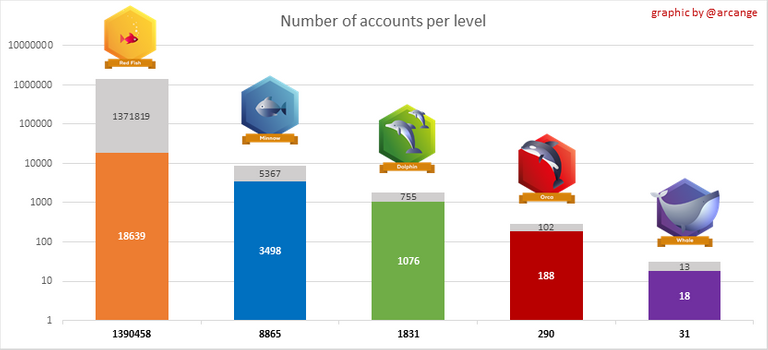 | Level | No. of accounts 1st May | No. of accounts 31st May |
| --- | --- | --- |
| Whales | 31 | 31 |
| Orcas | 302 | 290 |
| Dolphins | 1859 | 1831 |
| Minnows | 8954 | 8865 |
| Redfish | 13844693 | 1390458 |
Quite a significant decline of the middle ranks.
Commentary/ Analysis

Combined with @penguinpablo's stats which show a stagnation in terms of activity and steady drift of Hive to the exchanges, these stats suggest that everyday people just aren't 'buying into Hive'.
If you believe the success of Hive depends on mass adoption, and millions of people buying in, the stats suggest we are heading in opposite direction.
Of course there are many more more metrics we can use to judge the success of Hive, but if equality of distribution of owned Hive Power is one of them, we're failing in the mid summer of 2020.
Final thoughts

Next month I will compare the 'with delegation' and 'without delegation' stats, as I think there is some validity in doing that, but I'm still convinced looking at 'owned' HP is the more valid way of measuring Power trends.
Delegation can be cut in a week, after all.
Finally, I'm not sure how much such broad bins tell us - this could just be a couple of people going from 450K Hive to 500K Hive - not that significant!
I finally remembered to set @arcange as a beneficiary!
Sources:
Posted Using LeoFinance
Posted Using LeoFinance