You've probably heard of Terry Smith's Fundsmith - the largest investment fund in the UK, with a 450% growth rate since its inception in 2010.
Quite the performance: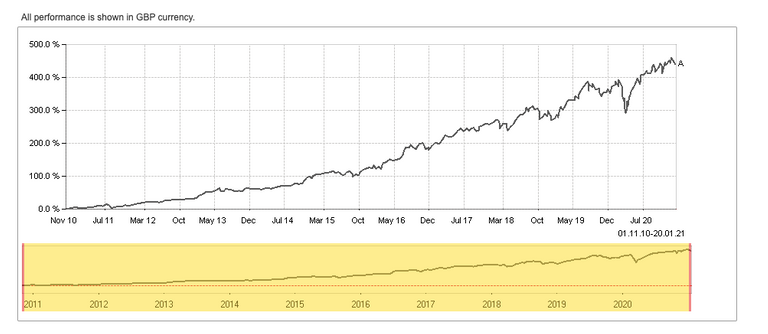 I've invested a a fair few grand in this over the last decade and I'm very happy with its performance, and I've just cashed out most of it, to buy my land in Portugal - that was always the plan, always what they money was invested for. I think I got lucky with the timing!
What's not so impressive is the performance of Fundsmith's Emerging Markets Equity Fund - the FEET fund.
I bought into this with a few grand at its inception in 2014, liking the sound of getting in on some growth action in countries such as Vietnam.
In my head I was thinking I'd be looking at a better return than the regular Fundsmith Fund, imagining a 600-1000% return over 10 years.
But to date, after 6 years, I'm only looking at a 55% return, and most of that since the later half of 2020, before which the performance was pretty dismal, barely keeping up with inflation: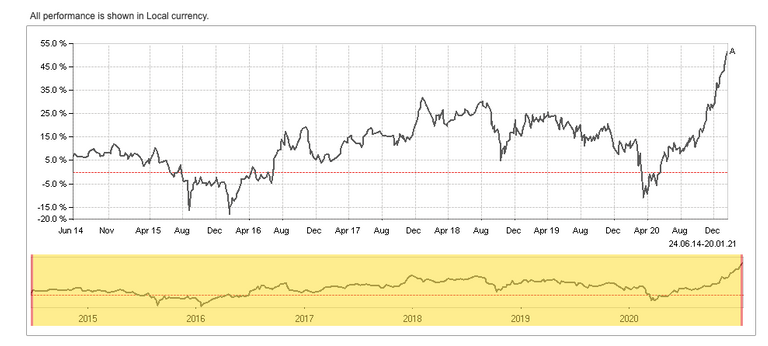 NB - looks can be deceiving when it comes to charts - that recent pump is the same growth rate as the regular Fundsmith fund has had for the entire last 6 years, it just looks better on the second chart because of the previous flat performance!
Maybe the time for emerging markets is now?
Maybe the recent uptick in investment signifies the start of some better returns in emerging markets.... maybe this is a sign that some of the US and EU funds are over-valued ATM and investors are shifting their focus?
Maybe this in investors showing us that they've got more confidence in emerging markets going into 2021 than in the US and EU economies?
I mean it seems like a reasonable assumption to make.... the pandemic is the perfect thing to level the playing field - possibly putting more developed countries on the back-foot as it's the service sector that has suffered most, while manufacturing necessarily maintains its crucial economic role, and manufacturing ain't based in the 'core' countries now, is it?
So for me, my funds in this emerging equities fund are a hold for sure, I have this feeling I might see some significantly better returns from it over the next five years!
And besides, my certificate is in a safe in the UK and I've no desire to go back there any time soon to cash it out anyway!
Posted Using LeoFinance Beta