I'm glad I tuned in to @nealmcspadden's Monsters show last night, it gave me a possible theory to explain the relatively recent pump in the DEC price, and more importantly, why that higher price is sustaining.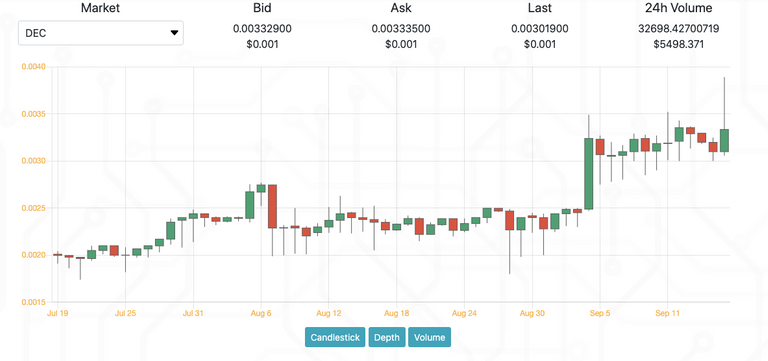 It's all about Land (and a few other 'tings)

More specifically it's about the upcoming pre-sale being not that far away, and the details how much parcels of land are going to cost.
The figures below factor in the 50% pre-sale discount.
One unit of land is going to cost 10 000 DEC
100 units are going to cost 850 000 DEC (with a 15% discount)
1000 units (called a block I think) are going to cost 750 000 000 DEC (with a 25% discount)
Given that land is going to be where you mine/ craft items etc. land is effectively the basis of your Splinterlands 'capital' (in economic terms I'm talking here, but who knows, maybe even in terms of your 'virtual land capital') - so I imagine there is going to be significant demand for Land going forwards.
There's some good potential for profit here - even if you just bought 10 plots of land with that 50% pre-sale discount you should be able sell on individual plots of land very easily for 14K (rather than 20K which will be the regular cost), meaning an instant 20% profit, even with all of the whale investors selling having benefited from that further 25% bulk buy discount.
But of course it's even more profitable to go for the pre-sale discount if you buy 100 or 1000 blocks, and I think that's what explains the buoyant DEC price - it's larger players trying to reach that 750 M figure, and middling players like me trying to reach that 850K target, maybe even smaller players trying to get to 10, 20 or 30K Dec to make sure they've got a few plots of land rather than just one.
Then one has to factor in the DEC being burned from DICE purchases, so you have.a restricted supply pushing the price up further.
And we can maybe factor in some people taking profits from LEO and buying DEC with it, or even people looking at the HIVE price and thinking 'sinking ship' let's buy another (probably soon to be) cross chain token.
I think it's a good time to buy, I just picked up another actually I forget how much, another 120K I think it was.
The only thing making me buy in gradually is the large amount of DEC being held by one of those TH accounts. There could be a sizable dump at some point any time!
Posted Using LeoFinance